(ATF) Shares of China Evergrande Group's property management unit on the Hong Kong Stock Exchange soared by a record of 30% on Monday after local media reported that the company aims to more than double its area under management and increase its net profit by 50% this year.
Evergrande Property Services Group aims to increase its area under management by 30 million square meters per month, an internal incentive plan purportedly announced on the weekend by company chairman Zhao Changlong, revealed. 
Another target of Zhao's internal incentive plan is to raise the company's net profit for every quarter by 50% – using last year's quarterly average figure as a benchmark.
Evergrande Property's big expansion plan came after 10 Chinese government bureaus announced new rules on 7 January for property management firms to broaden their service scope and play a key role in creating a network of "smart cities", as ATF reported. The government move caused the stocks of 42 A+H property stocks to rise sharply.
Evergrande Property managed 254 million square metres of real estate at the end of first half (H1) last year, so if it achieves this target the company would over 600 million sqm under its oversight, which would make it an industry leader. 
Evergrande Property ranked sixth among China's property management companies according to area under management at the end of the first half last year. Rival groups with the greatest areas under management were Vanke Services, Color Life Services Group, and A-Living Services Group, which had 520 million sqm, 364 million sqm, and 353 million sqm, respectively.
Rising demand
While many industries were hit hard last year by the Covid-19 pandemic, there was a rise in demand for high-quality management services in China. Residents are increasingly relying on property managers to tighten gate control, hand out masks, check body temperature, deliver food and even track down potential virus spreaders. 
Evergrande Property had a stellar 2020 with its net profit skyrocketing 2.8 times to 2.6 billion yuan (US$400 million). It is China's second most profitable property management company, ranking only next to Country Garden Services according to H1 2020 data.
After falling below its IPO price on the first day of trading on December 2, Evergrande Property's shares were weak in the first month but started to surge in the new year. In the two weeks since 4 January to now, its share price has almost doubled – from HK$8.65 to HK$15.50 (US1.10 to $2).
'A mission impossible'
However, not all are convinced that plan is achievable. Yang Xi, general manager of China Property Management Research Institution, described Evergrande Property's business expansion goal as "a mission impossible".
"Suppose that Evergrande Property can, optimistically, gain 100 million sqm of area this year, as its parent company sells more homes, [but] to gain another 260 million sqm on its own would still be a daunting task," Yang said. It took the top-notch property management companies several decades to achieve their current scales, he noted.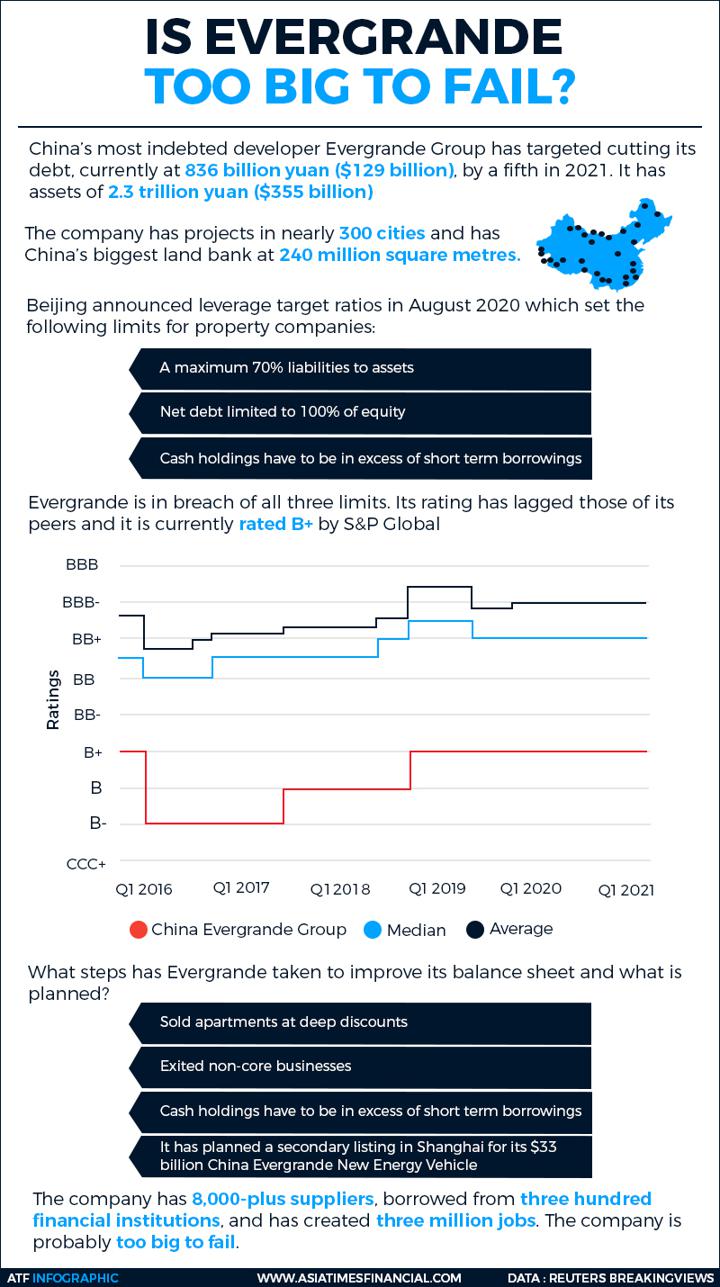 "Acquisition may be another way for Evergrande Property to quickly expand its business. The company raised HK$14.3 billion (US$1.8 billion) from its IPO and has abundant cash. It may well become an acquisition 'superpower' in China's property management market this year," Yang said.
Evergrande Property said 65% of money raised from its IPO would be used for strategic acquisition and investment. Its Hong Kong-listed rivals, HWG Living Group and Sunac Services Holding Ltd, have both used acquisition to quickly expand their businesses.
HWG Living Group announced on Monday its acquisition of a 80% stake in property manager Cedar Technology Group for 1.31 billion yuan ($202 million). The latter has 86 million sqm of area under management. Meanwhile, Sunac Services Holding Ltd acquired New Century Property for 1.49 billion yuan ($230 million) last year, which brought it 78.9 million sqm of area under management.
Boom in property management spinoffs
Facing challenges in their core business of building and selling new homes, Chinese real estate developers have found property management can be an alternative and stable source of revenue. 
The MSCI China Real Estate index fell 16% last year as the government imposed a new "three red lines" policy for home builders and new regulatory benchmarks for financial health, with the aim of controlling excessive debt. However, the property management sector still has the government in its corner. 
As China rapidly urbanizes, property management is big business. Most urban residents live in compounds run by a property management firm, which is overseen by the local party neighbourhood committee. China's national policy is to create a network of 'smart cities' as it enters the 'new era' of 5G and big data, and property managers will play a key role.
Standalone spin-offs of real estate developers' property management businesses have become market darlings in Hong Kong, fuelling a boom in IPOs. 
Shares of the management arm of China's largest developer by sales, Country Garden, have risen about six-fold since they were listed in mid-2018, compared to a decline in Country Garden's shares over the same period.
Similarly, shares of CIFI Holdings Group's management unit, Ever Sunshine Lifestyle Services, are 12 times the price they were at the end of 2018, dwarfing a much smaller gain for the parent.
A total of 17 property management firms were spun off by their parents and had IPOs in Hong Kong last year. That figure includes Evergrande Property, Jinke Service, Sunac Services, China Resources Mixc Lifestyle Services Ltd, and Shimao Service.
Property management firms often trade at 40-60 times earnings in Hong Kong, compared to multiples of mid-single digits for their developer parents. It's hard to find another sector with such a wide and systematic valuation gap between parents and subsidiaries.
New growth drivers
Beijing's new rules this month have added to the rally of property-management stocks. What has got investors excited is the government's support for two big potential growth drivers – "value-added services" and industry consolidation.
The firms have been encouraged to go beyond traditional property management and extend their services to housekeeping, childcare, and elderly care. Revenue from these value-added services grew 39% from a year earlier in the first half of 2020, according to Citi, and have grown further during the epidemic.
Mergers and acquisitions are also encouraged in the property management sector, which may help drive growth through economies of scale or improved pricing power. 
According to research by Fidelity International, China's top 10 property managers share only 11% of this fragmented market, while the 10 biggest developers account for 21% of new home sales. So, the market has plenty of room for consolidation.
All of this appears to be good news for Evergrande Property's parent company China Evergrande, which has a spectacular level of debt – about US$120 billion. Indeed, the debt levels lingering in the real estate sector are widely seen as one of the greatest risks to China's financial system, as key officials admitted last month.
ALSO SEE: