(ATF) Baoshang Bank, which has been described as serving as an "ATM" for billionaire Xiao Jianhua's Tomorrow Holdings conglomerate, has started bankruptcy proceedings after regulators took control of the Inner Mongolian lender in May 2019 because of its serious credit risks.
The China Banking and Insurance Regulatory Commission agreed that Baoshang Bank should start bankruptcy proceedings and asked the bank to report to the CBIRC if any "major situations" arise, the regulator said in a statement dated November 12, which was posted on its website on Monday.
In the meantime, Beijing No.1 Intermediate People's Court ruled on Monday that it accepted a case for bankruptcy liquidation of Baoshang Bank filed on the 17th. It designated the bank's liquidation committee to oversee the settlement of debts, Chinese newspaper 21st Century Business Herald said.
"This marks the beginning of an era when the fittest will survive in China's banking industry," Fan Shiqian, an associate professor from China University of Political Science and Law, said in a commentary.
"The government is no longer providing a backstop to banks using the state's credit. Rather the government is making weak performers exit the market naturally through bankruptcy procedures," he said. 
Fan considers Baoshang Bank's case a warning for small- and medium- sized banks to strengthen their risk controls.
Creditors should make claims before January 4, the Beijing court said in a statement.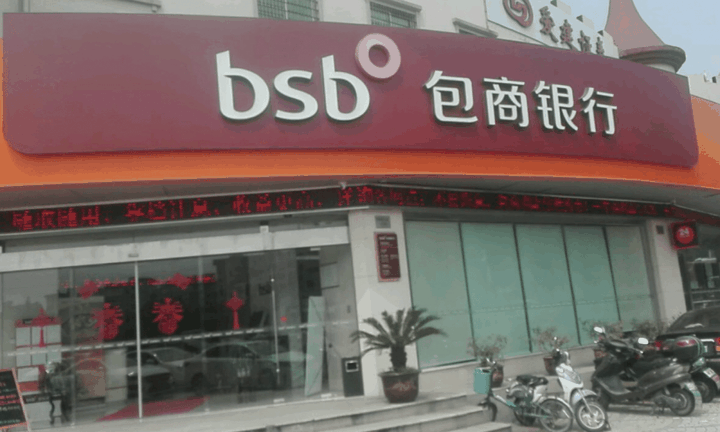 A branch of Baoshang Bank, which was taken over by the PBoC and banking regulators in mid-2019. Photo: AFP.
First takeover in 20 years
The People's Bank of China and CBIRC took control of Baoshang Bank in May of last year, its first such move in 20 years, citing "serious credit risks". Creditors in the small bank will take a hit, because assets will be sold and an example set to spur greater governance standards.
A little over a year after the takeover, the People's Bank of China (PBoC) said in a report in August that the Deposit Insurance Fund and the central bank's funding would provide 100% guarantee for personal deposits and most institutional creditors' rights in an effort to maintain financial and social stability.
This will be the first time that the Deposit Insurance Fund set up in 2015, which insures 100% coverage for deposits that are not more than 500,000 yuan (US$76,000), will be put into actual use. 
A 90% guarantee on average would be provided for large debts owed to institutions, which is a relatively high level compared with similar bankruptcy cases internationally, the PBoC added.
The bank, with key operations in Baotou, the hometown of Xiao's wife, had 4.73 million customers as of May 2019, including 4.67 million individual customers and 63,600 corporate customers and peers.
Baoshang Bank's funding gap was so huge that without the support of government funding, the compensation rate for general creditors would have been less than 60%, the PBoC said in its report.
"The bankruptcy of Baoshang Bank was carried out under the circumstance that over-leveraging had magnified the bank's risks to such an extent that it threatened the security of depositor's funds," Cheng Yu, a senior analyst from Beijing-based research firm Kandong, said.
The bankruptcy plan has protected creditors and helps to retain depositors' confidence in small local banks, he said.
Fall of the Tomorrow empire
Founded in 1998 and previously named Baotou Commercial Bank Ltd, Baoshang blossomed under the control of billionaire Xiao Jianhua's investment conglomerate Tomorrow Holdings. But problems began after Xiao fell foul of a regulatory crackdown on financial holding companies in 2017.
Xiao had aspired to create "China's JP Morgan", and from 1998 to when he was arrested in 2017, he and his wife created the "Tomorrow Empire" consisting of six listed companies, six commercial banks, six security brokerages and several more financial institutions.
Zhou Xuedong, who headed the government's takeover committee, said in an article published in August in PBoC's China Finance magazine that Baoshang Bank had been used as an "ATM" for Xiao's Tomorrow group since 2005. Zhou was director of the PBoC's Financial Stability Bureau at the time and is and now vice president of China Development Bank.
"Inspection of the bank's assets reveal that in the 15 years from 2005 to 2019, companies under the 'Tomorrow' umbrella registered 209 shell companies and borrowed 347 loans amounting to 156 billion yuan (US$23.75 billion), which all ended up as bad debts," Zhou said in the article. 
The bank had serious corporate governance issues – its board of directors and board of supervisors existed in name only and the bank's long-serving chairman, Li Zhenxi, had absolute power of all affairs, Zhou said in his article.
Rejig of operations
The government's original plan was to find a strategic investor to acquire Baoshang Bank and use the equity premium to fill its funding gap. However, no strategic investor was found, and the government decided to establish a new bank to be its successor and provided a Standing Lending Facility of 23.5 billion yuan for liquidity support to the bank.
In April, PBoC said that the newly established Mengshang Bank would take over Baoshang Bank's remaining operations, assets and liabilities in Inner Mongolia Autonomous Region, while Hong Kong-listed Huishang Bank would take over Baoshang's four branches in other regions.
In July, Chinese regulators announced that they had taken control of nine other financial firms linked to the Tomorrow Group. Xiao was taken from a hotel in Hong Kong by Chinese authorities in January 2017 and hasn't been seen in public since.
ALSO SEE: