India is set for a bumper crop of new stock market listings in November with companies planning to raise almost $4.67 billion as they seek to capitalize on a surging stock market that's boosting valuations.
Seven listings are planned in the first two weeks of November with beauty retailer Nykaa first up with plans to raise $63.4 million. The largest offering will come from digital payments and e-commerce company One97 Communications (Paytm) with $842.8 million.
As the Covid pandemic eases, so pent-up demand for listings is being unleashed. The country has also this year seen the emergence of 34 unicorns – startups with a valuation of $1 billion or more – taking the total to more than 70. 
This is a departure for the Indian stock market, which has traditionally been dominated by heavy industry and family-owned companies like Tata Group and Reliance, firms once seen as virtually 'owning' the stock market.
The surging local stock market, up 20% since the second quarter, is helping to buoy optimism. Corporate profits also have surged on the back of an improvement in margins, said BCA Research in a note on Monday.  Those stronger profits have helped set off a new capital expenditure cycle in India which will likely help spur economic expansion, it said.
The seven initial public offerings are as follows:  
FSN E–Commerce Ventures Ltd (Nykaa) IPO
Nykaa is India's largest beauty retailer, wth 1,350 brands and over 1.8 million SKUs (stock-keeping units, which are unique items, products or services). The company operates under two verticals: Nykaa and Nykaa Fashion. Founded in 2012, it currently has over 73 stores in 38 cities. The company's promoters are Falguni Nayar, Sanjay Nayar, Falguni Nayar Family Trust And Sanjay Nayar Family Trust. Nykaa needs investment to fund warehouses, set up new retail stores and pay debts. The lead managers are BofA Securities India, Kotak Mahindra Capital, Morgan Stanley India, ICICI Securities and JM Financial Consultants.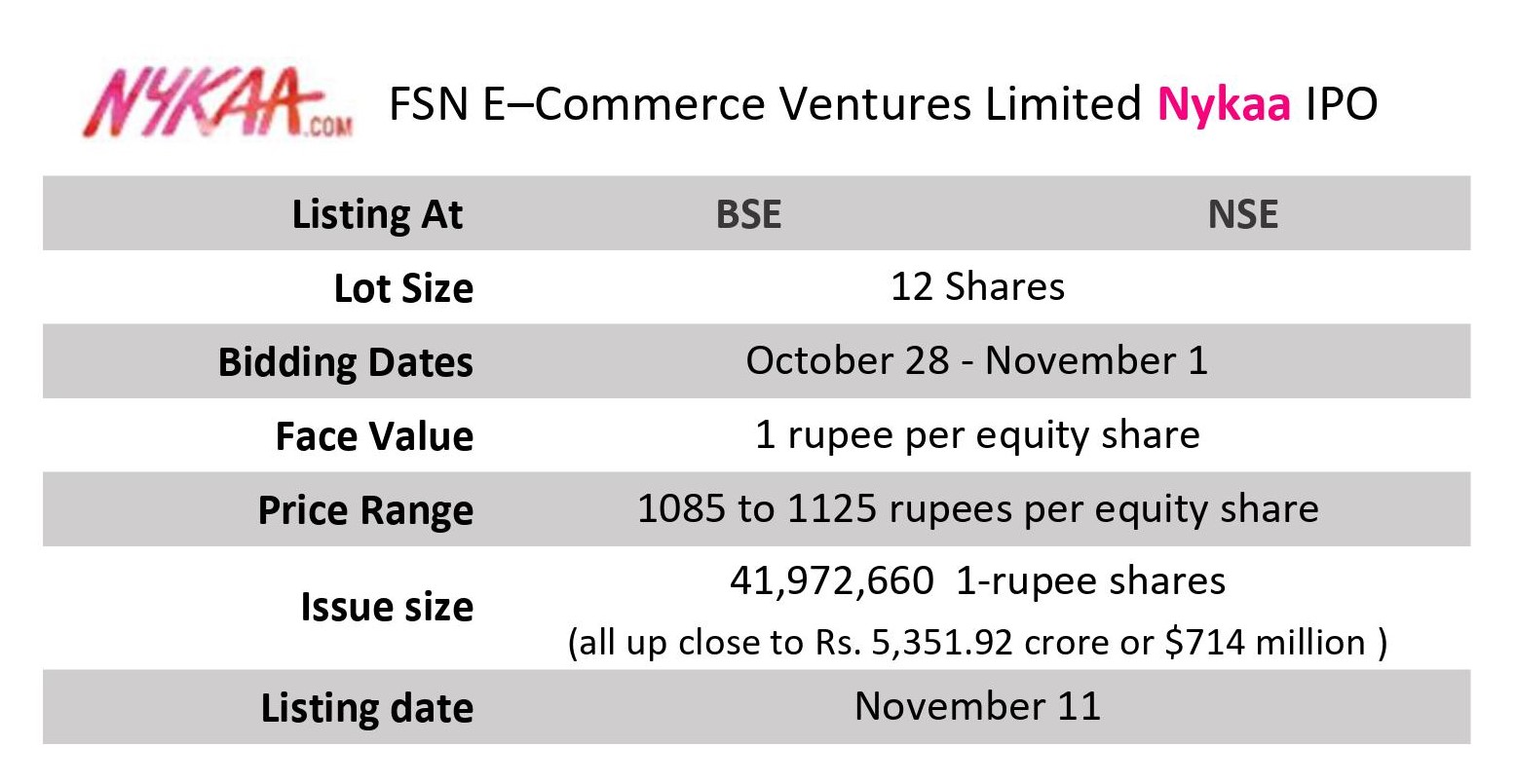 Fino Payments is a leading fintech company with a unique distribution, technology and partnership network. Founded in 2017, the company is looking to inspire people with low financial literacy in India and make banking easier and customer-centric. The Ministry of Electronics and Information Technology placed Fino third in aiding digital transactions in India. Fino Paytech Ltd is the company promoter and its lead managers are Axis Capital, CLSA India, ICICI Securities and Nomura Financial Advisory And Securities (India).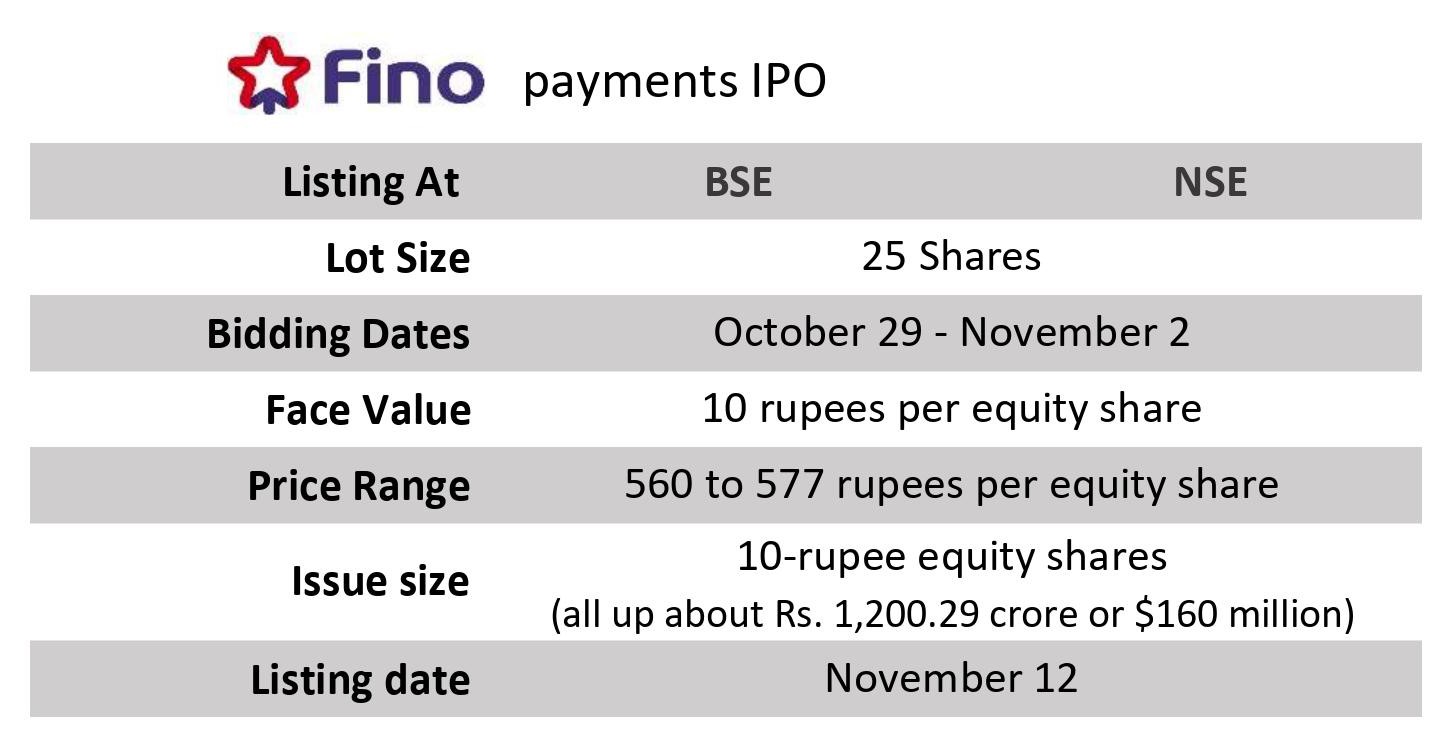 Even before the IPO started, SJS investors raised over $3.2 million from anchor investors. SJS, which was founded in 1987, is India's leading decorative aesthetics company. The services offered range from decals and body graphics, 2D appliques and dials, 3D appliques and dials, 3D lux badges, domes, overlays, aluminum badges, etc. In 2021, the company has produced over 91.94 million items. SJS enterprises support locations businesses in 20 countries across Europe, North America, Latin America and ASEAN. SJS acquired Exotech Plastics this year. The company promoters are Evergraph Holdings and KA Joseph, with leading managers Axis Capital Ltd, Edelweiss Financial Services and IIFL Securities.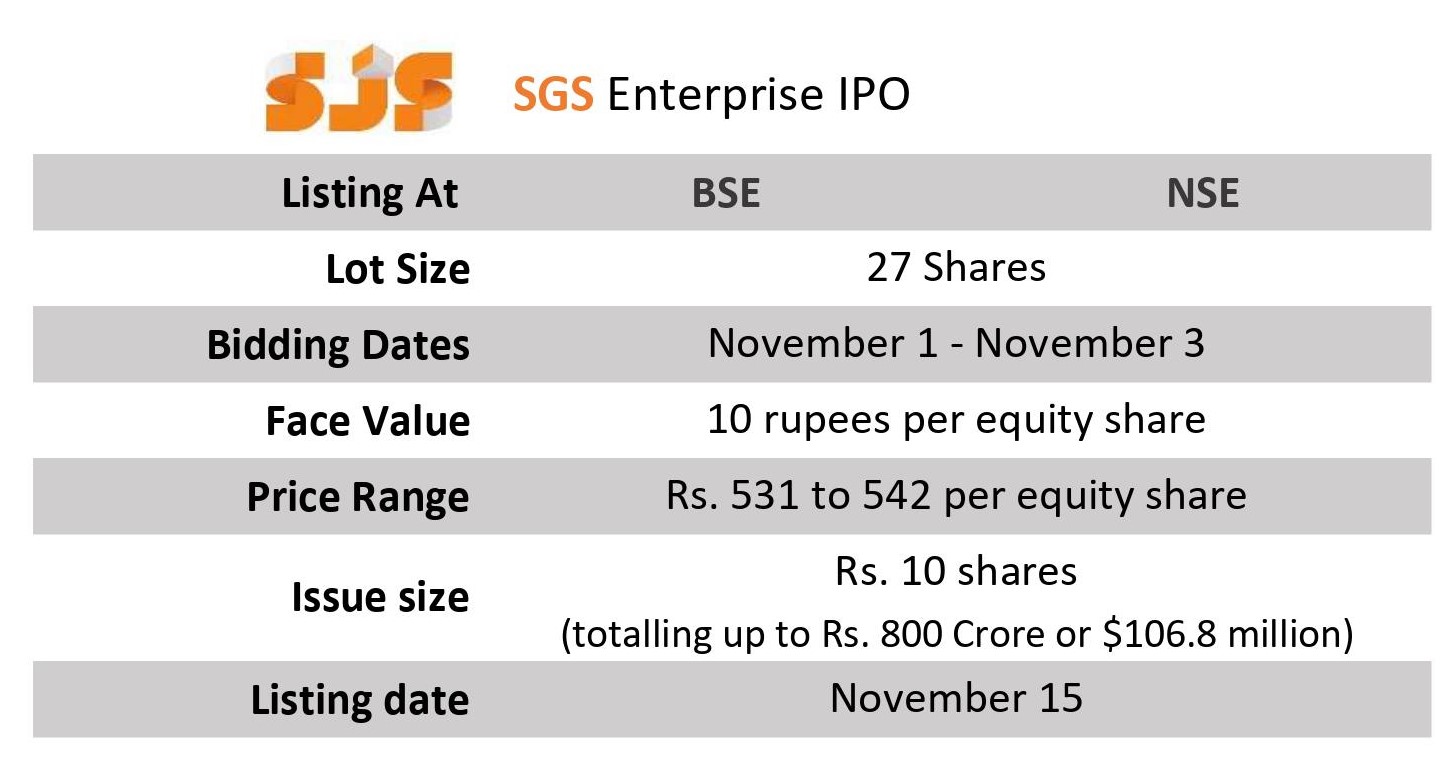 Sigachi is an industry leader in the field of pharma excipients, nutra and food ingredients. The group was incorporated in 1989 and has established itself as one of the largest manufacturers of microcrystalline cellulose worldwide. MCC is used in pharma, food, nutraceuticals and cosmetics, etc. The company has over 59 different grades of MCC and three manufacturing hubs in Hyderabad and Gujarat. It has a longstanding domestic and international presence. Its company promoters are Rabindra Prasad Sinha, Chidambarnathan Shanmuganathan, Amit Raj Sinha and RPS Projects & Developers. The lead manager is Unistone Capital.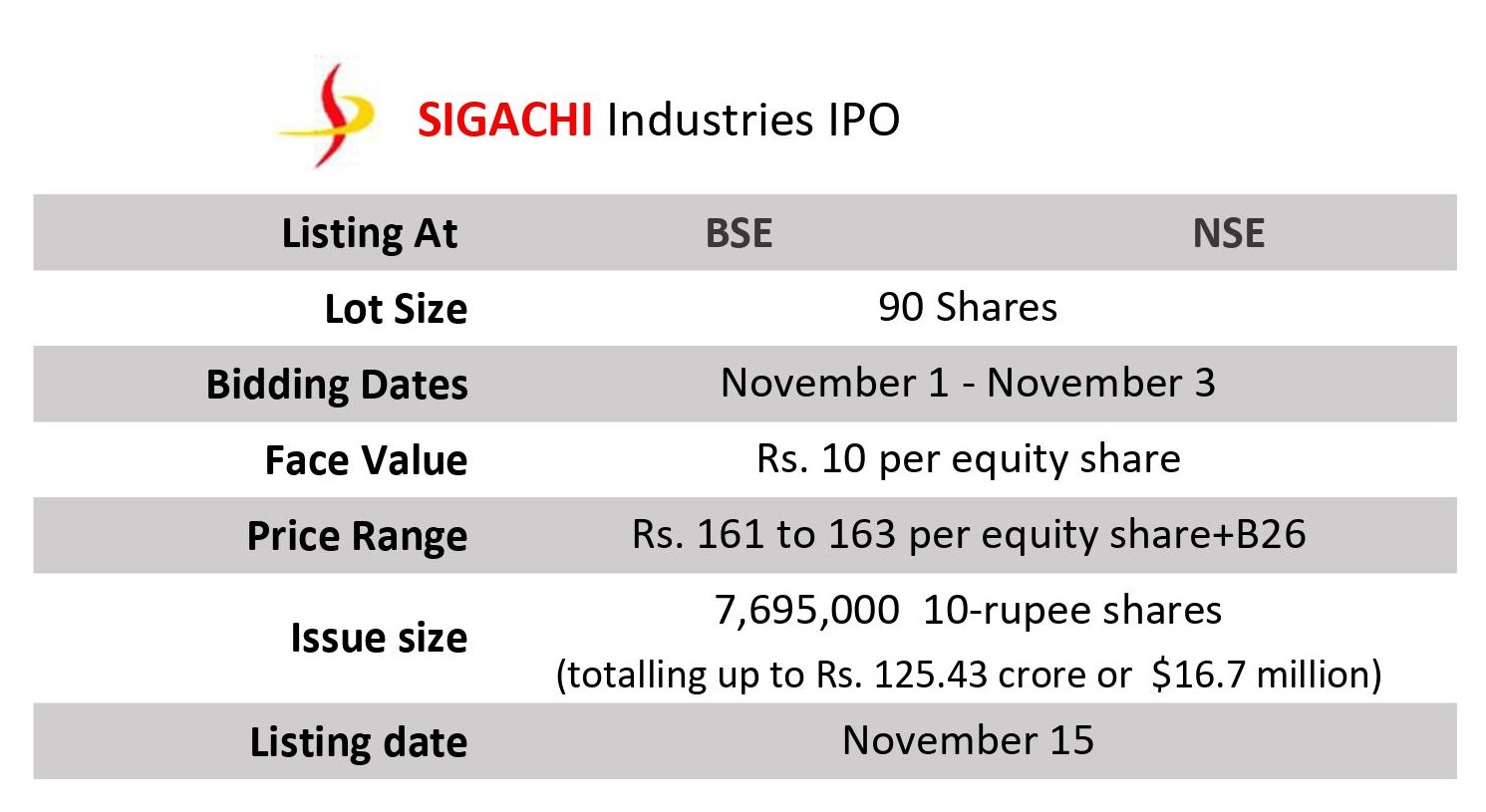 PB Fintech Ltd (PolicyBazaar) IPO
PolicyBazaar is a leading insurance and lending products platform that was founded in 2008. Policy Bazaar offers its users best purchase research, policy management, travel, health, and term insurance. It has 51 insurer partners and the platform is driven by customers, as it is largely operated by automation. The launch of Paisabazaar in 2014 made it easier for customers to select from a range of credit cards and loans. The objective of the IPO is to expand the group's presence outside India and build awareness of the company while harnessing new opportunities and acquisitions. The IPO is managed by Citigroup Global Markets India, HDFC Bank, ICICI Securities, IIFL Securities, Jefferies India, Kotak Mahindra Capital and Morgan Stanley India.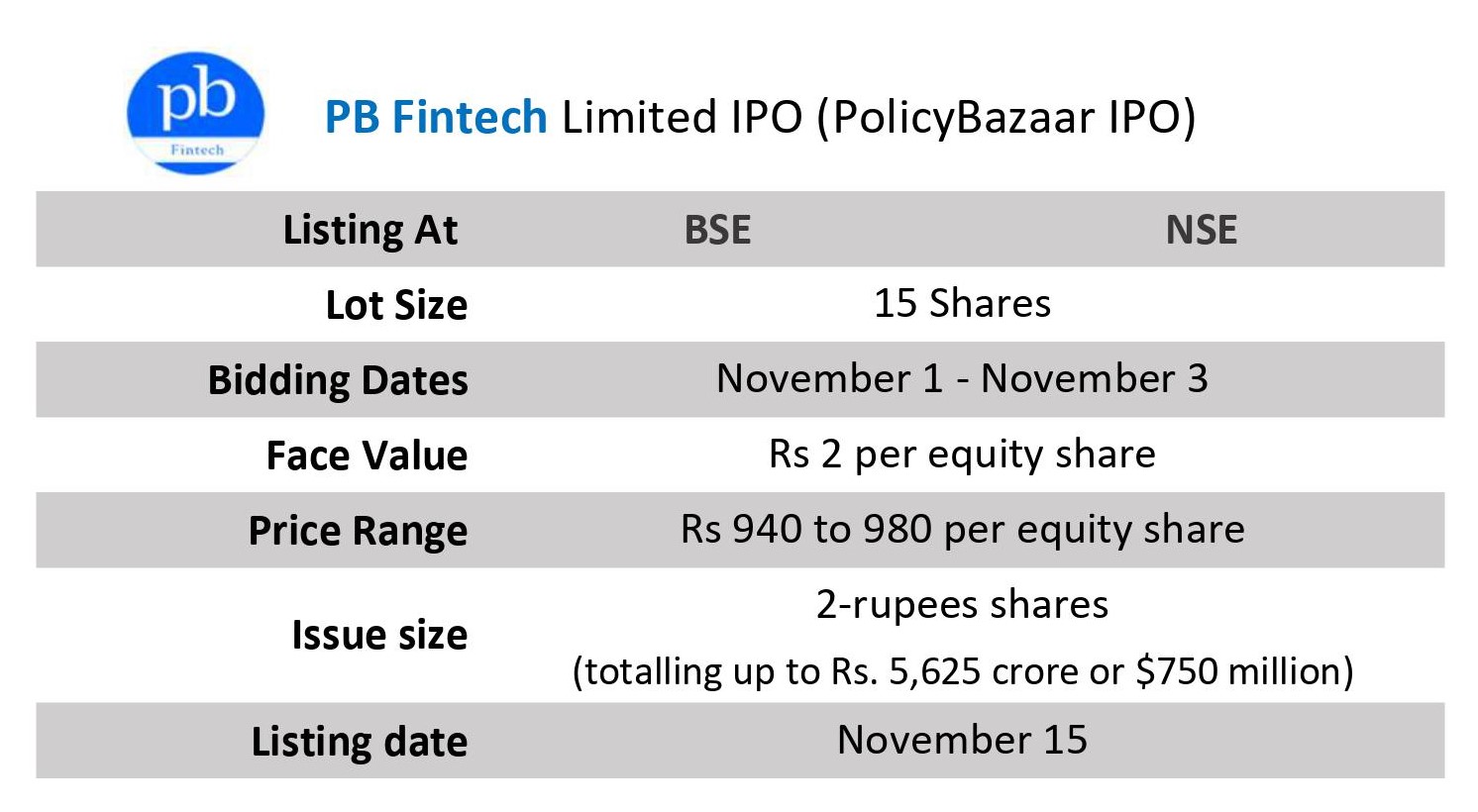 One 97 Communications Ltd (Paytm) IPO
Paytm is India's leading digital payment service platform with a brand value of over $6.3 billion. Founded in 2000, it currently has the largest customer base – over 333 million clients and over 21 million merchants – who they offer payment and financial services to. The advent of  the Paytm App in 2009 enabled millions of Indians to undertake cashless transactions. The IPO aims to make the Paytm ecosystem more sturdy and enable investment in business initiatives and acquisitions. The listing is managed by Axis Capital, Citigroup Global Markets India, Goldman Sachs (India) Securities, HDFC Bank, JP Morgan India and Morgan Stanley India.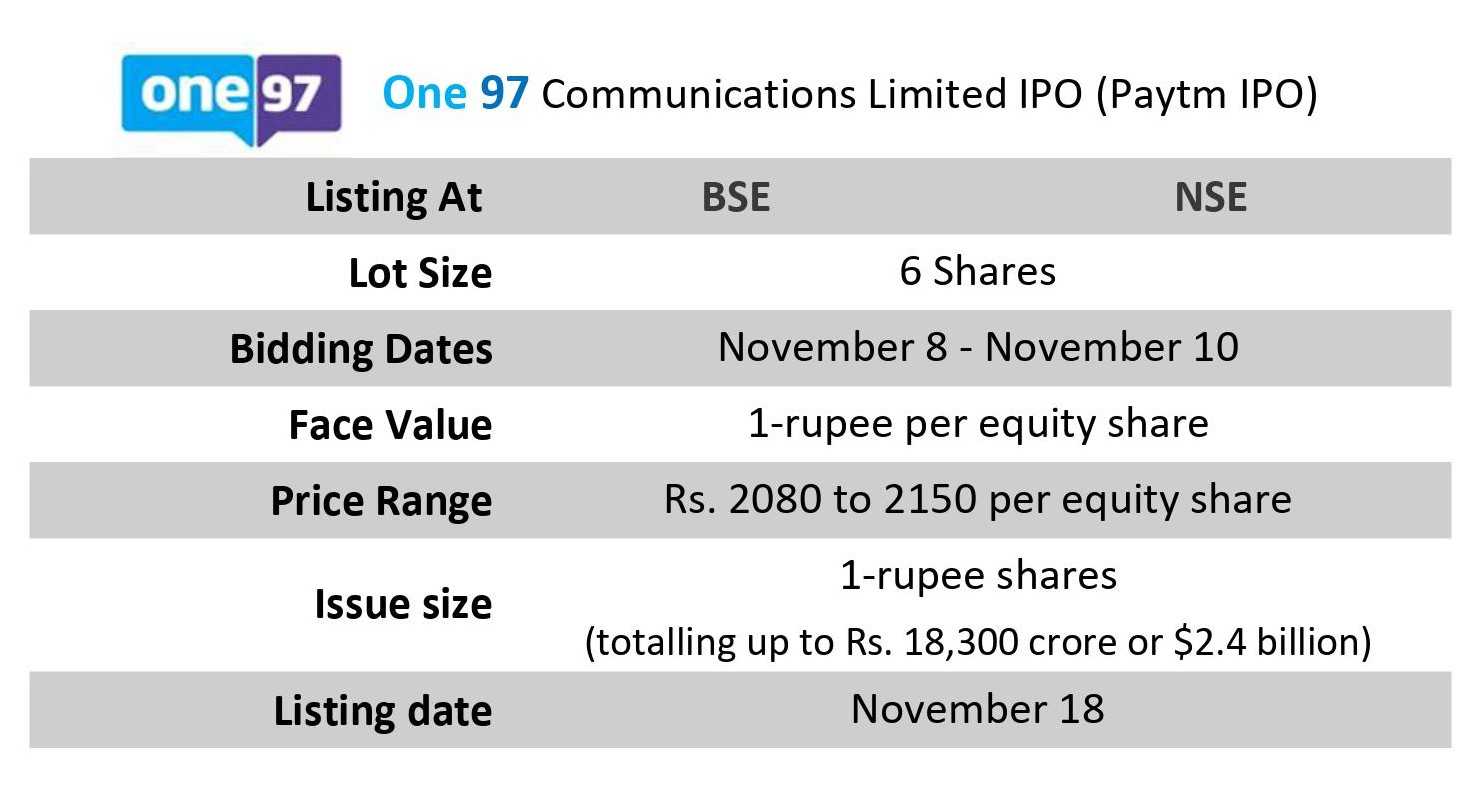 Sapphire Foods is one of the largest franchisees of Yum!Brands Inc in India. It was founded in 2015 and has acquired over 400 KFC, Pizza Hut, Taco Bell outlets in India, Sri Lanka and the Maldives. It was Sri Lanka's largest international quick-service-restaurant chain in terms of revenue for the 2021 fiscal year. Sapphire's restaurants grew from 376 in 2019 to 437 in 2021. The IPO is expected to fetch 2,073.35 crore rupees. Lead managers of the listing are JM Financial, BofA Securities, ICICI Securities and IIFL Securities.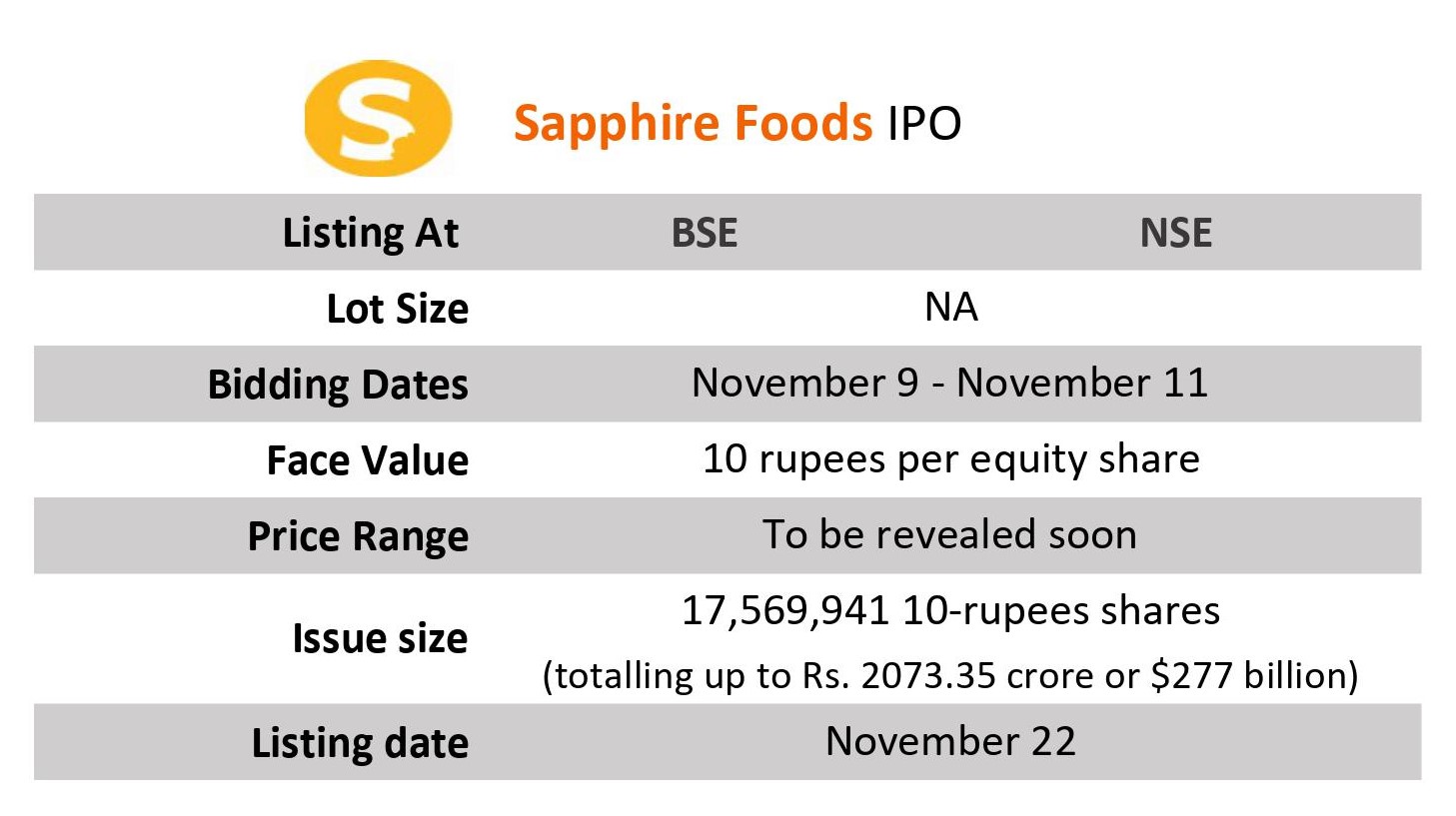 India IPO Calendar November 2021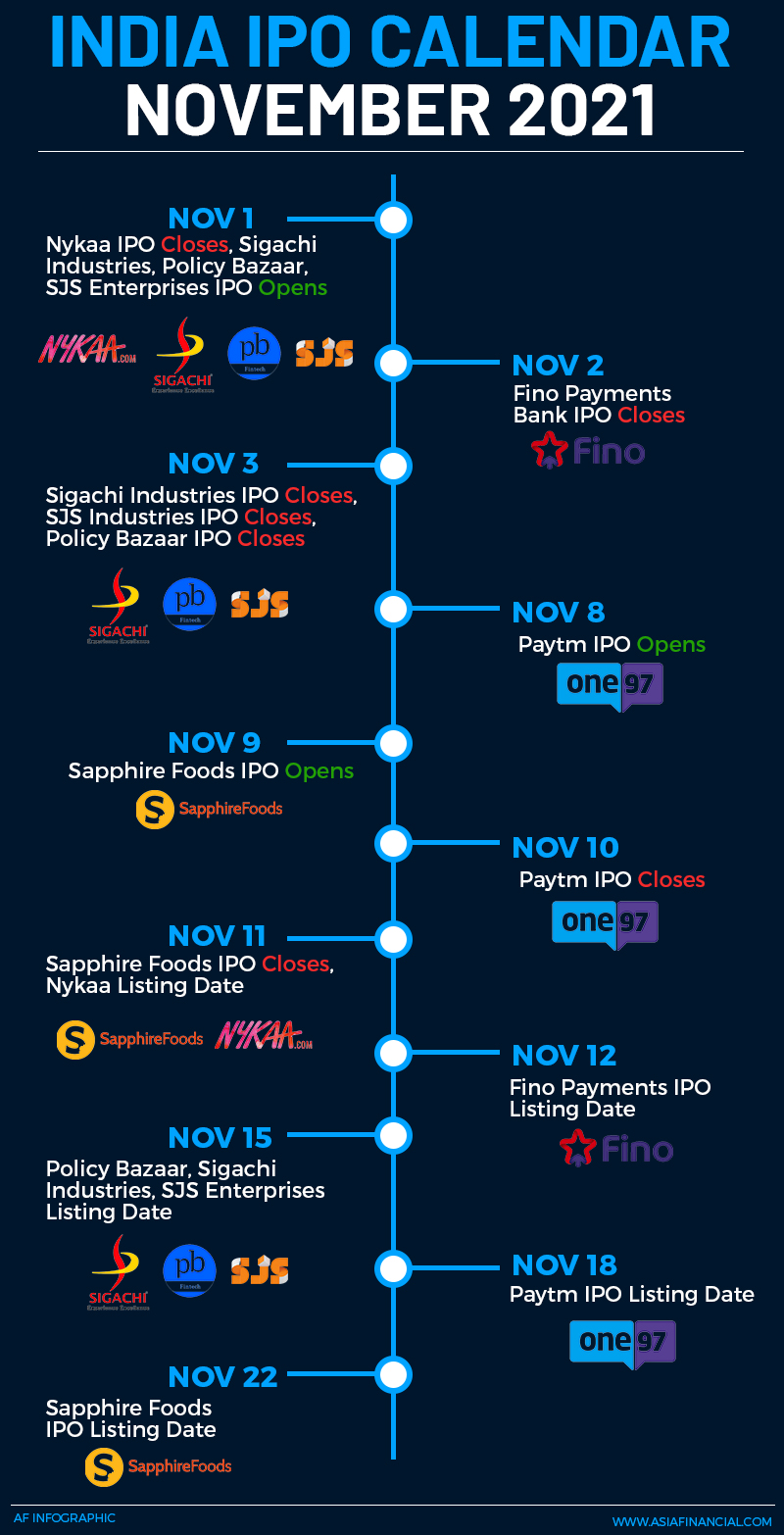 • By Eetika Kapoor
ALSO SEE: