(AF) As more investors embrace cryptocurrencies and decentralized finance (DeFi) activity advances, India could soon become a hub for crypto-related investments in the Central, Southern Asia and Oceania (CSAO) region, a Chainalysis report published on Monday says.
New research from the blockchain analytics firm said that crypto transactions surged 706% in CSAO — a broad region that includes countries such as India, Pakistan and Vietnam — between July 2020 and June 2021, with India reporting 641% growth, over the past year.
In dollar terms, the value of the transactions amounted to $572.5 billion, or 14% of the global transaction value.
Vietnam and Pakistan (711%), were the two other countries that also saw rapid crypto adoption in the past year, but while India and Vietnam had high levels of grassroots cryptocurrency adoption, Pakistan depended on speculative retail investors seeking lucrative returns, the report noted.
"Professional-sized transfers between $10,000 and $1 million worth of cryptocurrency make up the largest share of transaction volume in CSAO," the report said.
However, while institutional and large institutional payments combined dominated the activities in the region, the volume of such activities were still smaller than the larger markets of North America and Central, Northern and Western Europe.
Different Markets
"While India, Vietnam and Pakistan all have high levels of grassroots cryptocurrency adoption, they're quite different in terms of raw transaction value" the report said.
Hence, two things stand out: One is that India and Vietnam's markets are much larger than Pakistan's, the report noted. The other is that India has a much bigger share of activity taking place on DeFi platforms at 59%, versus 47% for Vietnam and 33% for Pakistan.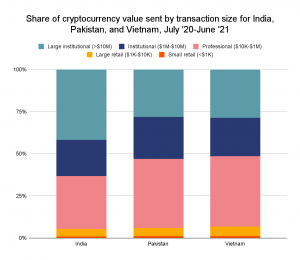 "There's a sea-change in the perception of Indian high-net worth individuals (HNIs) and institutional investors towards crypto. Earlier, lack of regulatory clarity kept them away. Now they are like, "it isn't clearly prohibited, so I am going in." Mass media communication and advertising has made the difference," Ajeet Khurana, founder of Genezis Network, a think tank for crypto-start-ups, said.
India's cryptocurrency market appears more mature as well, the report said. For instance, large institutional-sized transfers above $10 million worth of cryptocurrency represent 42% of transactions sent from India-based addresses, versus 28% for Pakistan and 29% for Vietnam.
"Those numbers suggest that India's cryptocurrency investors are part of larger, more sophisticated organizations," it said.
Coins the 'Next Wave'
India's DeFi market is also much bigger, and there's been a big increase in crypto-related entrepreneurship and venture capital investment in the region, as well.
"Decentralised finance (DeFi) with stablecoins is clearly the next wave of innovation in finance. People using stablecoins to hedge against their weakening national currencies and earn lucrative yield (13% per annum) with yield platforms," Darshan Bathija, CEO of Vauld, a crypto-based lending platform, said.
"The market capitalisation of stablecoins has crossed $100 billion, up eight times in the last 12 months. These yield platforms deploy capital across DeFi apps such as Ethereum, Solana and centralised platforms such as Vauld, BlockFi, and Celsius Network."
The report said the stigma around crypto investing was also fading.
Joel John, a principal at India-based cryptocurrency investment firm LedgerPrime, believed crypto had become more cool. While some older investors still treated cryptocurrency with suspicion, "the sentiment is overall much more positive now," he was quoted as saying in the report.
Different Development Stages
The differences between central and southern Asia's biggest markets also reflected the fact that countries in the bloc were at different stages of crypto market development, it said.
"Many first look to cryptocurrency in search of quick returns on speculative trading of a variety of investments, which can be done on centralized services and conventional P2P platforms, which appears to be the predominant use case in Vietnam and Pakistan," the report said.
However, in markets like India where the cryptocurrency community has grown and attracted outside investment, "we see more development and usage of innovative projects like DeFi protocols."
By Indrajit Basu.
READ MORE: