(ATF) Japan – China's main trading partner – announced a stimulus package of $990 billion, equal to 20% of Japan's GDP, to help manage the economic back-blast of the coronavirus pandemic on the world's third-largest economy.
Prime Minister Shinzo Abe has also offered Japanese corporations up to $2 billion each to move their manufacturing and other activities out of China.
Despite China and Japan's deep economic ties, political tensions often rise to the fore, mostly due to territorial disputes over islands in the Sea of Japan and right-wing denials of war atrocities. This tension rises periodically and anti-Japan demonstrations can turn violent.
In the Trump era, Shinzo Abe is clearly illustrating sentiments displayed in the USA and Europe following the coronavirus epidemic that has suggested supply-chain integrity is weak, and that the manufacturing of key products should be brought back home.
Also, due to tensions in recent years, Japan has moved its military focus from the north of the country, where it has territorial disputes with Russia, to the south to face a growing military threat from China.
Russian fly-through
In a  perceived slap in the face to Japan after the new measures, Russia flew two anti-submarine planes into or very close to Japanese territory, forcing fighter jets to be scrambled.
According to the latest news released by the Japanese Ministry of Defense, on April 9, local time, two Russian Il-38 anti-submarine aircraft entered the Sea of Japan, the Okhotsk Sea, and the Pacific Ocean to carry out operations.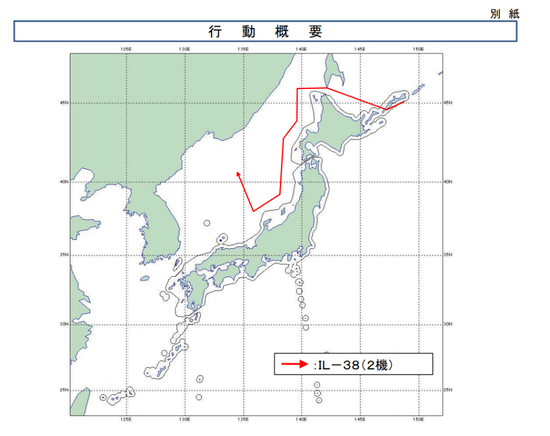 Sina, a state-owned news outlet in China, reported that the two Il-38 anti-submarine aircraft flew from islands in the north that have long been disputed, north along the Okhotsk Sea before crossing the Zonggu Strait and flying along the side of the Sea of Japan, to the middle of Japan Sea, then flying back to Russia. 
When the Russian planes flew close to Japanese airspace, the Japan Air Self-Defense Force urgently dispatched fighter planes to intercept, then monitor and escort them away. Sina later published a map showing the alleged flight path of the Russian planes, seen above.
Both China and Russia regularly undertake such intimidatory flights, with military planes and naval vessels. The timing of this latest adventure by Russia will likely escalate tensions. Both China and Russia are partners in the Shanghai Cooperation Organization, and regularly hold joint military exercises.