(ATF) – Although China's apparently rosy economic data is being hotly debated, the nation's government is hailing an economic turnaround.
A series of indicators such as the resumption of work rate and coal consumption for power generation have warmed up, suggesting that macro data such as industrial added value, investment and consumption may improve significantly.
Officials are touting that as proof the country is returning to work and that China's economy is gradually getting back on track.  
Nevertheless, the central government continues to stress the need to expand consumption, with many ministries and commissions issuing policies to that effect and some regions have even begun to issue discount vouchers to boost private spending.  
With this in mind Chinese analysts expect that the consumer market will pick up steadily and compensatory consumption will occur in some areas.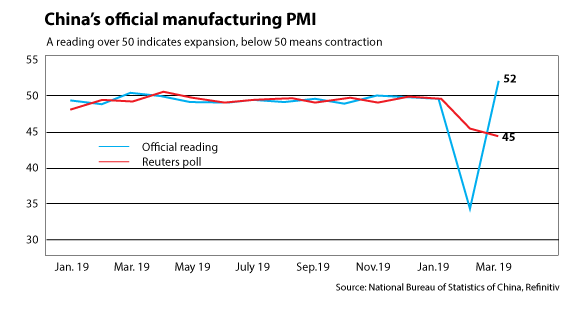 Zhu Jianfang, chief economist of CITIC Securities, said that under the counter-cyclical policy, the economic operation is expected to return to a reasonable range within the year. The economic growth rate in the third and fourth quarters may be higher than the normal path level of 6%, Zhu said. 
The degree of rebound in the second half depends on the strength of a package of macro policies and whether the overseas epidemic situation can be effectively controlled in the second quarter, Zhu said.
Mao Shengyong, spokesman of the National Bureau of Statistics, also said earlier that after a series of more intensive hedging policies are introduced, the policy effects will continue to show and the economy will become more stable in the second half of the year.
Overseas, the view is less clearcut. China's recent Caixin PMI data rebound from a record low in February has been seized upon by analysts as scant proof of a return to normal. They argue that the gauge, at best, suggests business prospects are better than they were at the nadir of the epidemic.