The Biden Administration is reportedly preparing for a possible escalation in tensions with China amid reports that new US House Speaker Kevin McCarthy will pay a flying visit to Taiwan in coming months.
Unnamed US officials said the White House believes that McCarthy, the Republican elected recently to replace Nancy Pelosi, will visit Taiwan this spring.
Analysts with Eurasia Group said the reports were not a surprise, because McCarthy would want to "maintain domestic political legitimacy in the face of bipartisan support for aggressive policy toward China".
Pelosi's visit to Taiwan had raised the bar for subsequent Speakers, "all but ensuring that McCarthy would have to plan his own trip in order not to appear soft on China," analysts Clayton Allen, Anna Ashton, Neil Thomas and Ava Shen said.
ALSO SEE: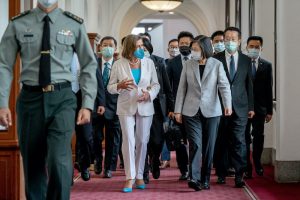 Response 'could be less severe'
But they expected China's response "could be somewhat less severe than its response to Speaker Pelosi's visit" to Taipei last August, which spurred a furious reaction from Beijing.
Tensions in the Taiwan Strait reached levels not seen in three decades with live-fire drills in several areas around the "rebel" island, where most citizens and its leaders wish to remain independent and not be absorbed by the mainland.
Factors that suggest Beijing will adopt a more understanding position include "Chinese leader Xi Jinping and US President Joe Biden's ongoing efforts to stabilize relations, Xi's focus this year on post-Covid economic recovery, and the passing of the 20th Party Congress last October," the group said.
And "Beijing's response may also be influenced by Beijing's understanding that McCarthy, as the leader of the opposition party, is not an emissary of the White House."
But Beijing's military response to McCarthy's visit may be similar to Pelosi's visit, with large exercises staged in waters near Taiwan, they said, as President Xi Jinping had "called Taiwan an 'insurmountable redline in US-China relations'."
"China's military posture remains elevated after Pelosi's visit, including sorties into Taiwan's Air Defense Identification Zone and regular crossings of the Taiwan Strait median line. A show-of-force response would be in keeping with Beijing's practices and Xi's statements, clarifying that China will not rule out forceful means of deterring efforts by outside forces and separatist elements to change the cross-strait status quo," the analysts said.
And they said a second official visit by a US Speaker "does represent an escalation of what Beijing sees as US interference in cross-strait affairs".
NOTE: The top image on this report was changed on January 24, 2023.
Read more: