The rapid uptake of electric vehicles in India has prompted reconsideration of the country's long-term fuel demand.
Faster-than-anticipated growth means India's gasoline consumption could peak a decade sooner than previously forecast, analysts and industry participants say.
That could be a big deal for Indian refiners, who may need to speed up their shift away from oil production to alternate businesses, such as petrochemical manufacturing.
India has been one of the world's fastest growing oil markets, but it has lagged major economic peers in Europe and Asia in the adoption of EVs.
However, sales are now picking up and investment in the production of new autos and energy infrastructure is accelerating.
ALSO SEE:
"We were anticipating that peak gasoline demand will be around 2040-2045 earlier, but going by the trend and the speed with which we are developing the ecosystem around EVs, the peak demand would be mid-2030s," Debasish Mishra, a partner in Deloitte India (energy, resources and industrials), said.
He expects diesel demand to peak around the same time as petrol.
Meanwhile, an industry source at an Indian-based refinery said slowing fuel demand will be visible by around 2030 as EV technologies stabilise, compared with an earlier projection of 2040s, although the heavy trucking sector is likely to see changes a little later.
"Refiners are already investing in petrochemical integration to cope with the potential loss in fuel demand," said the source who declined to be named, as he is not authorised to speak to the media.
Currently, around 90% of Indian petrochemical demand is met by China, he said, so a shift by Indian refiners towards domestic chemical needs could dramatically change supply dynamics.
Indian refiners are investing billions of dollars to raise petrochemical capacity. Indian Oil Corp, the country's top refiner, is raising petrochemical capacity at its Panipat refinery by 13% and building new plants linked to its Paradip and Gujarat refineries.
Reliance Industries Ltd, operator of the world's biggest refining complex, plans to invest 750 billion rupees ($9.4 billion) to expand its chemical business, while Essar Group plans to set up a 400 billion rupee petrochemical complex in east India.
Nayara Energy expects 15-20 new integrated petrochemical plants will start in the next decade.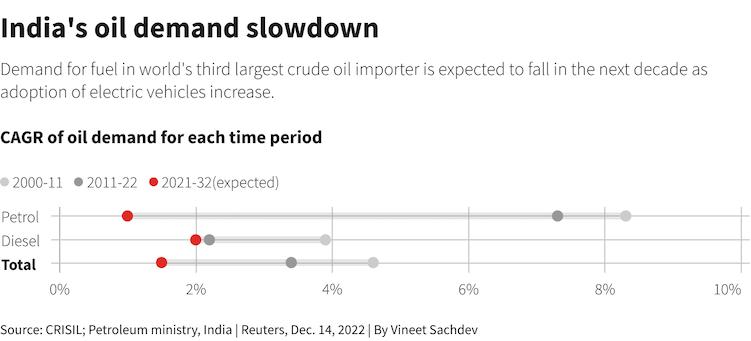 State refiners to boost charging facilities
China currently dominates global EV production and domestic adoption of new energy vehicles is well advanced. The China Passenger Car Association expects sales of new energy cars, mainly EVs, to hit 8.5 million units this year, or 36% of all new sales.
Despite new momentum in India, the question for the country is whether it will be enough to ultimately shake its fossil fuel dependency.
"Limited charging infrastructure, low domestic EV production and high EV battery costs remain some of the key hurdles in maintaining strong EV uptake in the long run," Dylan Sim, an oil market analyst at FGE, said.
India's progress is modest by global comparisons. Last year registered EVs tripled to 1.01 million from 2021, most of them two- and three-wheelers.
While EVs make up just 1% of the 3 million cars sold each year, New Delhi wants to grow this to 30% by 2030 and has introduced a range of policies to get there, including tax breaks for consumers.
India's state refiners, which dominate fuel retailers, plan to set up EV charging facilities at more than 22,000 fuel stations and highways by 2024.
Strong growth for ride-hailer BluSmart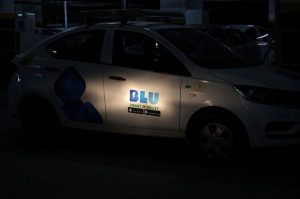 The private sector is also providing EV bulls hope. Gurugram-headquartered ride-hailing service BluSmart, which owns a fleet 3,000 EVs, has seen brisk growth.
Its co-founder Punit Goyal said it now provides 500,000 monthly trips, up from about 35,000 when it started in 2019.
Local automakers like Tata Motors and Mahindra & Mahindra have made big investments while foreign players like Kia and BYD have announced premium models for the Indian market.
About 40% of India's fuel demand is for diesel, which is mostly used by trucks.
Chetan Maini, chairman of Sun Mobility, which provides electric mobility solutions, said India's smaller trucks, including three-wheelers, are likely to be early adopters in the transition given the cost advantage for e-commerce and delivery firms.
His company currently has 80 battery swapping stations in Delhi for two- and three-wheelers and plans to set up 200 by March.
"A large opportunity by 2030 is going to be on the trucking side because the cost economics will work out really well," Maini said.
Reuters with additional editing by Jim Pollard
ALSO SEE: