Shares of AMC Entertainment, one of the most hyped "meme stocks" pushed by denizens of the Reddit website, closed higher on Tuesday after a sharp decline this month helped short sellers gain more than $1 billion.
The US theatre chain's shares closed up 5.4% at $24.50 after falling as much as 10.5% to a new seven-month low earlier in the session.
Shares of another meme stock, video game retailer GameStop, which have also tumbled in recent days, were up about 7.9% at $147.69.
Individual investors coordinating on online message boards helped fuel stunning rallies that cost short sellers billions of dollars but recently those stocks have tumbled, with AMC down around 28% in the month-to-date and GameStop off nearly 25%.
Stunning Rallies
"I think a zero is actually likely – but that will take some time," John Hempton of Sydney-based short seller Bronte Capital wrote on Twitter, referring to his expectations for AMC. "And I will have covered before then."
Short-sellers have gained $1.1 billion on their bets against AMC since the beginning of December, data from analytics firm Ortex showed on Tuesday, nearly halving their year-to-date losses.
GameStop short-sellers have made $330 million since the start of the month but are still down a net $11.78 billion year to date, Ortex data showed. AMC and GameStop are up around 1,000% and 600% year-to-date, respectively.
"I barely care about GameStop," Hempton added. "I am endlessly amused by it. This Reddit crowd is every bit as insane as anything in Charles Mackay," he said, referring to the 19th century Scottish author of Extraordinary Popular Delusions and the Madness of Crowds.
Pre-Pandemic Levels
However, GameStop saw customer numbers breach pre-pandemic levels in October, with visits up 3.2% compared with October 2019, according to footfall data provider Placer.ai.
"That's a monstrous achievement, considering that the previous month, visits were down 12.2%," said Noam Ben-Zvi, Placer.ai chief executive.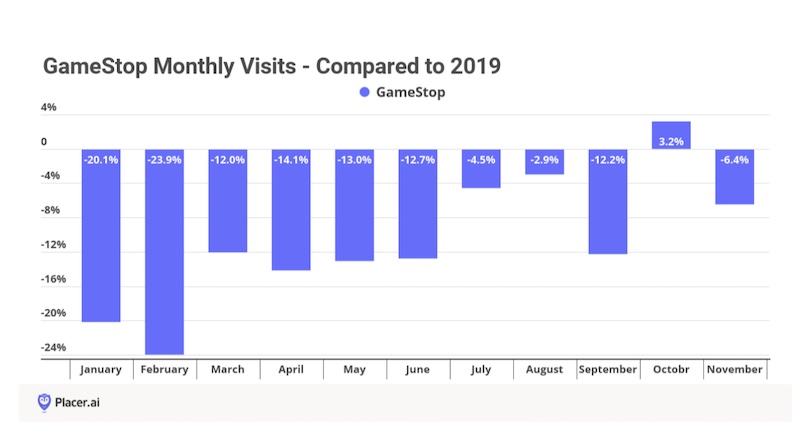 "The jump speaks both to the bump that the wider notoriety around the brand seems to have given to the company's retail prospects and to a uniquely exciting holiday retail season," he added.
"The combination of a desired product line, renewed joy around brick-and-mortar shopping, and wider pent-up demand could drive significant offline strength for the gaming retailer."
The estimated short interest at AMC increased to 19% of its free float from 16% at the end of November, according to Ortex data. GameStop short interest has shot up to 14% from 11% in the same period.
Reuters, with George Russell
SEE MORE: