(ATF) A flotilla of tugboats was working on
Wednesday to free a giant container ship stuck in the Suez Canal after a gust of wind blew it off course on Tuesday afternoon.
Officials from Egypt's Suez Canal Authority also sent excavators to dig the bow of the huge vessel out of the canal bank (seen in the photo below).
The officials said they were doing all they could to refloat the Taiwan-owned but Panama-flagged MV Ever Given, a 400-metre (1,300-foot) long and 59-metre wide vessel, which was lodged sideways across the waterway.
The drama has created a major delay for more than 100 vessels queued up to go through one of the world's busiest waterways.
Historic sections of the canal have been reopened in a bid to ease the bottleneck of backed up marine traffic.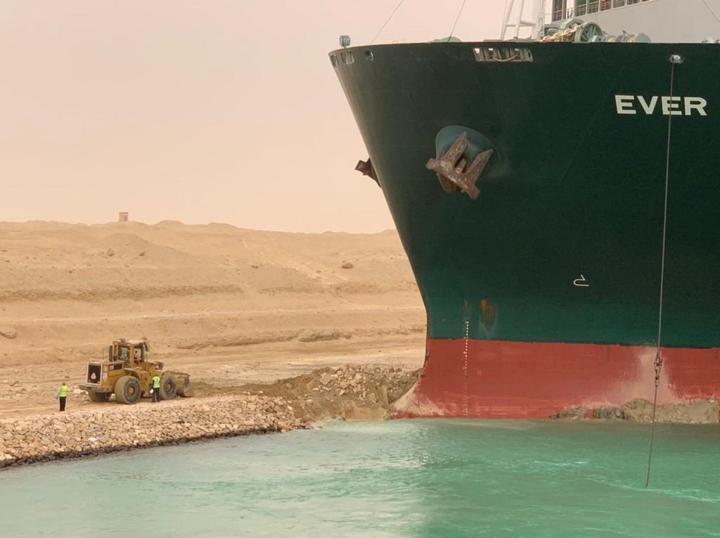 Excavators digging earth from the canal's bank are dwarfed by the Ever Given's giant hull towering above them.
The canal, which links the Mediterranean to the Red Sea, was opened to navigation in 1869, and was expanded in 2015 to accommodate larger ships.
Maritime monitors such as MarineTraffic have a map showing large clusters of vessels circling at both ends of the canal – in the Mediterranean off Port Said, and in the north of the Red Sea.
The Suez Canal is one of the world's most important trade routes and provides a passage for 10% of all international maritime trade.
Nearly 19,000 ships passed through it last year carrying more than one billion tonnes of cargo, according to the Canal Authority.
It has been a boon for Egypt's struggling economy in recent years, with the country earning $5.6 billion in revenue from the canal in 2020.
Logistics industry under 'enormous pressure'
Shipping experts have said the accident is symptomatic of the difficulties that the industry currently faces.
"The severe shortage of containers experienced around the world in recent months has heaped enormous pressure on the logistics industry. Extraordinary import demand, combined with coronavirus outbreaks at key western gateway ports, have combined to make available containers a rare, prized commodity," Sam Chambers, editorial director at shipping news site, Splash, told ATF.
Chambers said the impact on global supply chains would depend on how long the ship is wedged across the Canal.
"The authorities have been talking about a couple of days. Diggers are already in place trying to dig the bow out, while a dredger has also been dispatched. If, however, this fully-laden, giant ship needs to offload boxes in order to refloat that could add extra days – and, by extension, add further stresses to what are already severely stretched global supply chains."
Analysts said the drama showed the immediate impact that a blockage of one of the world's major shipping arteries could have on world commerce, including trade from Asia.
"With more than 50 vessels transiting the canal a day, even a temporary blockage can have a disproportionate effect on world trade. Integrated supply chains are already strained by the Covid-19 pandemic and this event will have a further knock on effect – for example on the Asia-Europe trade that transits the canal," Philip Young, a partner at Cooke, Young & Keidan, said.
"Exporters, importers and manufacturers will all feel the added strain as components and goods arrive late and as 'just in time' manufacturing processes, therefore either have to be slowed down or, in extreme cases, temporarily halted. Affected businesses that are already struggling with cashflow may see this problem increased as delayed supply can mean delayed payment (and in some cases declined payment). There will also be knock-on impacts for insurers who may be called upon to make good losses and, of course, the end customer."
Container ships account for more than half of the canal's total traffic, with some of them being among the largest in the world reaching a capacity of up to 23,000 TEU (twenty-foot equivalent unit).
Most of the cargo travelling from the Gulf to Western Europe is oil.
In the opposite direction, it is mostly manufactured goods and grain from Europe and North America headed to the Far East and Asia. 
With reporting by AFP. 
ALSO SEE: