(ATF) The way has been cleared for another direct flight between Vietnam and the US. Last week, the US Department of Transportation granted Hanoi-based Bamboo Airways, Vietnam's newest air carrier, a permit to carry passengers and cargo in its wide-body Boeing 787-9 Dreamliner directly from Hanoi and Ho Chi Minh City to the US.
Flights are reportedly scheduled to begin at the end of 2021 or the beginning of 2022. The airline had hoped to launch flights later this year, but its timetable has been set back by the ongoing Covid-19 pandemic.
The next step for the discount air carrier is to seek licences from the US Federal Aviation Administration (FAA), the Transportation Security Administration and other agencies.
Nguyen Ng?c Tr?ng, Bamboo Airways' deputy general-director, said Bamboo has prepared facilities and equipment to meet US operating standards. It has also been improving its fleet and training pilots and employees on state and federal laws as well as market situations to prepare for direct flights.
After years of negotiations, the FAA finally granted a so-called Category 1 rating to Vietnam's Civil Aviation Authority under its International Aviation Safety Assessment program in February 2019. The FAA designation ensures that Vietnam meets safety standards to operate flights to the US.
Bamboo is the second Vietnamese air carrier to receive permission for direct flights to the US. In September 2019, national flag carrier Vietnam Airlines also received clearance to fly to international airports in the US. However, other than four flights in July and August to repatriate US nationals, the carrier hasn't started direct flights to the US yet.
The most popular airlines flying from Vietnam to the US, often with one stop, include Cathay Pacific, American Airlines, and Qatar Airways.
There are several takeaways from Bamboo's development. The first shows the continued growth of air travel pre-pandemic between Vietnam and the US. In 2019, around 1.5 million passengers traveled between the two countries, according to global travel data provider OGA.  
Americans, for their part, are among the top foreign visitors to Vietnam, with 687,226 arrivals last year, mostly due to simplified visa requirements. In 2018, American tourists spent an average US$3,233 per trip when visiting Vietnam.
However, that number, as well as travellers from other countries, has dropped dramatically since the start of the year due to the Covid-19 pandemic, causing economic headwinds in the country, especially its coastal tourist hot-spots, Da Nang and Na Trang, that had started to rely heavily on tourism revenue.
The US also has an ethnic Vietnamese population of over 2.1 million people which is also expected to be a steady source of travel demand between the two countries.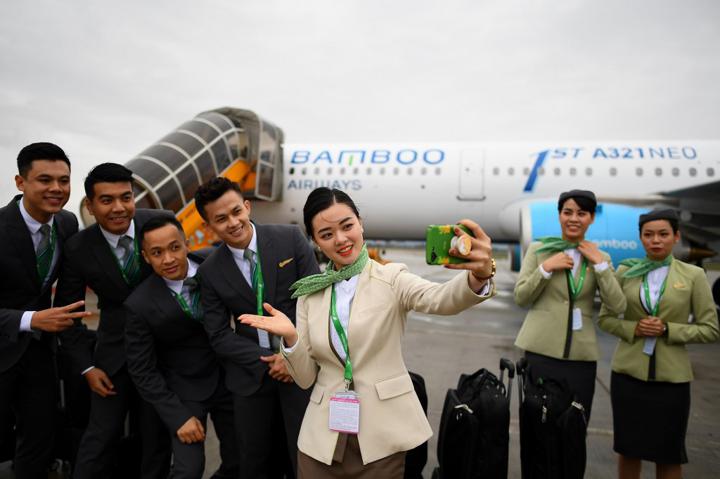 Flight attendants of Vietnam's Bamboo Airways pose in front of their Airbus A321Neo during a welcoming ceremony on the airline's first day of operation at the Noi Bai Domestic airport in Hanoi on January 16, 2019. Photo: Manan Vatsyayana / AFP.
Geopolitical angle
However, as the US approves more direct flights between the two sides, lurking in the background is a ramp-up in bilateral relations between Washington and Hanoi.
Despite their obvious political and ideological differences and history as antagonists during the Vietnam War, relations between the two countries are at an all-time high. While much of those improved relations can be attributed to globalization, a common adversary found in an increasingly assertive China has solidified those ties.
For Vietnam, Beijing's claims to around 90% of the South China Sea and its interference in the country's plans to develop oil and gas in its own UN-mandated 200-nautical mile exclusive economic zone (EEZ) has further strengthened its pivot closer to Washington.
Trade violations, intellectual property rights theft and a host of other issues has also emboldened Washington's anti-China stance – one that will likely spill over into a new Biden Administration that will presumably take office in late January.
Moreover, amid the ongoing two-and-a-half year Sino-US trade war, Vietnam has thus far been one of the biggest beneficiaries as US companies have or plan to move their operations and supply chains away from China into several countries in the region including Vietnam.
Sticking points
However, sticking points remain, including differences on human rights concerns, which could be heightened under a new Democratic led White House, ongoing allegations by the US over what it deems Vietnam's currency manipulation, and a growing trade deficit between the two sides.
On October 2, the US announced it was opening yet another investigation into whether Vietnam has been purposefully suppressing the value of its currency – the dong. Hanoi, true to form, has denied these allegations.
In a meeting on October 26 in Hanoi, Prime Minister Nguyen Xuan Phuc told Adam Boehler, head of the US International Development Finance Corp, that the US shouldn't leap to any rash conclusions.
"If the dong is devalued, it will seriously hurt the economy," Phuc said. "Vietnam is not using exchange rate policy to create competitive advantage in international trade."
The US, for its part, will be reluctant to back Hanoi into a corner over these problems. Washington simply needs Vietnam's assistance in its own pushback against China's attempts to control most of the South China Sea, a vital water passageway where around one-third of global maritime trade, valued at more than $3 trillion, passes each year, including vital oil and natural gas exports to hydrocarbon-dependent Japan, South Korea and Taiwan – all long-time US allies.
As such, the so-called Quad group, a fledgling four-way alliance between the US, Japan, India, and Australia, is being formed to check Chinese hegemony pursuits.
The group of countries is also interested in Vietnam's participation to help it establish a free, open and inclusive Indo-Pacific region based on what the group deems "equality, multi-polarity and international law and norms."
According to several analysts, Hanoi is considering joining the group.
ALSO SEE: