(AF) Even fines for false advertising and a dressing down from China's official state media couldn't stop shares of Western fashion brands climbing on Friday.
A day after Chinese media excoriated Western labels for misleading local consumers with a "basket of lies and wave of falsehoods," the share prices of high-end fashion, jewellery and other luxury goods makers, including Burberry (BRBY.LSE), LVMH (MC.PA) and Richemont (CFR.SW), continued to rise. All derive large chunks of their earnings from China.
Even coat-maker Canada Goose, whose alleged false advertising sparked the outburst on Thursday, saw its share price advance. China's market regulator had said that instead of goose down, the jackets made by Canada Goose mainly use duck down and claimed that a type of down known as Hutterite down is the warmest.
The China Economic Daily praised the market regulator for "catching the lying Canada goose across the Pacific."  It added that "Consumers have come to understand that foreign brands do not necessarily represent high quality … Chinese brands are on the rise."
Despite problems in the huge China market, the most recently reported earnings data show stunning sales growth for global fashion brands: Canada Goose (GOOS.US) posted a 189% revenue surge in the most recent fiscal quarter and at Burberry the figure was 55%.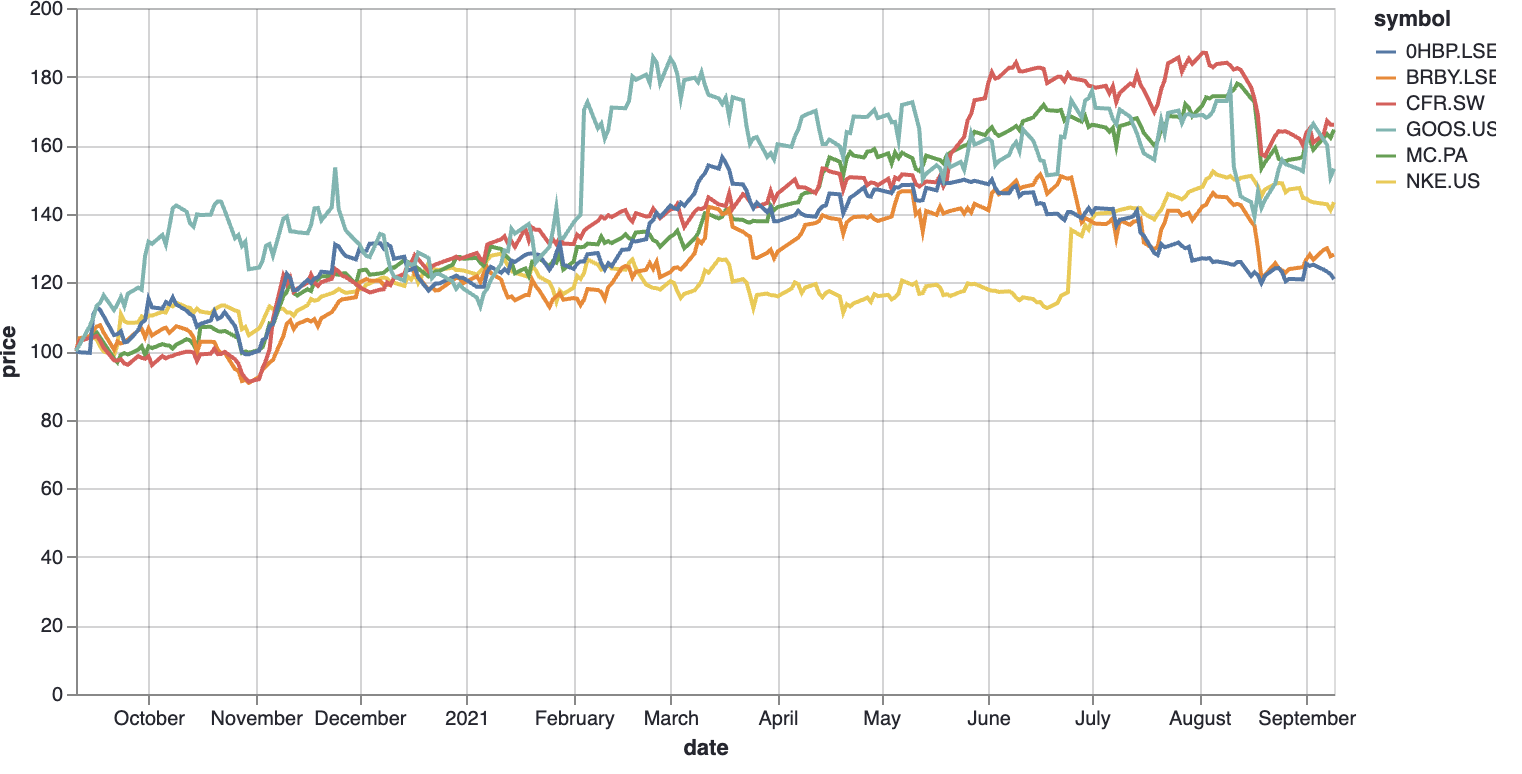 The figures are all the more remarkable considering Western brands were attacked earlier in the year after some, including London-listed Burberry, took a stand against human rights abuses in Xinjiang by boycotting cotton supplies from the remote majority-Muslim region.
High-street brands, however, haven't managed quite the same feat.
Global sports shoe marque Nike (NKE.US) saw its earnings from the country rise in the most recent quarter, but missed analyst estimates by a handy margin. And Swedish high-street label H&M (OHBP.LSE) saw its Chinese earnings drop 28% in the last reported quarter for its part in the Xinjiang protest.
Both, nevertheless have delivered stunning returns to investors as their share prices surged 38% and 22%, respectively, in the past year.
Also on AF: China Media Slam Foreign Brands for 'Basket of Lies,' Quality