(ATF) Revelations that Adani Ports has done a multi-million-dollar deal with the Myanmar military to lease a section of the Yangon port could cause trouble for the group and India's Modi government, experts fear, given the strong sanctions imposed by the new US government on the junta for their slaying of hundreds of unarmed civilians.
Australia's ABC News Network reported on Monday that leaked documents from human rights activists and lawyers show the Adani Group had an agreement with the Myanmar junta over a container port in Yangon.
The documents say the Indian multinational conglomerate Adani Group is paying up to $52 million to a company controlled by the Myanmar military that has just been slapped with sanctions by the United States over its brutal slaughter of hundreds of citizens opposing the coup that ousted Aung San Suu Kyi and her re-elected government.
The report revealed that the group's subsidiary Adani Ports is paying $30 million to the Myanmar Economic Corporation as "land lease fees" for the port.
Adani Ports and SEZ Ltd won a global bid last year for the Yangon International Terminal, an independent container terminal project fully owned and developed by the company.
Videos and photos from the report show Adani Ports' CEO Karan Adani meeting with Myanmar's Senior General Min Aung Hlaing. This directly contradicts a statement by the Adani group saying that it never "engaged with military leadership" in Myanmar.
The army chief has been the subject of international judicial inquiries in recent years – accused of ordering extrajudicial murder and gross human rights violations that occurred in the brutal crackdown in Rakhine state, which began in August 2017, when more than 6,000 villagers were reportedly massacred and close to 700,000 Rohingya fled over the border into Bangladesh.
The latest revelations come in a report published by human rights lawyers and activists, which alleges that Adani Ports is developing a container port in collaboration with Myanmar Economic Corporation (MEC) Ltd, a conglomerate overseen by the Myanmar Tatmadaw (military).
A week ago, the United States imposed economic sanctions on MEC and another huge military conglomerate, Myanma Economic Holdings Public Company Limited (MEHL), after an increasingly brutal crackdown on citizens all around the country, who are protesting against the military's move to detain Suu Kyi and elected leaders after staging a coup on February 1.
More than 500 people have been killed and thousands injured and jailed in the deadly crackdown on unarmed protesters over the past two months.
Human rights groups and advocacy bodies have piled pressure on Adani, warning that it is helping to finance one of the world's most notorious armies, which has long been accused of community crimes against humanity.
The Adani Group has yet to comment on the ABC report, but it said on Wednesday that it condemned "violations of fundamental rights of all people" and would continue to work with "partners and stakeholders" in response to recent media reports on the conglomerate's investments in the Myanmar.
"We are also working with independent think tanks to ensure mitigation of human rights violations risks," the Adani company said in a statement.
It said the land acquisition for the port project was facilitated by the Myanmar Investments Commission.
'A VITAL FINANCIAL LIFELINE'
But there are fears that the Adani port deal could spill over and create difficulties for India, as the US sanctions on Myanmar Economic Corporation show that Washington consider MEC "a vital financial lifeline" for a military which has shown scant regard for its own citizens.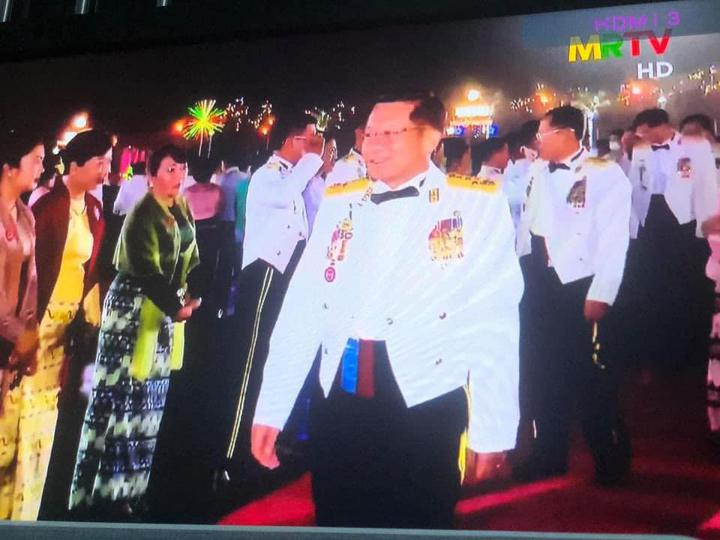 Myanmar's Senior General, in white tuxedo, centre, is seen at a lavish celebration in Naypyidaw last Saturday (Armed Forces Day, March 27), a day when at least 114 people were killed in different parts of the country. Around the time this photo was taken airstrikes were carried out in Karen State in the country's southeast. Min Aung Hlaing is also wanted by the International Court of Justice for the slaying of more than 6,000 Rohingya in August and September of 2017. Photo: Altsean Burma/Facebook.
The Biden Administration's main concern is that MEC provides direct revenue streams to the Myanmar military, as a United Nations Fact-Finding Mission found in 2019.
"The [two military] companies dominate certain sectors of the economy, including trading, natural resources, alcohol, cigarettes, and consumer goods," a statement by the US Treasury Department said on March 25, which explained why it was imposing sanctions on the MEC and MEHL.
Adani's refusal to disengage with the MEC and the port deal, despite several warnings in the past, not only puts Adani Ports in a fix, but also complicates India's relations with the US.
STRATEGIC IMPORTANCE
Adani says that the container terminal in Myanmar is part of company's strategy to expand its container terminal network in Southeast Asia. The Yangon port will also act as a network point to feed its upcoming trans-shipment hub at Vizhinjam.
The terminal will be linked with Adani's ports and terminals along the east and south coast of India, which offer multiple entry and exit points for the global shipping lines that go through the region.
An expansion of Myanmar's river ports is also part of that country's strategy to rapidly increase exports over the next five years and position itself as a regional trade hub.
Business analysts in India say that Myanmar gives Delhi a geopolitical counter to Chinese investments in the Sri Lankan ports of Hambantota and Colombo, as well as Pakistan's Gwadar port, at a time when Beijing is seen to be encircling the region with its Belt and Road Initiative.
Adani said it also plans to build a maritime university to upgrade the skills of local people and build local infrastructure such as waterways and other transport facilities to bring efficiencies and drive economic development in the region.
'GENOCIDE'
Still, according to human rights activists and lawyers, "What these documents reveal in particular is the amount that was provided to the MEC, a Myanmar military conglomerate that is controlled and owned by the Myanmar military [which] stands credibly accused and is being investigated at the International Criminal Court and the International Court of Justice for crimes against humanity, war crimes, and even in the case of the crimes against the Rohingya genocide."
The concern – as has been publicly stated by the United Nations Fact-Finding Mission – is that these military conglomerates provide essential financial revenue streams directly to the Myanmar military, they said.
READ MORE: