Israel's Haifa Port — owned by Indian billionaire Gautam Adani's Adani Ports — is seeing a growing backlog of ships and cargo as Tel Aviv prepares its military to launch a ground assault in the Hamas-controlled Gaza Strip.
At least three laden dry bulk ships were waiting off Haifa in northern Israel, trade data showed.
The port, which handles multiple cargo segments including dry bulk goods, said on Sunday it was working continuously and also throughout the weekend.
"The activity has been reinforced to the maximum possible, within the operational and manpower limitations, in order to receive cargo of all types, including cargo that was diverted from the direction of Ashdod and unloaded at the Port of Haifa," it said in a statement.
Ashdod, another major Israeli port, is also facing cargo backlog, after it imposed restrictions on the transport of hazardous materials and led to slower transits.
Haifa, located north of the present conflict zone, and Ashdod are Israel's biggest and most vital ports.
Adani operates the Haifa Port in northern Israel along with a local partner Gadot after it completed its purchase for 4 billion shekels ($1.03 billion) in January.
Volatile weeks ahead
Mumbai-listed shares of Adani Ports remained volatile last week amid concerns about the port's operations. While the company's shares fell as much as 4.5% on Monday, following the Hamas attack over the weekend, they eventually recovered to end the week with gains of a little more than 1%.
In a statement following the attacks, Adani Ports said it was closely monitoring the conflict and was prepared with a business continuity plan.
Haifa's contribution to Adani Ports' numbers is "relatively small" at 3% of the total cargo volume, the statement added.
Shares of Adani Ports are down 1.3% this year, compared with nearly 8% gains in the broader Nifty 50 index.
"The next couple of months are going to be volatile for Adani Ports as the war has just started and will trade with a negative bias … Besides, it is not just Israel and Iran, but commodity prices will also get impacted," said Avinash Gorakshakar, head of research at Profitmart Securities.
Global trade risks
Israel has vowed to annihilate Hamas in retaliation for a rampage in which its fighters stormed through Israeli towns a week ago, shooting civilians and seizing scores of hostages in the worst attack on civilians in Israel's history.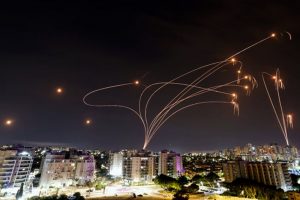 And while Haifa and Ashdod account for just 0.4% of global container throughput, any expansion of hostilities beyond Israel's border could introduce risks to vital shipping chokepoints in the region, online logistics platform Container xChange said.
"The Suez Canal, a critical waterway for various commercial vessels, including container ships, may face disruptions," Container xChange CEO Christian Roeloffs said.
"Similarly, the Strait of Hormuz, a backbone for oil and gas shipping, could be affected. However, the extent of these effects will largely depend on the conflict's expansion and duration."
The Marshall Islands registry, one of the world's top shipping flags, last week raised the security level for Israel's ports and its territorial waters to their highest.
"Threat of collateral damage to merchant vessels has increased significantly," the registry said in an advisory.
"Vessels with links to Israel or the United States may be under heightened threat of attack within Israeli territorial waters, the Arabian Gulf, Strait of Hormuz, Gulf of Oman and Red Sea areas."
Reuters, with additional inputs from Vishakha Saxena
Also read: