US-listed shares of Alibaba jumped 8% on Tuesday after the group unveiled plans to split into six units and explore fundraising or listings for most of them.
Chief executive Daniel Zhang sent a letter to the conglomerate's 200,000 employees outlining a major revamp into six independent units, to make its businesses more agile and responsive.
The news comes as Beijing vows to ease a sweeping regulatory crackdown on Alibaba and many other tech companies, and support its private enterprises.
Alibaba shares have fallen around 70% since the crackdown started in late 2020, following founder Jack Ma's notorious speech in which he criticized national regulators.
The Chinese e-commerce conglomerate said that the biggest restructuring in its 24-year history would see it split into six units – Cloud Intelligence Group, Taobao Tmall Commerce Group, Local Services Group, Cainiao Smart Logistics Group, Global Digital Commerce Group, and Digital Media and Entertainment Group.
The revamp of the conglomerate comes a day after its founder Jack Ma returned home after a year-long stay abroad and as Beijing looks to spur private sector growth after a two-year-long regulatory crackdown on its showpiece private enterprises.
ALSO SEE:
Bid to 'lighten and thin' the group
"The original intention and fundamental purpose of this reform is to make our organisation more agile, shorten decision-making links and respond faster," Zhang said in a letter to staff.
Each business group, he said, had to actively tackle the rapid changes in the market and each Alibaba employee had to "return to the mindset of an entrepreneur."
Daniel Zhang will continue to serve as chairman and CEO of Alibaba Group, which will follow a holding company management model, and concurrently serve as CEO of Cloud Intelligence Group.
Each of the six business groups will be managed by its own CEO and board of directors and will retain the flexibility to raise outside capital and seek an initial public offering, it said.
The exception would be Taobao Tmall Commerce Group that handles its China commerce businesses and will remain an Alibaba Group wholly-owned unit.
Zhang also said that the company would "lighten and thin" its middle and back office functions, but did not detail job cuts.
Positive response
Investors said the announcement stems concerns Alibaba had lost growth potential and signals regulatory worries clearing.
"It releases additional value," said Kenny Ng, a strategist at China Everbright Securities in Hong Kong.
"With this expectation, investors will be more positive on Alibaba. "It may reflect a new round of development for the business and reduce worries of regulatory issues."
The restructuring is among the biggest corporate moves made by a major Chinese tech company in recent years, as the industry cowered under tightening regulatory oversight, causing deals to dry up and dampening appetite among businesses to explore new areas.
Authorities have in recent months been softening their tone towards the private sector as leaders try to shore up an economy battered by three years of Covid-19 curbs. Companies, however, have been hesitant, privately pointing to a lack of new supportive policies and the new regulatory framework.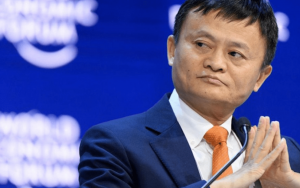 Jack Ma Asked to Return
Alibaba's shares had received a boost on Monday after the company's founder Ma was pictured having returned to China, ending a stay overseas of more than a year that industry viewed as reflecting the sober mood of its private businesses.
China's new premier, Li Qiang, who has been at the forefront of government's effort to bolster the private sector, had recognised Ma's return to the mainland could help boost business confidence among entrepreneurs and since late last year had begun asking Ma to return, five sources with knowledge of the matter said.
"It does seem something of a coincidence that this is happening just as Ma seems comfortable returning. To me it suggests something that Alibaba has been wanting to do for some time, but has been waiting for the opportunity to do so," said Stuart Cole, head macro economist at brokerage Equiti Capital.
The restructuring "does inject an element of flexibility and adaptability into the company, which currently is something of a behemoth," he added.
Reuters with additional editing by Jim Pollard
ALSO SEE: