(ATF) The world's second largest economy imported goods at a faster than expected rate as Chinese consumption powered ahead signalling continued strength in infrastructure and property investment.
Exports remained strong riding the recent strength of retail sales among China's major trading partners while its trade surplus with the United States narrowed.
China's exports growth accelerated to 9.9% on year in September from 9.5% in August while imports grew 13.2% on year in September, reversing August's contraction of 2.1%, data published on Tuesday showed. Analysts polled by Reuters had expected a 0.3% increase in imports.
Goldman Sachs economists said imports were driven by later than usual mid-Autumn festival this year which implies more working days this September compared with last September, tighter US restrictions on technology exports to Huawei, and the solid expansion of domestic demand.
"In coming months, we expect the export strength to persist and imports may also continue to expand on the back of continued recovery in domestic activity," Goldman Sachs economists Maggie Wei, Hui Shan and Yu Song said in a note.
But they pointed out import growth in the next few months will not necessarily be stronger than September.
China's factory activity has also picked up as international trading gradually resumes.
"China's exports have surprised on the upside as China is first-in-first-out of Covid-19 so that its production is revived after the virus is under control while the rest of the world is still in lockdown or being disrupted," Chi Lo, an economist at BNP Paribas Asset Management, said. 
"So as the other countries buy from China, notably those pandemic-related goods. Chinese exports will continue to perform for as long as China's infection remains under control while the rest of the world remains disrupted."
Stronger yuan helps
The yuan's recent appreciation has also helped boost imports and is expected to underpin consumption in coming months.
"The stronger than expected growth in imports came from a combination of internal demand pickup and yuan appreciation," Erin Xin, HSBC's Economist for Greater China, said. 
She added that as floods receded, pent-up construction activities manifested in the September data. Imports of iron ore, crude oil and steel products picked up pace, rising by 9.2% on-year from 5.8% in August, 17.6% from 12.6% and 160% from 131%.
"In addition, the yuan appreciated against a basket of currencies by 1.7% in September compared with August. The appreciation made imported goods cheaper for local traders, boosting their appetite to stock up on goods."
The demand for commodity imports will remain strong in coming months.
"China's commodity imports for September remained robust, reflecting positive economic data. Prospects of further fiscal stimulus measures are likely to keep the apparent demand strong. China's plan to build strategic reserves will be further support for commodity imports," ANZ economists said in a note.
The rise in imports pushed the trade surplus for September down to $37 billion, compared with $58.93 billion in August and lower than an expected $58 billion.
Already heightened U.S.-China tensions are expected to escalate ahead of the US presidential election. China remains well behind on its pledge to boost purchases of US goods under an agreement that was launched in February.
China's trade surplus with the United States narrowed to $30.75 billion in September from $34.24 billion in August.
Top US and Chinese trade officials reaffirmed their commitment to a Phase 1 trade deal in a phone call in August.
However, US Department of Agriculture Secretary Sonny Perdue cast doubt earlier this month on the likelihood of China meeting its commitment to purchase enough agricultural products as promised in its Phase 1 trade deal.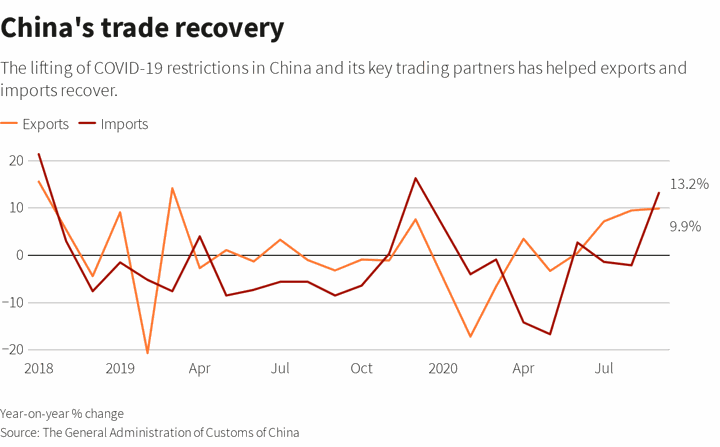 With reporting by Reuters