This year's Los Angeles auto show will be a celebration of electric vehicles (EVs), with Asian carmakers to the fore.
California's annual display of automotive innovation kicks off on Friday and runs until November 28.
The Zevas, the show's award for best zero-emission vehicles, include finallists from Hyundai and Kia as well as domestic US marques like Tesla, Ford and Lincoln. Other entrants include the Electrameccanica Solo, pictured below.
VinFast, the Vietnamese carmaker aiming to break into the US market with the introduction of two electric SUVs next year, debuted two vehicles at the show.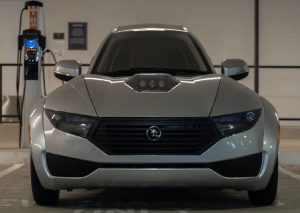 The company said it would spend $200 million to establish a US headquarters as part of a push into North America and Europe. It also plans to open a factory in the US in the second half of 2024.
A new survey conducted by the show's organisers found that 78% of intending show-goers said their interest in EVs has increased significantly in the last 12-15 months.
More than 70% said they were in the market to buy or lease a new car within the next 12-24 months.
"We know that electrification is the future and the findings from our latest survey confirm that Angelenos are eager to learn about EVs and how they enhance their lifestyle," said Liza Kaz, the show's chief executive.
Show organisers say this year's edition would have more test-driving opportunities than at past shows, including an indoor EV test track as well as outdoor circuits.
READ MORE:
WATCH MORE: