(AF)
The ATF indexes closed mixed on Wednesday, as the People's Bank of China (PBoC) injected 120 billion yuan ($17 billion) into the financial system via a seven-day reverse repo in order to maintain adequate liquidity, according to a statement on its website. The Chinese central bank left the cost of seven-day reverse repos unchanged at 2.2%.
The seven-day reverse repo is a short-term loan used by the PBoC to increase liquidity and influence other rates in the banking system. Given that 80 billion yuan matured on the same day, the open-market operation amounted to a net liquidity injection of 40 billion yuan, according to Trading Economics.
The benchmark China Bond 50 index ended the day unchanged, closing at 105.95, while the ATF ALLINDEX Corporates and Financial sub-gauges climbed 0.01% to close at 98.56 and 105.71. 
The ATF ALLINTEX Enterprise and Local Government fell 0.08% and 0.01% respectively, to 101.27 and 117.00.
The biggest loss was posted by the Agricultural Development Bank of China, a constituent of the benchmark index, which reversed Tuesday's gains. Its bonds, which traded last on 27 October, dropped 0.34% for a yield rise of 1.67%. 
The biggest gain was posted by Shaanxi Coal and Chemical, a constituent of the ATF ALLINDEX Enterprise, with the price of its paper climbing 0.35% for a yield decline of 1.89%. The bonds traded last on 21 October.
Other notable price increases within the Enterprise index were those of Xi'An Hi-tech and Hangzhou Qianjiang New City bonds, which extended yesterday's gains by a further 0.02% (for a yield decrease of 0.05%)  and 0.01% (for a yield decrease of 0.07%) respectively. The bonds each traded last on 23 October and 7 July.
Finally, Everbright Financial Leasing posted the only significant move of the ATF ALLINDEX Financial, rising 0.01% for a yield decline of 0.06%. The bonds last swapped hands on 23 October.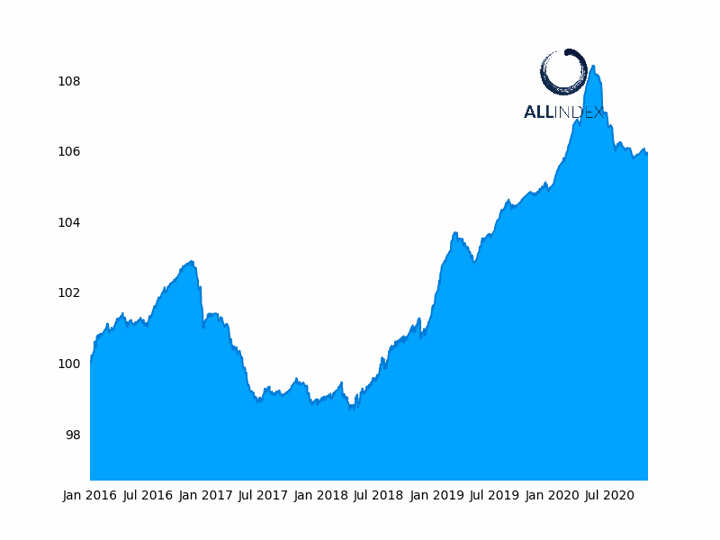 The benchmark China Bond 50 index, seen here, ended the day unchanged on Wednesday.