(ATF) A new rare earths processing plant is planned for Australia as part of moves by western countries to end China's stranglehold on the vital materials.
Mineral sands producer Iluka Resources said it has won government support for its proposal to build a fully integrated rare earths refinery at Eneabba, a small town 280km north of Perth in Western Australia.
"The Eneabba refinery represents an exciting opportunity for the company, consistent with our longstanding plans to diversify into rare earths," Iluka managing director Tom O'Leary said. "It is not an opportunity without risk."
The move comes in the wake of a threat of supply disruptions from China that has pushed the likes of Australia and the United States to ramp up their own capabilities in recent years.
"The more important issue is securing raw material," Yoshihiro Azuma, equity analyst at Jefferies, said. "The rare earth magnet industry still depends heavily on China."
ASX-listed Iluka shares were unchanged on Thursday at A$8.16.
FEASIBILITY STUDY
Iluka expects to complete a feasibility study by early 2022 for the plant, where it now produces concentrate that contains rare earths from radioactive monazite ore.
"The Morrison government is focused on growing Australia's critical minerals sector, capturing more value from our resources by moving into downstream processing, and diversifying global supply chains," Trade Minister Dan Tehan and Resources Minister Keith Pitt said in a joint letter to the Australian stock exchange in support of Iluka.
"This includes supporting Australian projects with broader benefits across the industry," the letter added.
"Iluka is in discussions with Export Finance Australia regarding financial support for the project, including seeking a non-recourse loan facility," the ministers said.
Iluka, founded in 1998 through the merger of Westralian Sands and the titanium business of Renison Goldfields Consolidated, is the largest producer of zircon and titanium dioxide-derived rutile and synthetic rutile globally.
It is dwarfed by Lynas Rare Earths, the world's largest producer of rare earths outside China, which is building a plant in Kalgoorlie, also in Western Australia.
EXPORT BAN PLAN
The Australian plan follows projects in the US and Canada setting up a rare earths supply chain to reduce dependence on China for the vital metals.
Neo Performance Materials of Canada and Energy Fuels and Chemours of the US have found an efficient way to safely produce rare earths from monazite sands.
China is the world's largest producer of rare earth metals and magnets that find use in a wide range of electronic systems and weapons, electric vehicles and other advanced technology.
Beijing controls about 80% of the global rare earths supply and has been considering an export ban, leading to fears it will gain a military and commercial advantage over the US and Europe.
The Ministry of Industry and Information Technology proposed controls on the production and export of 17 rare earths crucial for the manufacture of Lockheed Martin F-35 Lightning II fighters and other sophisticated weaponry.
A Congressional Research Service report found that the F-35 aircraft contained 417kg of rare-earth materials and a nuclear submarine more than 4 tonnes.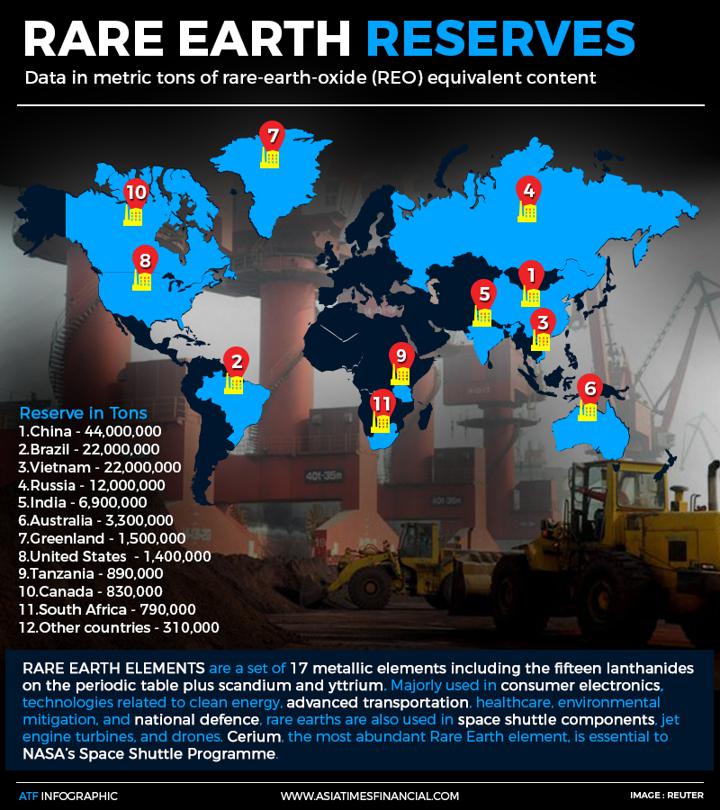 ALSO SEE: