(ATF) Australia's renewable sector – wind, solar and now increasingly green hydrogen – continues to make strides while much of the rest of the Asia-Pacific region trails behind. That momentum is continuing. 
Last week, news broke that UK-based offshore wind developer Australis Energy is planning to build a 300-megawatt wind farm in Geographe Bay in Western Australia (WA), a couple of hours south of Perth, the state capital. 
The wind farm will be built around 5.5km off the coast between Preston Beach and Myalup, in southwestern WA. Once completed, it will include up to 37 turbines with rated capacity of between 8 MW and 15 MW, enough to provide annual electricity supply to more than 200,000 local homes.
WA Offshore Windfarm Pty Ltd, a special purpose company developing the project, has submitted its plans to the WA Environmental Protection Authority.
Pending environmental approval, construction will begin in early 2025, with a commissioning date set for mid-2026.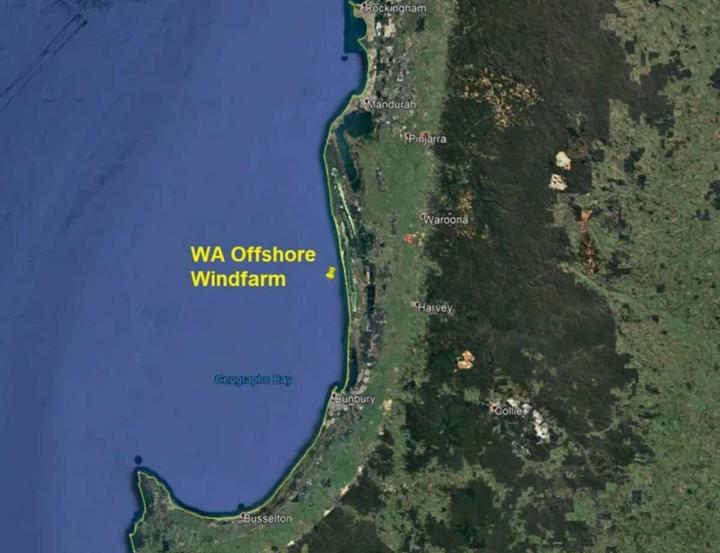 Australis already has a footprint in Australia's wind sector, with a planned 495 MW wind power project in Victoria in the country's southeast (enough capacity to provide power for 330,000 homes) and another 600 MW wind project in the pre-planning stage in South Australia, enough to power 400,000 homes.
Offsetting GHG emissions
Australia's increased wind farm build-out comes as the country tries to make a hard pivot from being one of the world's largest greenhouse gas (GHG) emitters per capita, due to its vast coal and natural gas production, to markedly reducing its carbon footprint. 
Australia's GHG emissions fell in 2019, but only marginally, by just 0.9% as increasing emissions from liquefied natural gas (LNG) export plants largely offset declines in the power and farm sectors, according to government data.
By last year, due to both the onset of the Covid-19 pandemic and several lockdowns in the country as well as more solar and wind power infrastructure build-out those emissions dropped again – but this time by a more substantial rate.
For the last quarter of 2020, Australia's emissions were projected at 123.7 million tonnes of carbon dioxide equivalent (Mt CO2-e), down some 4.7 Mt CO2-e from the previous three-month period. Notably, the dip came amid a surge in renewable energy which offset demand for coal-fired power generation, data from consultancy Ndevr Environmental shows.
More than 260 GW of renewable energy was added globally in 2020, surpassing 2019's previous net increase record by almost 50%, data from the International Renewable Energy Agency (IREA) found. Australia's pace of growth was almost double the global average, coming in at 18.4%.
Gas sector assistance
One notable take-away from Australia's continued renewable build-out isn't just its positive environmental impact, but it could help the country's beleaguered domestic gas sector. 
Australia recently bypassed legacy LNG producer and exporter Qatar in terms of LNG liquefaction capacity at some 80 million tons per annum (mtpa) to take the top global LNG spot. 
However, that success comes with a trade-off and has caused persistent domestic gas shortage worries for the country in lockstep with increasingly high domestic gas prices, that has been particularly hard on industrial end-users.
Gas shortages have been projected within the next two or three years, while domestic gas producers have largely said they will be unable to provide more of the fuel in the short term to meet that shortage.
Hardest hit would be both industrial and manufacturing end-users and the power generation sector. Now, however, solar and wind could increasingly pick up the slack.
In the National Electricity Market renewables are projected to supply over 30% of the country's electricity this year and 55% by 2030, according to an Australian government report released in December.
Emissions are projected to decline by more than 26% below 2005 levels by as early as next year. Gas production, for its part, is projected to grow by 3% over 2020 to 2030.
ALSO SEE: