Indian billionaire Gautam Adani's $2.5 billion share sale was fully subscribed on Tuesday as institutional investors pumped in funds despite a steep fall in the group's companies triggered by the Hindenburg report.
India's largest ever secondary share sale attracted participation from anchor investors including Maybank Securities and Abu Dhabi Investment Authority, as well as India's HDFC Life Insurance and state-backed Life Insurance Corporation.
But while the 30% anchor portion of the issue had been subscribed fully last week, the book building had only 3% in bids on Monday, amid concerns over the rout in Adani's stocks.
By Tuesday the overall share sale was fully subscribed as foreign institutional investors and corporate funds flooded in, although participation by retail investors and Adani Enterprises employees remained low.
"Investors would view the successful completion of the FPO (follow-on public offering) as a welcome relief, as it implies that the company still has the support of institutional investors," Leonard Law, Senior Credit Analyst at Lucror Analytics Singapore, said on Tuesday.
Adani group's seven listed entities had lost $70 billion in market value by Monday on the heels of the scathing report by US short-seller Hindenburg Research.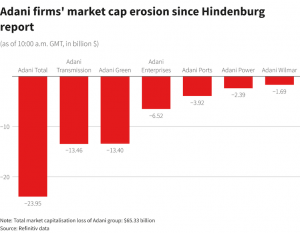 Released on January 24, the report accused the Indian billionaire of 'corporate con' and flagged concerns about his conglomerate's 'improper use of tax havens' like Mauritius and the Caribbean islands and 'precarious' levels of debt. Adani has called the report baseless.
The share sale, set to be India's largest FPO, is critical for Adani. It will not only help his group cut debt, but its success will also be seen as a stamp of confidence by investors at a time the tycoon faces one of his biggest business and reputational challenges of recent times.
The Adani Group had, in the aftermath of its market rout, repeatedly said investors were standing by its side. It had said the share sale would go through despite rising concerns that may not happen.
Bankers at one point had considered tweaking the pricing of the issue, or extending the sale, Reuters had reported.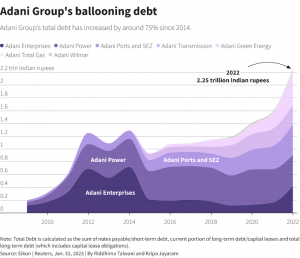 The support for Adani's FPO came even as the flagship's shares were trading at 3,002 rupees, up nearly 4% but below the lower end of the share sale price band of 3,112 rupees.
Over the weekend and through Monday, Adani's firm held extensive discussions with investment bankers and institutional investors to attract subscriptions to the FPO, according to two sources with direct knowledge of the talks.
Demand from retail investors had been muted, garnering bids only worth around 9% of the shares on offer for that segment. On Tuesday, demand came from foreign institutional investors, as well as corporates who bid in excess of 1 million rupees each, data showed.
Abu Dhabi conglomerate International Holding Company has said it will invest $400 million in the issue.
"The follow-on public offering has to go through to restore investor confidence," said VK Vijayakumar, Chief Investment Strategist at Geojit Financial Services.
The Hindenburg report and its fallout have drawn global attention. Adani is now the world's eighth richest person, down from ranking third on Forbes' rich list last week.
Global index publisher FTSE Russell said on Tuesday it continues to monitor publicly available information on the group, in particular from the Indian regulatory authorities.
Index provider MSCI also said on Saturday it was seeking feedback on Adani Group and associated securities, in light of the Hindenburg report.
Sources said India's capital markets regulator was also studying the Hindenburg report as it may help its own probe into offshore fund holdings of Adani Group.
On Tuesday, US dollar-denominated bonds issued by Adani Ports and Special Economic Zone continued their fall into a second week.
Reuters, with additional editing by Vishakha Saxena
This story was later updated at 1315 GMT by Sean O'Meara and graphics added.
Also read: