Most Adani group shares continued to fall sharply on Monday despite a 413-page rebuttal of a US report highly critical of the Indian conglomerate.
Adani Transmission and Adani Total Gas both plunged by 20% on Monday, while Adani Green Energy sank by 16%. Adani Power, Adani Wilmar and Adani Ports and SEZ also dropped by at least 4.2%.
Those drops mean the group's market losses have now risen to at least $70 billion since the Hindenburg Research report last week, that flagged concerns about its debt levels and use of opaque tax havens.
The group's flagship Adani Enterprises, which faces a crucial test this week with a follow-on share offering, fell 2.5%, after initial gains of as much as 10% and its shares are now significantly below the offer price – raising speculation that it could be scrapped or will be amended.
ALSO SEE: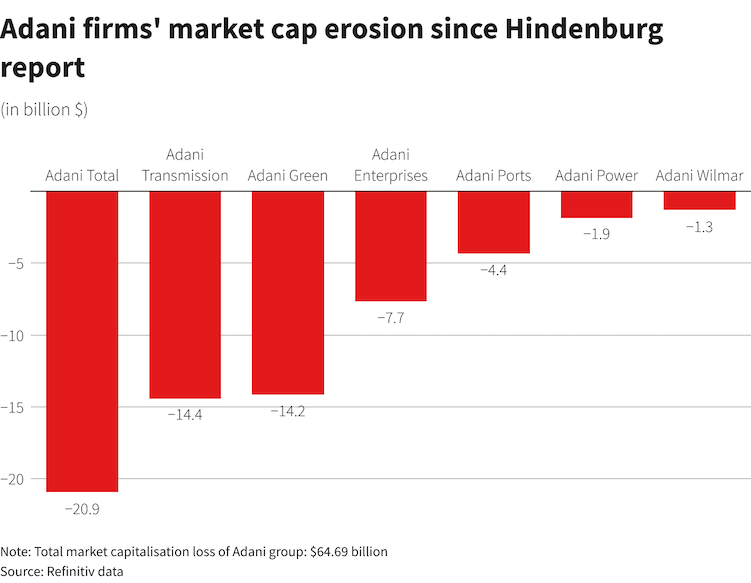 Dark cloud over share offer
Adani, led by Asia's richest man Gautam Adani, has locked horns with Hindenburg Research and on Sunday hit back at the short-seller's report of last week that flagged concerns about its debt levels and the use of tax havens. Adani said it complies with all local laws and had made the necessary regulatory disclosures.
Adani Enterprises' $2.5 billion secondary share sale entered its second day amid weak investor sentiment. The stock was trading at 2,686 rupees in early trade, 13.6% below the lower end of the price band for the share sale.
Initial data from stock exchanges on Monday showed Adani has now received bids for 687,840, or 1.5%, of the 45.5 million of shares on offer. The deal closes on Tuesday.
Foreign and domestic institutional investors, as well as mutual funds, have made no bids so far in the offering, according to the data.
"Retail participation is likely to have a shortfall with current market prices still trailing the offer price and sentiment taking a hit due to the Hindenburg controversy," Hemang Jani, an equity strategist at Motilal Oswal Financial Services, said.
"While there is a risk that the share sale does not go through, it will be crucial today to wait and see how institutional investors participate."
'We have the right to ask questions'
Indian regulations say the share offering must receive minimum subscription of 90%, and if it does not the issuer must refund the entire amount. Maybank Securities and Abu Dhabi Investment Authority are among investors who bid for the anchor portion of the issue.
Maybank said in a statement "there is no financial impact" on it as the subscription to Adani's offer was fully funded by client funds.
State-run insurance behemoth Life Insurance Corporation (LIC) said on Monday it was reviewing the Adani group's response to Hindenburg's report and would hold talks with the management within days.
LIC took 5% of the anchor portion, worth around $734 million. It already holds a 4.23% stake in the flagship Adani firm, while its other exposures include a 9.14% stake in Adani Ports and 5.96% in Adani Total Gas.
"Since we are a large investor we have the right to ask relevant questions," LIC managing director Raj Kumar said.
Index provider MSCI has said it was seeking feedback from market participants on Adani and was monitoring the factors that "may impact the eligibility of those relevant securities" in MSCI indexes.
In its response on Sunday, Adani highlighted its relationships with local and international banks and touted its access to diverse funding sources and structures, listing US banks Citigroup and JPMorgan Chase & Co and European lenders such as BNP Paribas, Credit Suisse and Deutsche Bank.
Responding to Adani's rebuttal, Hindenburg said the "response largely confirmed our findings and ignored our key questions."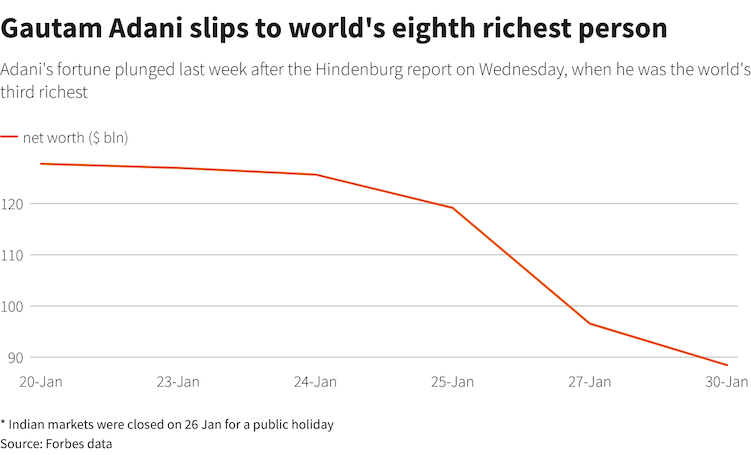 Dramatic meltdown
The stock market meltdown is a dramatic setback for 60-year-old Adani. The school-dropout's stunning rise came with over 1,500% gains in some of his group stocks over three years, making him the world's third richest man before he slipped to rank eighth on the Forbes list on Monday.
Hindenburg said that Adani companies had "substantial debt" and that shares in seven Adani listed companies have an 85% downside due to what it called "sky-high valuations".
Adani's response stated that over the past decade, its group companies have "consistently de-levered".
Reuters with additional editing by Jim Pollard
NOTE: The headline and content of this report was updated, and two graphs added, after Adani group shares fell further during trading on January 30, 2023.
ALSO SEE: