(ATF) Returns on China bonds were unchanged Tuesday as investors awaited news on whether the central bank would ease monetary policy further after data showed money and credit supply in July were below analysts forecasts.
The debt of infrastructure companies, including Hubei United Development, fell following a report that billions of yuan of damage caused by floods in central China were mostly uninsured. Financials slid, led by China Zheshang Bank, as the US mulled further sanctions that would be likely to harm lenders with business in Hong Kong.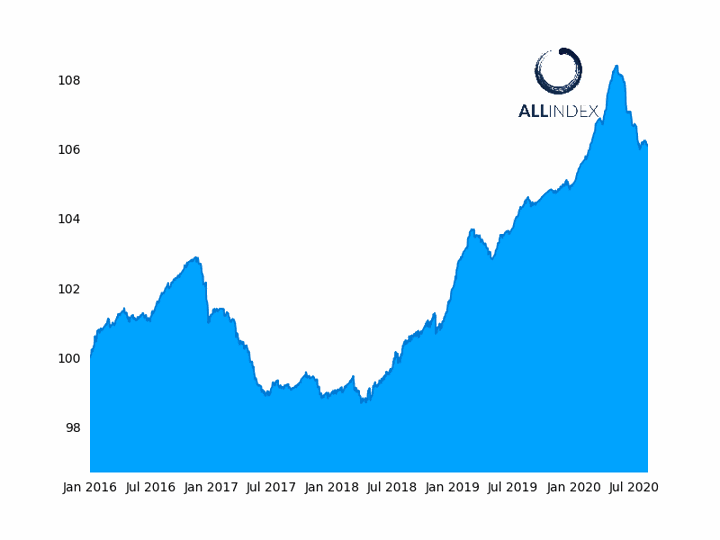 The ATF China Bond 50 Index was unchanged
The benchmark ATF China Bond 50 Index was flat at 106.10. The ALLINDEX Corporates gauge climbed 0.03%, Enterprises fell 0.04% while Financials and Local Governments lost 0.01%. 
The CB50 has declined for the past three months as the People's Bank of China (PBoC) put the brakes on post-coronavirus stimulus measures that had been suppressing bond yields and making riskier assets more attractive to investors. A recent uptick in the benchmark has tracked increased speculation that policymakers would resume targeted investments that would benefit smaller businesses.
FOREX COMMENT: "I see no near-term US dollar recovery in sight as the US economy must remain on life support from a growing US Fed balance sheet" Uwe Parpart
Analysts said lower-than-estimated July credit data raised speculation that funds were not getting through to businesses as officials try to rebuild the nation's economy after the coronavirus lockdowns and amid a global recession. That's raised the prospect of more easing despite recent pledges by PBoC governor Yi Gang to remain dovish. The thesis has been lent weight by speculation the central bank has bought government bonds. Analysts at Japanese bank Nomura said they expect the central bank to fund a new round of government special bonds. 
Corporates were the biggest gainers, with real estate developers including Beijing Yizhuang Investment driving the advance. An announcement by Tencent- and SoftBank-backed online real estate group KE Holdings that it plans to launch an IPO in New York boosted sentiment in the property sector.
Insurer Aon estimates that $22 billion of losses were inflicted on central China by floods that killed at least 175 people and destroyed 5.2 million ha of agricultural land as well as half a million houses. With most losses expected to be uninsured, redevelopers such as Hubei United risk a long wait before rebuilding contracts come their way.