(ATF) Forecasts that Chinese consumer and producer prices will fall into deflationary territory are likely to play on bond investors' minds next week even as other data show the economy growing.
Analysts expect a gauge to reveal the annualised inflation rate fell to 0.1% in November from 0.5% the previous month. Producer prices, or the price of goods as they leave factories, are expected to show a return to deflation.  
The data is released on December 7 and the forecast contributed to a gain on the benchmark ATF China bond 50 Index on Friday, which climbed 0.01% to complete a 0.1% advance for the week.
Deflation usually puts pressure on central banks to lower interest rates and make borrowing cheaper. That feeds through into bonds, especially on riskier debt, because it makes their higher yields comparatively more attractive.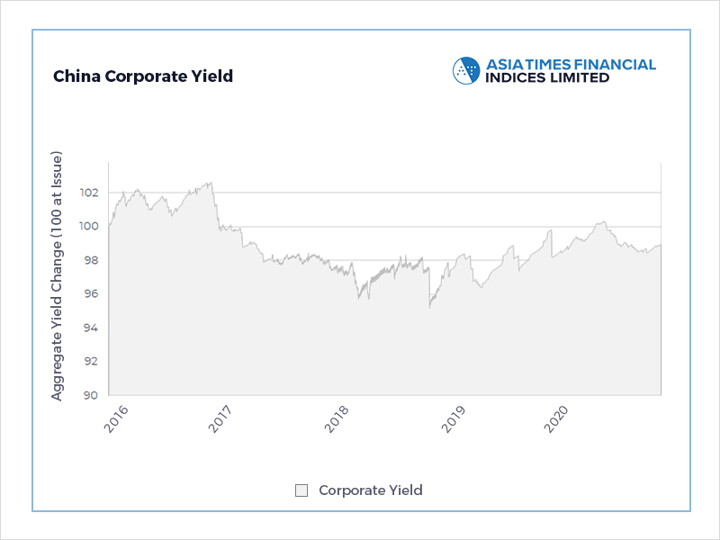 The Corporates sub-index fell 0.03% on Friday
However, corporate bonds are also more vulnerable to changes in economic outlook and declining producer prices may add pressure onto China's corporate credits.
That was weighing on investors Friday when a selloff of company debt saw the ATF Corporate sub-index slide 0.03%, the biggest decline since mid-November.
The measure was also weighed down by a disappointing fund-raising exercise by a unit of China's biggest real estate firm, which cast doubt over the sustainability of the nation's property sector.
Shares of Evergrande Property Services fell on their Hong Kong debut on Wednesday, as concerns over its parent company's massive debts rattled investors.
Bonds of developers dropped. The 3.32% security of Beijing Yizhuang Investment Holdings was the biggest loser on the Corporate sub-index. Its price declined 16 basis points.
The bonds of state-owned-enterprises continued a rebound from a two-week selloff on November, with the gauge climbing 0.05% on Friday to complete a 0.13% advance for the week. It had lost 0.4% in the previous fortnight after a spate of defaults on SOE's rattled markets.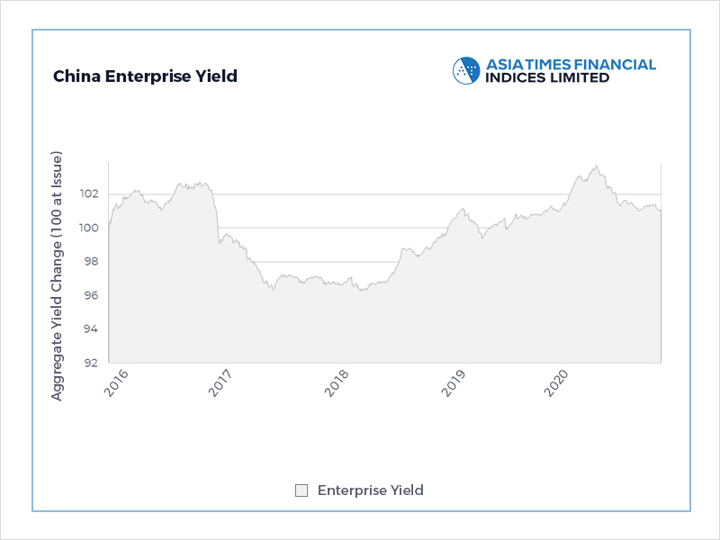 The Enterprise sub-index advanced 0.4 in the week