(ATF) Hong Kong: Investor sentiment received a boost from more vaccine makers announcing progress, which gave markets hope that economic revival will be sustained.
China's Sinovac said its vaccine candidate against COVID-19 had shown good immunogenicity in mice, rats, and non-human primates with vaccine-induced neutralising antibodies to SARS-CoV-2, which could neutralise 10 representative strains of the virus.
"Our findings show that CoronaVac is capable of inducing a quick antibody response within four weeks of immunisation by giving two doses of the vaccine at a 14-day interval," said Zhu Fengcai, of the Jiangsu Provincial Center for Disease Control and Prevention in China.
"We believe that this makes the vaccine suitable for emergency use during the pandemic," Zhu said.
The study follows encouraging announcements this month from US drugmakers Pfizer and Moderna, as well as Russia's Sputnik-V.
Pfizer and BioNTech announced that, after conducting the final efficacy analysis in their ongoing Phase Three study, their mRNA-based vaccine candidate – technically called BNT162b2 – met all of the study's primary efficacy endpoints.
"The study results mark an important step in this historic eight-month journey to bring forward a vaccine capable of helping to end this devastating pandemic. We continue to move at the speed of science to compile all the data collected thus far and share with regulators around the world," said Dr. Albert Bourla, Pfizer Chairman and CEO.
Australia's S&P ASX 200 advanced 0.51% and Hong Kong's Hang Seng index added 0.49% but Japan's Nikkei 225 index fell 1.1% after a former central banker said the Bank of Japan's new aid programme targeting regional banks could put upward pressure on short-term interest rates.China's CSI300 eased 0.06%. Regionally the MSCI Asia Pacific index dipped 0.13%.
"Unless something changes dramatically, there is little reason for short sellers to step in aggressively yet. Thus, I think that the bulls will remain in overall control of price action for risk assets for a while yet," said Fawad Razaqzada, Market Analyst at TF Global Markets.
"There is now light at the end of the tunnel, the downside has been limited for risk assets and the bullish trend has remained intact for the global indices and other risk assets."
Safe havens were shunned with the selling in US Treasuries pushing up yields on the 10-year bond up a basis point to 0.88%. Gold slid 0.6% to $1,870 per ounce.
ATF China Bond 50 Index: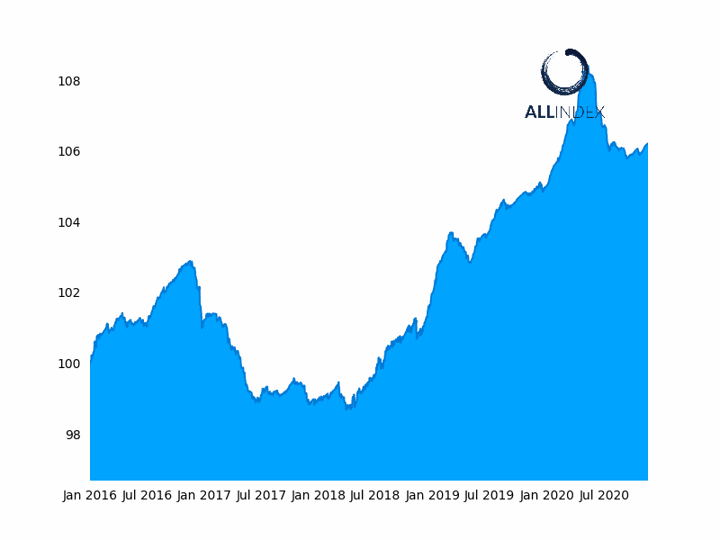 The ATF CB50 fell 0.02%
Also on Asia Times Financial
Asia Stocks
Japan's Nikkei 225 index fell 1.1%

Australia's S&P ASX 200 advanced 0.51% 

Hong Kong's Hang Seng index added 0.49%

China's CSI300 eased 0.06%

The MSCI Asia Pacific index dipped 0.13

%
Stock of the day
Geely Automobile rose as much as 8.8% after the German car maker said it will cooperate with the Chinese company to build next-generation combustion engines for use in hybrid vehicles.