Chinese electric vehicle (EV) makers have made a steady start in Europe, despite facing a range of difficulties, including beating stereotypes and competing on price despite added costs.
Of new EVs sold in Europe so far this year, 8% were made by Chinese brands, up from 6% last year and 4% in 2021, according to autos consultancy Inovev.
At least 11 new, mass-market, China-made EVs are further set to launch in Europe by 2025, according to a study by Allianz.
But Chinese brands such as BYD, Nio and SAIC's MG will have to overcome a new set of challenges to thrive in Europe.
The brands, which have raced past foreign rivals to top sales rankings at home, face stereotypes of Chinese manufacturing, high import costs, and a less developed EV market in their new arena.
At a briefing last week in Beijing, Chen Shihua, deputy-general of China's automobile manufacturing association, warned its members could be spreading themselves too thin in their expansion plans.
"It isn't that smooth for our automakers to go global," Shihua said. "We should pay attention to the risks … currently companies might be over-stretched, stepping into every region without a clear focus."
Building identity
While some Chinese brands, such as MG, are well known in Europe, others like XPeng and Nio need to build trust.
Surveys indicate most potential EV buyers in Europe do not recognise Chinese brands. Those who do are hesitant to purchase a Chinese car – reminiscent of Japanese and South Korean automakers' decades-long struggle to win trust and adapt to European tastes.
Just 14% of 1,629 German consumers surveyed by YouGov in 2022 were aware of BYD, the world's second-largest EV maker after Tesla. A total of 17% had heard of premium brand Nio, while 10% knew of Geely's Lynk & Co and 8% of XPeng.
Of the 95% of consumers aware of Tesla, 10% would consider buying one as their next car, the survey showed. But among those aware of Chinese brands, 1% or fewer would consider buying one.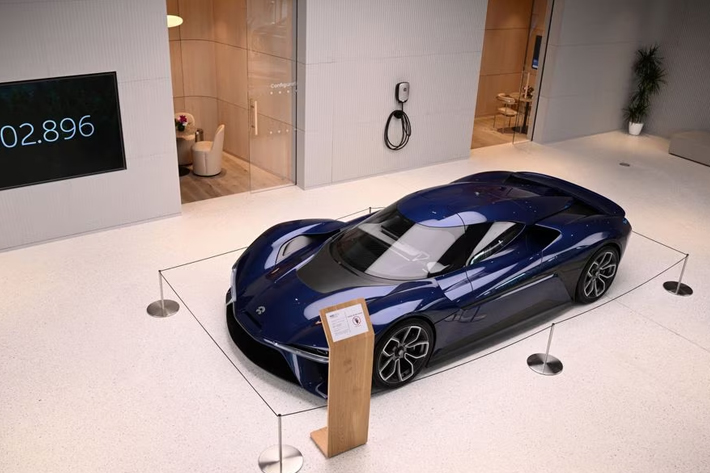 Beating stereotypes
Chinese EV startup Aiways said it decided against advertising its Chinese heritage due to concerns that consumers would be hesitant about buying Chinese-made products.
Several Chinese carmakers have secured five-star safety ratings under Europe's safety standards, going well beyond legal requirements to try to overcome customer doubts.
Spiros Fotinos, Europe CEO for Chinese brand Zeekr, owned by Geely, said it would look to win consumer trust through test drives and showrooms where European shoppers could assess the quality of its EVs first hand.
"When they come into contact with the product … compared to a comparable European product they would be used to, the quality and specs are much higher. That catches them by surprise," Fotinos said.
Chinese state-owned carmaker GAC, the third-largest EV seller in China, opened a design bureau in Milan to get a feel for consumers' preferences before moving to sales.
"The only way to get around [the stereotype] is to embrace the competition," said Alexander Klose, overseas chief of Aiways.
New costs
In a sign of their ambitions, Chinese EV makers' World New Energy Vehicle Congress is taking place in Munich this September as part of Germany's IAA auto trade show, the first time the conference will have been held abroad.
The ace in their pack is price. The average price of an EV in China was less than 32,000 euros ($35,000) in the first half of 2022 compared with around 56,000 euros in Europe, according to researchers at Jato Dynamics.
But Chinese brands are likely to struggle to sell cars in Europe as cheaply as at home.
Logistics, sales taxes, import duty and meeting European certification requirements all add costs, Zeekr's Fotinos said.
MG – the best-selling Chinese-made brand in Europe – said its biggest challenge was getting cars from China to European distribution sites through saturated ports with long lead times.
European preferences, such as for big batteries to power longer trips, may also add costs, said Aiways' Klose.
Reuters, with additional editing by Vishakha Saxena
Read more: