China electric car stocks are being hammered by a perfect storm that's triggered a steep plunge in Asia Financial's China Electric Vehicles index this year.
The index of 14 leading China EV makers has slumped 26.1% in 2022 and is down 13% in March.
Supply-chain disruptions, rocketing inputs costs, and the partial removal of government subsidies for China EV manufacturers drove the selloff. Add to that uncertainty over the possible delisting from US exchanges of many of the index's component stocks and it amounts to a near-perfect storm.
ALSO ON AF: China Stocks Delisting From US: Everything You Need to Know
The selloff came despite a 153% surge in EV sales in the first two months of 2022. The soaring price of lithium, up almost 500% over the past year, prompted Great Wall Motors to stop taking orders for its Ora brand EVs this month. One of its models is losing 10,000 yuan on each sale, its CEO says. The hit from the rising price of lithium batteries came just as the government slashed subsidies on new EV purchases by 30% in January. All remaining subsidies are scheduled to end this year.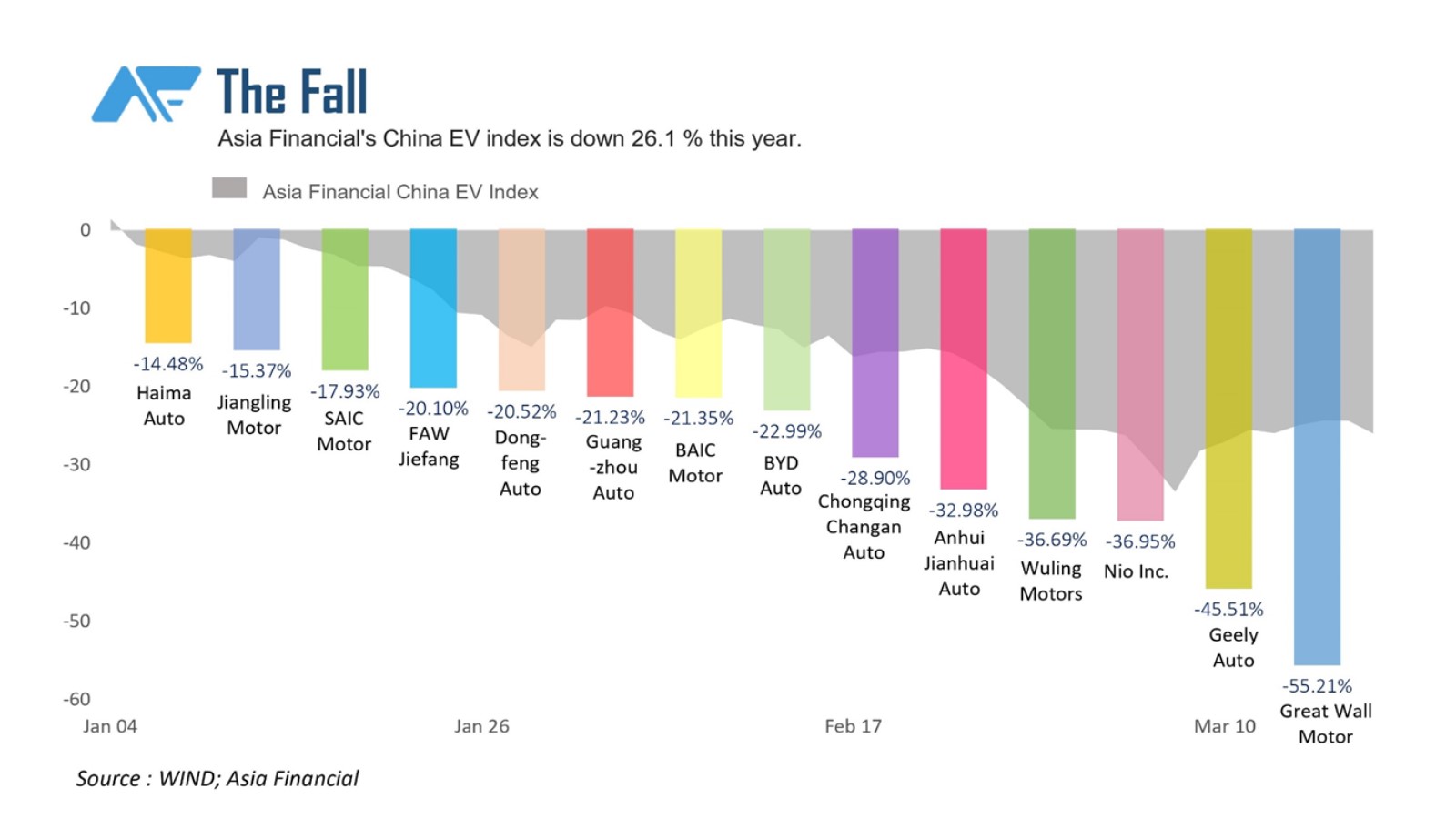 "Last year EV makers were riding high and then all of a sudden things began to go south,'' said Liu Xiaobo, a Shenzhen-based independent financial commentator. "The timing of lithium price surges could not be worse, coming just as Beijing starts to cut EV sales subsidies. Manufacturers can either raise retail prices at the cost of sales, or stop selling EVs altogether.''
ALSO ON AF: Tesla Raises China, US Prices for Model 3 and Y Cars
Worst-Performing China EV Stocks
The index's biggest losers so far this month are Great Wall Motor (-26%), Anhui Jianghuai Auto (-21.1%), and Guangzhou Auto (-15.8%).
Nio Inc., often called "China's Tesla," is the best performing constituent with only a 3% decline so far in March. Shanghai-based Nio last week reported a net loss of 2.14 billion yuan ($340 million) in the final quarter of last year even as revenue surged 49% to 9.9 billion yuan.
The downturn suggests the golden era of turbocharged growth for China's EV industry may be over. Credit Suisse analyst Peter Li in Hong Kong sees sales growth slowing to a little over 60% this year, to about 31% in 2023 and 14% in 2024.
By Frank Chen and Kevin Hamlin
ALSO ON AF:
Chinese Firms Flock to Switzerland as US Delisting Risks Loom  
China Puts its Weight Behind Swappable Car Batteries
China Plans Audit Concession Over US Delisting Threat – FT