China's fund managers are piling into the healthcare sector, lured by cheaper valuations even as the sector extends a plunge that began six months ago.
The CSI 300 Healthcare Index is down almost 35% since July and during the past five trading days tumbled 5.4%. The KraneShares MSCI All China Health Care Index ETF has plummeted more than 39% in the last six months and 25.5% in the past month alone.
Despite the turbulence, which saw more than 60% of China's 471 pharmaceutical-focused mutual funds lose money in 2021, fund managers are doubling down on the sector. Funds including GF Fund, Ping An Fund and the Great Wall Fund last month launched new pharmaceutical funds that raised 1.88 billion yuan ($296 million).
There's more to come. Founder Fubon Fund, TruValue Asset Management, Xinyuan Asset Management and Hengyue Fund have all launched subscriptions in recent weeks for new funds that target the healthcare sector.
"It makes sense for fund managers to raise money when the overall valuation of the healthcare sector is at a low point," says Sophia Wang, a consultant and partner of Shanghai-based China Insights Consultancy.
"To hold long positions in sectors and companies with high potential is a dominant strategy of fund investors. In the long term, the stock prices of healthcare companies will inevitably return to levels that correctly reflect their values and growth potential.''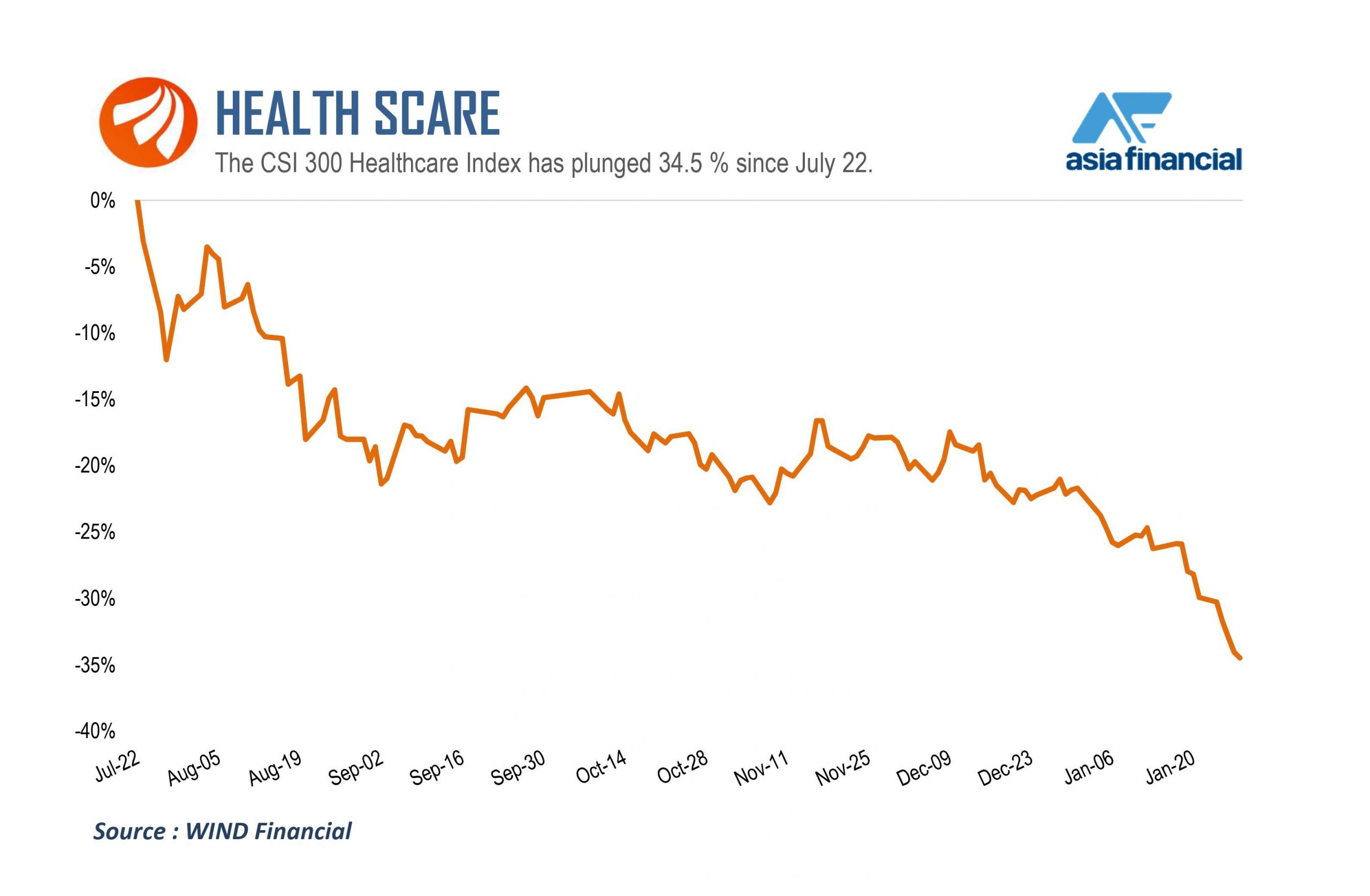 Also on AF: India's LIC Seen Snaring Temasek, ADIA for Record $150bn IPO
Under Pressure
China's healthcare sector has been under pressure since the second half of last year after policymakers expanded a centralised drug bulk-buying programme with an average price cut of 56%. They also stepped up a nationwide reform plan to contain costs and improve the quality of service at public hospitals.
Healthcare, housing and education are considered the "Three Mountains" in China with high costs that burden Chinese families and are often blamed for keeping the birth rate low. All three sectors faced a cascade of new regulations in the past year that hurt profitability and added uncertainty to the outlook.
"What is clearly different in China compared to democratic economies is the lack of lengthy consultation periods with the private sector before a new policy becomes effective – and the more sudden moves have taken equity markets by surprise," said analysts led by Anik Sen, PineBridge Investment's global head of equities, in a research note. "Such uncertainties have triggered [the] sell-off of a broad swath of companies.''
Changchun High & New Tech Industry Inc, a maker of growth hormones, plunged by the daily price limit of 10% for three consecutive days last week after the Guangdong Medicine Exchange said its core product, the Jintropin growth hormone, would be included in a bulk-buying programme of 11 provinces. That meant a 70% price cut for Jintropin, according to The Economic Observer newspaper.
China's bulk-buying programme, launched in 2019, requires drugmakers to submit bids to supply public hospitals, and be included in a government insurance scheme that foots the lion's share of the medical bill for patients.
Major drugmakers from AstraZeneca Plc to GlaxoSmithKline Plc and BeiGene Ltd have agreed to cut prices of some of their newest, most innovative drugs in China by an average of 50% in order to be eligible for the insurance scheme.
Even Ge Lan, a star healthcare-focused fund manager at Zhong Ou Asset Management, has been hammered by the downturn. Sometimes known as China's "Cathie Wood" in the healthcare sector, her flagship Zhong Ou Medical & Health Care Hybrid Fund has slumped about 26% in the last six months. Despite that, it still added 13.3 billion yuan ($2.1 billion) in new subscriptions in the fourth quarter.
Foreign Turbulence
The sector's facing turbulence from abroad, too. In December, fears that Chinese biotech companies would be sanctioned by the US Commerce Department and that Chinese drugs would face difficulties getting overseas approval triggered sell-offs. BeyondSpring Inc lost 60% of its value after news that its lung cancer drug plinabulin was rejected by the US Food and Drug Administration (FDA).
Still, CIC's Wang sees limited impact from the FDA's potential rejection of Chinese drugs.
"The domestic patients, after all, are Chinese biotech firms' main target customers,'' she said. "The domestic pharmaceutical market still has great growth potential given strong consumer demand, China's aging population, and the growing purchasing power of Chinese people.''
More Appealing
The sell-off has made the market more rational and prices more reasonable, says Wang. Much of the pharma sector is now "undervalued," says Jay Lee, an analyst from Morningstar who covers mainly Chinese  pharmaceutical stocks listed in Hong Kong.
He still expects sentiment to remain depressed for a while. A number of concerns will continue to weigh on sentiment, including "low drug prices in China, uncertainty surrounding overseas regulatory approval of drugs developed and tested in China, and overarching concerns about US-China relations," he said.
Also on AF: