(ATF) A lot of news has broken recently about developing hydrogen to help displace the use of fossil fuels, including natural gas, the cleanest burning fossil fuel. However, it appears at this junction that the industry still has a long way to go to help the fuel address climate change problems.
To date, several industrialised countries are already pegging their carbon neutral plans on hydrogen power.
The UK announced a plan earlier this month to make green hydrogen a cornerstone of its so-called £12 billion (US$15.9 bn) "green industrial revolution." British Prime Minister Boris Johnson has already snagged some £500 million ($665 million) to support his green pivot.
Australia, France and South Korea, have also announced green energy initiatives spearheaded by hydrogen. Australia, for its part, recently released a strategy to establish the country's hydrogen industry as a major global player by 2030 – a massive development for the world's leading liquefied natural gas (LNG) producer and largest coal and iron ore exporter.
France also unveiled a national hydrogen strategy in September, providing for ?7.2 billion ($8.6 bn) worth of investment by 2030, and a hydrogen production capacity of 6.5 gigawatts (GW) by 2030. The plan is expansive and includes ?1.5 bn to be spent on the construction of electrolysis plants, which will later be powered by renewable energy, nearly ?1 bn for the development of hydrogen-powered heavy trucks, with additional funds to be allocated for the industrial sector.
Germany sets up hydrogen council
Germany's plan, announced in June, is similar to France's plan. In Germany, the EU's largest economy and its most influential voice, a new national hydrogen council has also been set up to advise politicians and law makers about pivoting to hydrogen.
Meanwhile, South Korea, which relies heavily on coal, LNG imports and nuclear power, announced in its own hydrogen strategy in June. South Korean conglomerate Hyosung Group also unveiled a plan in April to build the world's largest liquid hydrogen plant in Ulsan in cooperation with Linde Plc, a global chemical manufacturer.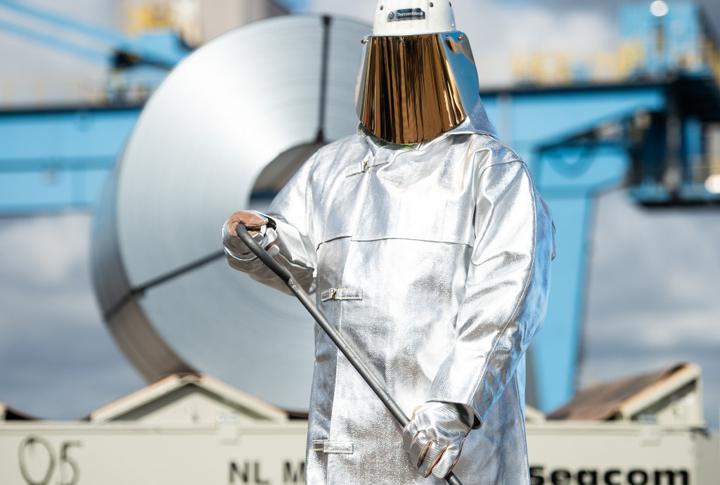 A steel worker stands in front of a steel sheet coil on the ThyssenKrupp site. This firm aims to achieve climate-neutral steel production by 2050. One step toward this goal will be the switch to direct reduction plants, which will in the future be operated with green hydrogen. The first such plant is due to start operation at Duisburg in the mid-2020s.Photo: Jonas Güttler/dpa via AFP.
South Korea fuel-cell plant
Ramping up its hydrogen development even more, South Korean renewables firm Hanwha Energy started commercial production in August at the world's first byproduct hydrogen-based fuel cell power plant.
A Hanwha official said at the time that the plant was the world's first and largest hydrogen fuel-cell power plant powered solely by hydrogen that is extracted as a byproduct from petrochemical production.
Analysts hope that other countries in Asia will follow South Korea's lead, particularly given the region's predominant use of coal needed for power generation.
However, what about China? The answer is a mixed bag. The country is the world's largest energy consumer and its largest greenhouse (GHG) emitter, double that of the US, the world's second largest GHG emitter. China is also the world's largest crude oil and coal importer.
World's largest hydrogen producer
China already holds the distinction of being the world's largest hydrogen producer by far, producing around 20 million tons of hydrogen per year, one-third of the world's total hydrogen production, according to a report by the Green Belt and Road Initiative Centre.
Yet, the problem is how China allocates its hydrogen.
In theory, its amount of hydrogen could cover about 10% of China's energy needs, but most of China's hydrogen is currently used for industrial and chemical processes (eg. for producing ammonia as agricultural fertiliser), the report added.
A tremendous amount of electricity must be used in the electrolysis process – or splitting water to create hydrogen. That electricity can be produced by either using fossil fuels, often coal and natural gas, or by renewables, preferably wind or solar.
As such, hydrogen is only considered "green hydrogen" if it was produced by the latter. Most of China's hydrogen is produced using dirty burning coal, while electrolysis contributes to just 3% of the country's total hydrogen supply
Beijing's possible blue-print
Several Chinese companies, however, have been trying to also make a green hydrogen pivot.
In April, Ningxia Baofeng Energy Group, a private coal production company announced construction plans for the world's largest solar-powered hydrogen plant in Ningxia Hui province. The plant is on track to start hydrogen production sometime next year.
Chinese firms are also building hydrogen refueling stations in select locations.
Last year, state-run oil and gas major Sinopec announced plans to partner with Paris-based Air Liquide to open two hydrogen refueling stations in Shanghai, with the ability to serve 200 hydrogen fuel cell buses operating in the area.
A few months earlier, Air Liquide formed a joint venture with Chinese company Huopu to open the first hydrogen refueling station in Zhejiang province.
The joint venture also committed to building a hydrogen refueling station in Beijing as part of the infrastructure for the upcoming 2022 Winter Olympic Games, with a goal of 1,000 hydrogen fuel-cell powered buses to be used during the games.
Other smaller hydrogen deals have been made in the country to help the 2022 Olympic Games become more "green."
However, is it enough? Not by a long shot.
For China to reach its 2060 carbon neutrality pledge made by President Xi Jinping in September more needs to be done. This includes replacing massive numbers of the country's thermal coal burning plants, slow down its approval rate of a record number of new coal-fired plants – announced earlier this year to help select provinces offset economic headwinds from the Covid-19 pandemic – and invest even more in renewables, natural gas and green hydrogen production.
Coal still dominant
Coal currently makes up a 58% of the country's total energy consumption, followed by other petroleum and other liquids (20%), hydroelectricity (8%), natural gas (8%), nuclear power (2%), and renewables just 2%, according to the US Energy Information Administration's (EIA) most recent analysis of China's energy sector.
However, it will be nearly impossible for China to completely wean itself from coal-powered electricity production, while Beijing energy planners may not want to totally eliminate coal in the first place.
Carbon capture, while still CAPEX intensive, needs to be implemented for China's coal-fired power plants to help Beijing meet is climate agenda.
The price for producing green hydrogen also remains expensive since the cost of industrial electricity needed for production includes added taxes and levies – but well within governmental authorities' ability to readjust if they choose to do so.
ALSO SEE: