(ATF) In the strategic battle over rare earths and their applications, China will push for global dominance of the entire rare earth ecosystem globally, in direct competition with the US, EU, Japan and others. But another race is also underway, to research and patent new rare earth applications, and that is a race China appears to be losing.
On October 16, a report by China's People's Political Consultative Conference revealed plans for rare earths development in the country over the next few years. "Rare earths are an important strategic resource and also a non-renewable resource," said Li Wei, who has various senior positions such as being a member of the Standing Committee of the National Committee of the Chinese People's Political Consultative Conference, and an academic at the Chinese Academy of Engineering. 
Li said that during the 14th Five-Year Plan period, which starts in 2021, China will promote "green and sustainable development and utilisation of rare earth resources and promote healthy development of the rare earth industry, which is still facing huge challenges."
Rare earth mining and processing are extremely toxic and environmentally damaging. "Although China is rich in rare earth resources, the waste of resources is serious, the utilisation rate is low, and sustainable utilisation is worrying." Li Wei conceded.
First in the world does not mean much without strategic planning. In Li Wei's view, China ranks first in the world in terms of rare earth reserves, output, exports, and consumption, and it is the only country that can supply all 45+ rare earth elements.
At the same time, China's rare earth industrial system is complete, having rare earth mining, smelting, and separation. The technical advantages are obvious. In recent years, China's rare earth materials industry initially formed an innovation system with "relatively complete disciplines" and a basically complete industrialisation of R&D and applications. The strategic and economic advantages of rare earth resources are parallel, and it is accelerating the transition of China's position as a "rare earth country."
But foreign governments are leading new materials research.
Li Wei said that in recent years, the medium and long-term plans of the United States, Japan and the European Union have taken new rare earth materials as the subject of strategic research, actively competing for the core intellectual property rights of new rare earth materials in high-end applications, hoping to generate new core patents and seize the commanding heights of rare earth technology. 
'Heavy' rare earth supplies in doubt
Li said: "In particular, the United States has stepped up its deployment of rare earth supplies outside China and strengthened the research and development of new rare earth technologies. 
"At the same time, China's heavy rare earth resource supply mainly relies on imports from Myanmar, Vietnam and other countries, leading to hidden dangers in the supply of heavy rare earth resources."
During the 14th Five-Year Plan period from 2021-2025, Li Wei said that China must first safeguard its right to speak in the international arena on rare earths, by comprehensively considering the needs of the entire industry chain of rare earths and correctly handling the relationship between capacity, output and demand, and allocating resources based on the market. 
Secondly, it must promote a joint strategic reserve of the state and enterprises, give room for businesses' more sensitive market needs, and promote a stability in rare earth prices. 
China will help and promote rare earth enterprises to go global and strengthen their ability to control international rare earth resources, as well as support the import, development and utilisation of rare earth resources overseas so they meet the requirements of national security and environmental standards.
A call for science to get better
"In addition, scientific and technological innovation is used to promote the healthy development of the rare earth industry," Li Wei said.
Li emphasised that China must build up scientific and technological innovation platforms, and focus on promoting the construction of high-level platforms such as the national rare earths new material innovation centre, and a national laboratory.
Major basic research on new rare earth materials is needed to promote breakthroughs in core technologies and the creation of independent intellectual property rights. 
Also, downstream high-end industries, especially robotics, high-end machine tools, advanced medical equipment, and other tech must be encouraged by the government to use domestic rare earth materials, promote products, and promote the extension of the rare earth industry to the high-end industrial chain, he said.
"Efforts must be made to increase support for the development and application of rare earth resources such as lanthanum, cerium, and yttrium in new energy, electronic information, communication and transmission and other new fields," Li said.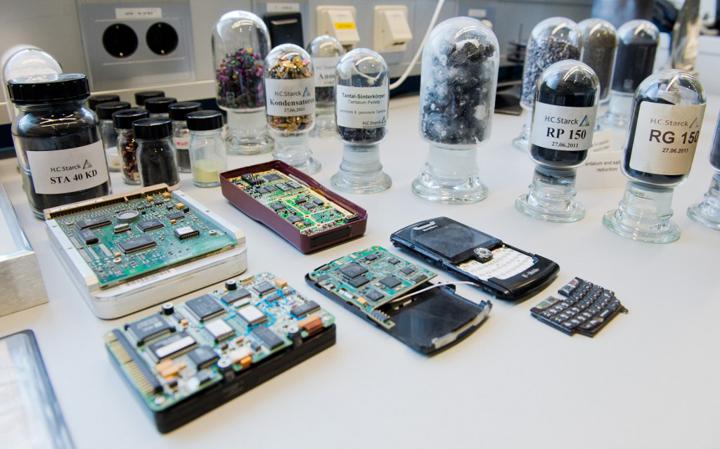 Old hard-drives and cellphones are displayed with rare metals like tantalum and tungsten in the procedural centre of the HC Starck chemical company in Goslar, Germany, in February 2016. The state of Lower Saxony is supporting the construction of a recycling centre with 4.2 million euros. Objects from former Harz metallurgical plants, plus old waste dumps and mountain ponds, will be processed at the center in order to extract rare metals. These can also be recycled from old devices like hard-drives and cellphones. Apple has said its new iPhone-12 has recycled rare earth components. Photo: Julian Stratenschulte/dpa via AFP.
A global chess game
Other Chinese analysts have suggested that China had partly "missed the boat" in the development of its rare earth industry, although China has now clearly recognised the importance of rare earths.
Anonymous comments on high-ranking science discussion pages were revealing.
One claimed that "many countries took advantage of the loopholes and bought a lot of rare earth resources for very little money. Now China is gradually shrinking. The United States has also begun to panic about the export volume of rare earths – they must find new suppliers of rare earths to meet their demand for weapons construction. Our neighbour Mongolia also has abundant rare earth reserves. The United States has turned its attention to them. Russia couldn't help asking – do they think it is possible to ship them out?"
Russia is estimated to have the second largest rare earth deposits on its territory, although it is underdeveloped. It has a close relationship with Mongolia, and maintains a "frenemy" relationship with China. On the surface Russia and China claim to be close allies, but Russia always puts its own agenda first.
Indeed, in its rash of frenetic sabre-rattling recently Beijing said that it wanted to make Vladivostok and the Russian Far East Chinese territory. Although there is historical legitimacy for some claim, it is a move unlikely to go unnoticed in Russia.
But as yet, there is no news of a US/EU detente with Russia. US President Donald Trump has made favourable comments in Russia's direction and also suggested reforming the G9. But dramas have arisen regularly in recent years which have upset Europeans and other western states.
Still, the hunt for rare earth deposits and better ways to process them will continue, in many countries around the world.