Last week's gathering of leaders of seven of the world's most powerful nations was hailed for bringing the US back into the global alliance after Donald Trump snubbed it. But while divisions in the West may have eased, the meeting created divisions with the rest of the world. Eetika Kapoor takes a look at what the trans-continental carnival in Cornwall taught us    
(AF) The three-day long 47th G7 Summit held in Cornwall, England, crystalised the divisions in the world – between a rising China and an intimidated West. Amidst the two warring sides lie other Asian countries whose stance will soon determine the future of geopolitics in the coming decades. Which team will they choose? 
The meeting rancoured China, which was the focus of much of the gathering's hand wringing. The ruckus that was caused in China still reverberates almost a week later. 
The Global Times, a Chinese media mouthpiece published a parody illustration of the G7 created by a local artist 'Bantonglaoatang' on Sina Weibo social media. Titled "The Last G7", the parody of Leonardo da Vinci's "Last Supper" depicts animals wearing the national colours of the attending countries they prepare to slice up a cake decorated with a map of China. You can connect the dots from here… 
So, with the dust still to settle, here's what we have learned.  
What is G7 and why is it relevant? 
The Group of 7 (G7) is an informal group of seven rich countries — the United States, Canada, France, Germany, Italy, Japan and the United Kingdom. Together, they represent 40% of global GDP and 10% of the world's population.
G7 was formed in 1975 when the global economy was in a state of recession due to the OPEC oil embargo. US Treasury Secretary George Schultz first suggested the initiative. 
What was the G7 Summit 2021 about? 
G7 leaders met in Cornwall, England. There they launched the Build Back Better World (B3W) project, to "heal the world" and provide investment for much-needed infrastructure projects. The gathering was also to show it still has the clout to challenge China's geopolitical rise. 
The UK, holding the presidency of G7 Leaders' Summit 2021, invited India, along with Australia, South Korea and South Africa, as guest countries. 
Why is no Asian country included in G7? 
Simply put, no Asian country is seen as rich or influential enough. The very formation of G7 in 1975 was based on wealthy nations getting together to solve a world crisis. 
Many have called G7 outdated given its non-inclusion of important economies like China, India, Brazil, Russia and South Africa. 
China's embassy in England put out a statement calling the G7 meet "pseudo-multilateralism serving the interests of a small clique or political bloc".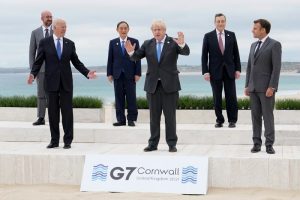 Key takeaways for Asia during the Cornwall summit:
China 
US Secretary of State Antony Blinken on his call with a top Chinese diplomat, Yang Jiechi, spoke bluntly on a range of issues. 
He repeated Washington's accusation that the Chinese government is committing "ongoing genocide and crimes against humanity" in Xinjiang along with taking away autonomy in Taiwan and Hongkong. 
Yang urged the United States to respect China's sovereignty and territorial integrity. 
Australia-China Row
A cold war has been brewing between former trade partners Australia and China since the pandemic began. The G7 summit was seen as an opportunity by Australian PM Scott Morrison to hit back. Calling China a "trade bully".
China and Australia are in the grip of an angry trade confrontation with Beijing halting imports of key goods from coal and barley to wine and more. 
South Korea Vs Japan
South Korea's President Moon Jae-in had a brief conversation with Japanese Prime Minister Suga Yoshihide in Cornwall. It was the first time they had exchanged words in person since Suga took office last September
Hostility between the two dates back decades when Japan ruled Korea from 1910-1945. The Moon-Suga meet yielded some results though. A South Korean court on June 11 dismissed a forced labour lawsuit against 12 Japanese firms.
Blinken and South Korea's Foreign Minister Chung Eui-yong also held a meeting in Cornwall.
North Korea
North Korea was also one of the topics covered in a telephone call from Cornwall by Blinken to the top Chinese diplomat, Yang Jiechi. 
Blinken discussed the United States' comprehensive North Korea policy review and the need to work together with China for the denuclearisation of the Korean Peninsula.
Taiwan
Taiwan won unprecedented backing from the G7. Taiwan will be a "force for good", the Taiwan presidential office reiterated.
China has been accused of fomenting disquiet in the Taiwan strait, pressuring the democratically run island state in recent months with regular military drills.
This includes hurdles in access to Covid-19 vaccines. China has commercial rights for distribution of BioTech vaccines in Taiwan. The country has accused China of meddling in dealings with BioTech. 
India
UK Prime Minister Boris Johnson was disappointed at not being able to welcome Prime Minister Narendra Modi in person at the G7 summit.
India has been especially supportive of the G7 given escalating border tensions with China. India has backed the United States on its Build Back Better World initiative. 
Build Back Better World (B3W) initiative Vs Belt and Road Initiative
The pandemic threw many plans for a toss. This was especially true for developing nations. US President Joe Biden and other G7 leaders launched the Build Back Better World (B3W) initiative, which hopes to provide a transparent infrastructure partnership to help provide the $40 trillion needed by developing nations by 2035. 
This is being seen as a direct challenge to China's Belt and Road Initiative (BRI). Launched in 2013, BRI involves development and investment initiatives that would stretch from Asia to Europe and beyond and costs $4-8 trillion.  More than 100 countries have joined BRI projects.