(ATF) 
China has entered a critical 10-day period in regard to the level of flooding in various parts of the country, the Ministry of Emergency Management and Jiemian.com announced on Thursday June 25.
The National Defence General Administration and Emergency Management Department is deploying all its resources with all comrades being sent to areas of 'frontline' concern amid reports of the worst flooding in 70 years in parts of the country's south.
The General Office of National Defence issued a notice to the flood control relief regional offices around the country, insisting that they would ensure that people's lives were safe.
On Tuesday there was speculation that intense rain over catchment areas that feed into the Yangtze River would cause a giant flood that would test the Three Gorges Dam. But news about the world's biggest dam is being kept under a tight wrap.
The Yangtze River Basin has encountered large-scale heavy rain in recent weeks, which has led to the water level of rivers and lakes rising rapidly. Some rivers have burst their banks and caused torrential floods, while some tributaries have exceeded historical flood levels, and other areas have serious floods and geological disasters, such as landslips.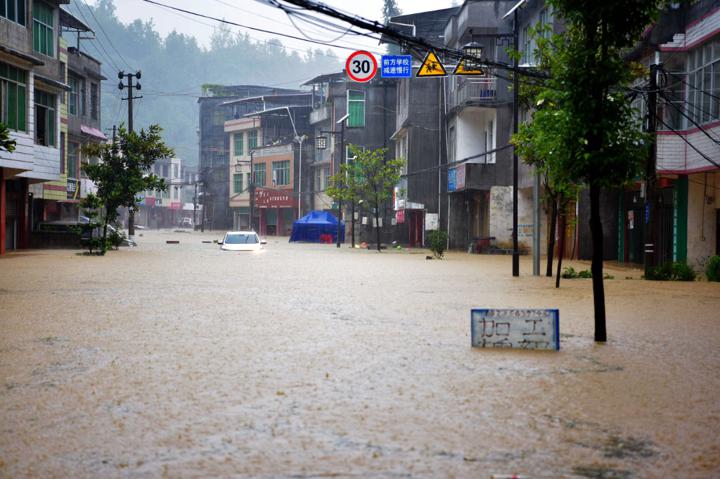 After days of rain Tonggu town in Chongqing's Youyang County was swamped, with cornfields and main roads damaged. This water was 1 meter deep on 13 June, 2020. But officials fear worse may be coming over the next 10 days. Photo: Str / Imaginechina via AFP.
Flood control has entered a critical stage. In its notice on Thursday, the State Defence Office requested that all relevant departments in all regions should fully implement flood control measures and take responsibility.
The people in charge of flood control at all levels should follow on commands and go to the front line to organise flood relief and disaster relief, officials said. They should investigate important flood control projects, assess hazards in mountainous flood areas and landslides, assess debris flow and find hidden danger points.
Key areas should arrange experienced personnel to be on duty 24 hours a day, and transfer personnel to dangerous areas in advance. Quick dispatch, effective rescues, timely allocation of disaster relief funds, and transportation of disaster relief materials were all set to be implemented.
Disasters have been declared in 24 areas, including the upper reaches of the Yangtze. More than 7,300 homes had collapsed by Tuesday and damage exceeded 20.7 billion yuan (about $3 billion).