Group of Seven nations will keep making big investments in China despite limits on risky facets of trade, Germany Chancellor Olaf Scholz said on Sunday.
G7 leaders are wrapping up a three-day summit in Hiroshima, Japan. And while signals were sent to China over everything from semiconductors to "economic coercion" and lending practices, they said they would not "decouple" from the world's second largest economy.
Scholz, who spoke to German broadcaster ZDF on the sidelines of the summit, said big investments would still continue, as would supply chains and exports to China.
He said that while the countries wanted to limit their risk exposure, no one had an interest in curbing growth in China.
ALSO SEE:
G7 stands by Ukraine
G7 nations also showed Russia they would stand by Ukraine for the long haul while giving President Volodymyr Zelenskiy a chance to win over countries such as Brazil and India on the last day of a summit in Japan.
Distrust of China as a trading partner and determination to help Ukraine repel Russia's invasion were the key messages delivered by the world's leading democracies at the gathering.
But even as the G7 leaders began wrapping up their three-day meeting on Sunday, Russia claimed to have finally captured the battered eastern Ukrainian city of Bakhmut, following a months-long siege that marked the bloodiest battle of the war.
Leaders of the G7 nations – the United States, Japan, Germany, Britain, France, Italy and Canada – have debated how to respond as the conflict that began in February last year drags on.
Potential joint allied training programmes for Ukrainian pilots on US-made F-16 warplanes was a message to Russia that it should not expect to succeed in its invasion by prolonging conflict, Scholz said on Sunday.
Ukraine has not won commitments for delivery of the planes, but President Joe Biden and senior US officials told G7 leaders Washington supports joint allied training programmes for Ukrainian pilots on F-16s.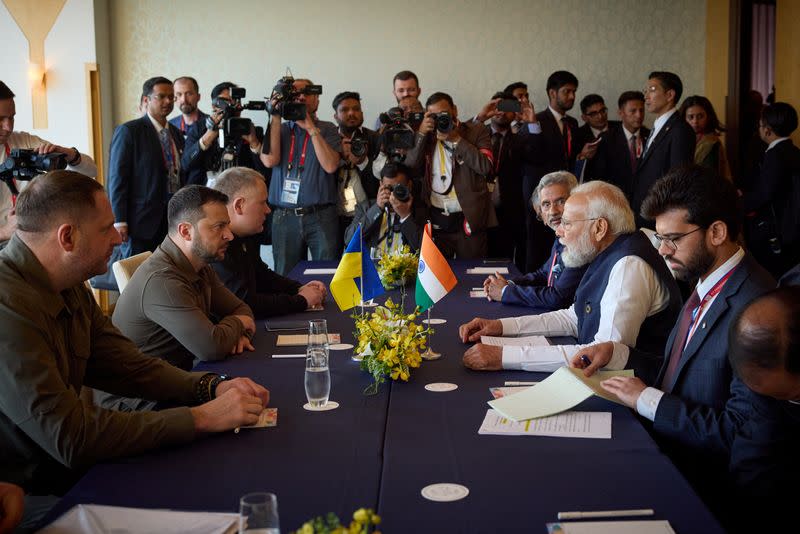 French President Emmanuel Macron, meanwhile, said the summit was an opportunity to convince big emerging states such as India and Brazil to come off the fence and put their support behind Ukraine.
Macron made the comment to reporters a day after calling Zelenskiy's surprise visit at the summit a "game changer".
During the first day of the summit on Friday, in addition to Biden's endorsement of F-16 training, the G7 announced new sanctions on Russia.
Biden is planning to roll out a $375 million military aid package for Ukraine in Japan as well, according to a US official. The official, speaking on condition of anonymity, said the package will include artillery, ammunition and HIMARS rocket launchers.
Zelenskiy has pushed the countries to go further on both economic and military measures.
Common interest with China on climate, conservation
Biden was set to meet with the leaders of Japan and South Korea on Sunday to discuss military interoperability and the economic coercion they face from China, a US official said.
A day earlier, the G7 leaders outlined a shared approach towards China, looking to "de-risk, not decouple" economic engagement with a country regarded as the factory of the world.
The leaders said cooperation with China was necessary given its role in the international community and heft as the world's second-biggest economy, as well as areas of common interest such as climate and conservation efforts.
But they said they would take steps to protect sensitive technology that could threaten national security, without unduly limiting trade and investment.
"We shouldn't be naive. We know where we need to engage with China," Macron said, citing biodiversity, climate and artificial intelligence.
"But we need to preserve interests and have elements of reciprocity and protect value chains. We don't want an escalation … but on key elements we have to protect ourselves."
Quad meet on sidelines
Australian Prime Minister Anthony Albanese said on Sunday he backed the G7 joint statement out of Japan stressing the need to ease reliance on trade with China.
Addressing media in Hiroshima, Albanese, who attended a Quad leaders' meeting on the sidelines of the summit on Saturday, said according to an official transcript: "I support the G7 communiques about the international relations that we have there".
Albanese said Australia had "for some time" expressed concern about China's activity, pointing to the "chafing" of an Australian aircraft.
In May 2022, a Chinese fighter aircraft dangerously intercepted an Australian military plane in the South China Sea region, according to Australia's defence department.
"We've expressed concern in the past, we'll continue to do so," Albanese said. "What we need to do is to make sure we work in a way that enhances the peace, security and stability in the region."
China, firmly opposing the G7 statement, has complained to summit organiser Japan, the Chinese foreign ministry has said.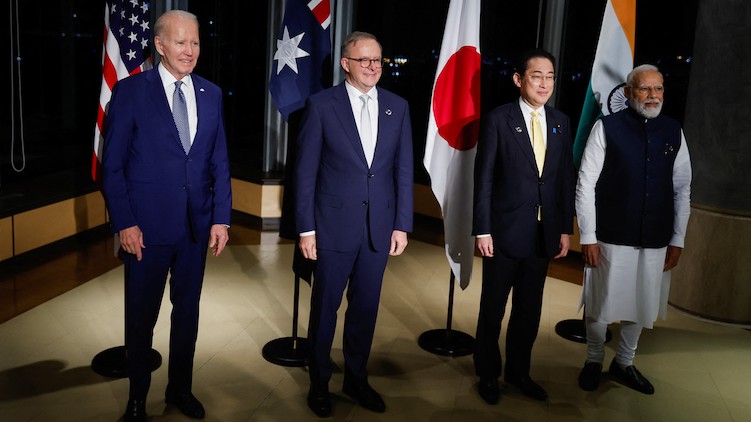 The leaders of the United States, Japan, India and Australia – a group known as the Quad – said in Hiroshima they sought a region "where no country dominates and no country is dominated", language that also appeared targeted at China.
Albanese's comments come amid a recent thaw in Australia-China relations, with China set to resume imports of Australian timber, and talks under way about a visit by the prime minister to Beijing.
Australia's main political opposition, the Liberal-National coalition, on Sunday urged Albanese to wait for confirmation on the lifting of trade sanctions before visiting China.
"That clarity should be there before the Prime Minister entertains a formal state visit to Beijing," Shadow Foreign Minister Simon Birmingham told ABC television.
Reuters with additional editing by Jim Pollard
ALSO SEE: