China's tough Covid restrictions and prolonged property market slump reduced economic growth in the fourth quarter and dismal 2022 growth of just 3% – among the worst in decades.
While some December indicators such as retail sales beat expectations, analysts say China's overall economy remains weak, despite hope after Beijing abruptly lifted its "zero-Covid" policy early last month.
Gross domestic product (GDP) grew 2.9% in October-December from a year earlier, data from the National Bureau of Statistics (NBS) showed on Tuesday, slower than the third-quarter's 3.9%. Still, that figure exceeded the second quarter's 0.4% expansion and market expectations of a 1.8% gain.
Beijing's sudden relaxation of stringent anti-virus measures has boosted expectations of an economic revival this year, but it has also led to a sharp rise in Covid cases that economists say could hamper near-term growth.
A property slump and weak global demand also mean a rebound in growth will be heavily reliant on shell-shocked consumers.
ALSO SEE:
Pick-up seen in second quarter
"China's 2023 will be bumpy; not only will it have to navigate the threat of new Covid-19 waves, but the country's worsening residential property market and weak global demand for its exports will be significant brakes," Harry Murphy Cruise, an economist at Moody's Analytics, said in a note.
For 2022, the 3% GDP growth total badly missing the official target of "around 5.5%" and was down sharply from 8.4% growth in 2021. Excluding the 2.2% expansion after the initial Covid hit in 2020, it's the worst showing since 1976 – the final year of the decade-long Cultural Revolution that wrecked the economy.
"Activity data in December surprised broadly to the upside, but remains weak, particularly across demand-side segments such as retail spending," Louise Loo, senior economist at Oxford Economics, said in a note.
The "data so far supports our long-held view that China's reopening boost will be somewhat anaemic at the beginning, with consumer spending being a key laggard in the initial stages," Loo said.
A Reuters poll forecast growth to rebound to 4.9% in 2023, as Chinese leaders move to tackle some key drags on growth – the "zero-Covid" policy and a severe property sector downturn. Most economists expect growth to pick up from the second quarter.
A strong rebound in China could temper an expected global recession, but it could also cause more inflationary headaches worldwide just when policymakers are starting to get a handle on record price surges.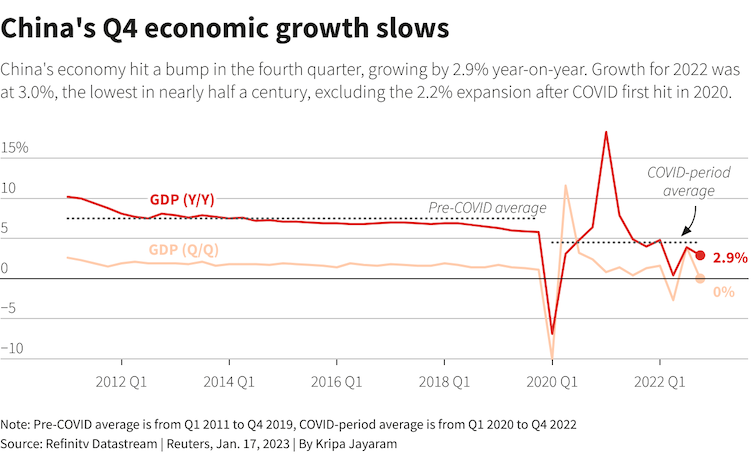 Reopening challenges
Asian shares dropped after the Chinese data, while the yuan skidded to a one-week low.
On a quarterly basis, GDP stalled, coming in at 0.0% in the fourth quarter, compared with growth of 3.9% in July-September, highlighting underlying weakness across many sectors.
Beijing's lifting of Covid curbs has seen businesses struggling with surging infections, suggesting a bumpy recovery in the near-term.
"The ongoing 'exit wave' on the back of China's faster-than-expected reopening has taken a heavy toll on economic activity in recent months, due to surging infections, a temporary labour shortage and supply chain disruptions," economists at Goldman Sachs said, noting the annual contractions in output of both steel product and cement in December.
Factory output grew 1.3% in December from a year earlier, slowing from a 2.2% rise in November, while retail sales, a key gauge of consumption, shrank 1.8% last month after November's 5.9% drop.
Official data showed unemployment eased despite manufacturing and services activity getting squeezed by the spike in Covid infections. The nationwide survey-based jobless rate dropped to 5.5% in December from 5.7% in November.
China's top leaders have pledged to prioritise consumption expansion to support domestic demand and the broad economy this year, at a time when local exporters struggle in the wake of global recession risks. The central bank is also expected to steadily ease policy this year.
China is likely to aim for economic growth of at least 5% in 2023 to keep a lid on unemployment, policy sources said.
Population falls for first time since 1961
China's property industry was among the biggest drags on growth. Investment in the sector fell 10.0% year-on-year in 2022, the first decline since records began in 1999, and property sales slumped the most since 1992, NBS data showed, suggesting that government support measures were having minimal impact so far.
Authorities have rolled out a flurry of policies targeting homebuyers and property developers in recent weeks, to relieve a long-running liquidity squeeze that has hit developers and delayed the completion of many housing projects.
Adding to the challenges facing the economy and the government, China's population in 2022 fell for the first time since 1961, the NBS data showed, a historic turn that is expected to mark the start of a long period of decline in its citizen numbers and see India become the world's most populous nation in 2023.
"The population will likely trend down from here in the coming years. This is very important, with implications for potential growth and domestic demand," said Zhiwei Zhang, chief economist at Pinpoint Asset Management.
"Going forward, demographics will be a headwind. Economic growth will have to depend more on productivity growth, which is driven by government policies."
Reuters with additional editing by Jim Pollard
ALSO SEE: