Some 16 provinces and cities have 'green' hydrogen projects in their five-year plans amid the push to cut emissions; but coal is still expected to generate 44% of the country's power in 2030, which shows policymakers need a big rev up
(AF) Beijing is considering green hydrogen development as a way for the country to reach its net zero carbon emissions 2060 goal announced by Chinese President Xi Jinping before a virtual UN audience last October. He also pledged to cap emissions by 2030 without giving a clear road map how to achieve those objectives.
Beijing-based business media outlet Caixin reported last week that China has been "cranking up investments in hydrogen," while the country's central and local governments have "inked" the hydrogen industry into the 14th Five-Year Plan (2021-2025) as one of China's six industries of the future.
That's the good news. 
However, on the other end of the energy equation, China is by far the world's largest greenhouse gas (GHG) emitter, ahead of the US and India, the second and third largest emitters, respectively. 
China is also the world's largest energy consumer, including crude oil and finished petroleum products (gasoline, diesel, aviation fuel), coal and natural gas and will soon bypass Japan as the world's largest liquefied natural gas (LNG) importer. As such, it's already largely influencing prices for the supercooled fuel on the LNG spot market in Asia, with that influence to increase even more.
The country's coal usage is particularly problematic given that a multi-year record of new coal-fired power plants in several provinces were approved in 2020 to help stoke economic activity while the dirty-burning fuel source, mostly used for power generation, still accounts for 56.8% of the country's energy mix. 
China does plan, however, to cut coal usage to some 44% of its power mix by 2030, with petroleum coming in at 18%, natural gas (12%) and non-fossil fuels (26%), according to new figures by state-run oil and gas major CNPC. Natural gas, for its part, emits 50% less CO2 than coal when used for power production, but it's still a carbon intensive fuel choice.
Moreover, if China has any hope of reaching Xi's climate mitigation goals, coal must be reined in even more. While global coal-fired electricity fell a record 4% in 2020 compared to the previous year, China's coal-fired power production increased by 2%. Even more troubling is the fact China now accounts for nearly 54% of the world's overall coal-fired generation, according to a report earlier this month by climate and energy think tank Ember.
To its credit, the Chinese government has officially raised its non-fossil fuels target, namely solar and wind, from 20% previously to 25% by 2030, just 1% lower than CNPC projections. However, given the scale of China's GHG emissions, growing pressure from the EU and US for Beijing to step up its game, it needs to do even more.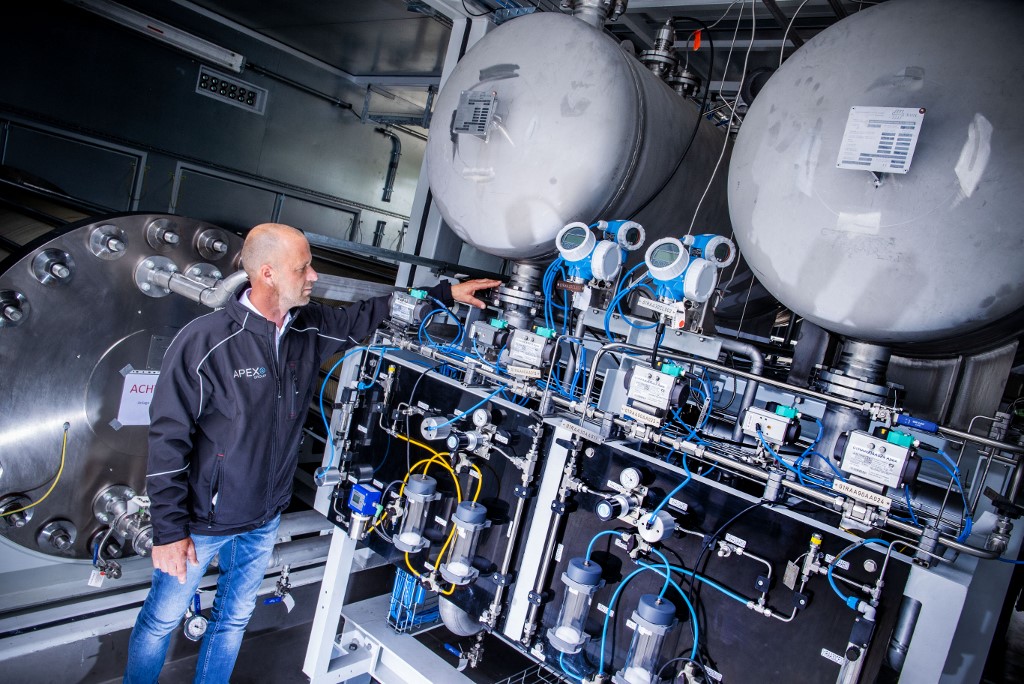 Lofty numbers, but no official plan
The China Hydrogen Alliance, a government-supported industry group, predicts that by 2025 the output value of China's hydrogen energy industry could reach 1 trillion yuan ($152.6 billion), and by 2030 its hydrogen demand could reach 35 million tons, accounting for at least 5% of China's energy system, the Caixin report said.
Hydrogen is only considered "green" if it's produced using renewables sources like solar and wind. "Blue hydrogen" is produced using fossil fuel sources, where carbon emissions are captured and stored (CCS). Hydrogen produced by burning fossil fuels without utilizing CCS technologies is often referred to as "brown hydrogen." China is the world's largest hydrogen producer, but it's brown hydrogen and mostly used in the industrial sector. 
But there's one caveat in all of this: Currently, green hydrogen is still not part of Beijing's official energy strategy with clear pathways for implementation, even if the desire or even public relations spin includes green hydrogen being "inked" into the country's current Five-Year plan. The Caixin report does indicate, however, that as many as 16 Chinese provinces and cities have launched their own five-year plans that specifically feature hydrogen.
The sticking point for Beijing energy planners is that green hydrogen is a long way from reaching cost parity with fossil fuels. Cost depends on a number of factors, including government incentive and even geographical location. Just when cost parity can be reached varies on who you ask and whose modeling and projections you use. 
Beijing is also initiating a four-year program to support local governments in hydrogen technology research and developing an industry chain, according to the report. Five city groups, including the Beijing-Tianjin-Hebei cluster, Guangdong and Henan provinces, and Shanghai have been selected for demonstration projects, though the central government has not published the names of cities in the programme. Local governments that meet specific targets will be awarded up to 1.7 billion yuan ($263 million) as a fiscal bonus.
But these plans focus on using hydrogen as a fuel choice for the transmission sector, not the power generation sector – the main culprit for China's massive GHG emissions.  
A number of Chinese companies, to their credit, are trying to pick up the slack as well, especially Sinopec, the country's largest energy major by domestic market share and capitalization placed at some $612 billion. 
In February, the energy giant announced a plan to become China's top hydrogen company by 2025, by stepping up investment in the use of hydrogen in the transport sector.
It aims to build 1,000 pure hydrogen refueling and integrated retail outlets that also sell conventional fuels by 2025. It also wants to build 7,000 distributed solar power generation stations by the same date. 
It did not provide investment figures for either plan. The company, which produces 3.5 million tons a year of hydrogen currently, is already the country's biggest producer of the clean fuel. China's other two oil and gas majors, CNPC and CNOOC, are also developing their own respective green hydrogen plans.
ALSO SEE: