(ATF) The holding company of China's most valuable listed company, liquor giant Kweichow Moutai, plans to issue up to 15 billion yuan ($2.2 billion) in bonds to help a state-owned highway operator pay off its debts.
This is not the first time that impoverished Chinese local governments have asked wealthy companies to support local economies. Indeed, analysts expect Moutai to receive policy support as the government returns the favour.
According to a prospectus filed to the Shanghai Stock Exchange Corporate Bond Information Platform, the holding company, Kweichow Moutai Group, plans to use the funds raised to acquire a partial stake in Guizhou Expressway Group from a unit of Guizhou government that administers state-owned assets.
The bonds, offered for the first time by Kweichow Moutai Group and carrying AAA credit rating, will mature in not more than 7 years. They will be targeted at professional investors and available for trading on the Shanghai Stock Exchange. The bond coupon rate is yet to be decided.
Hit by Covid-19 pandemic, Guizhou Expressway Group incurred a 1.9-billion yuan ($280 million) net loss in the first half of 2020. It has been continuously borrowing money from banks to build highway infrastructure and has 260 billion yuan ($38.2 billion) of interest-bearing debt. This has created a debt-to-asset ratio of about 70% over the last three years.
The "acquisition" will raise Kweichow Moutai Group's debt-to-asset ratio by 5.3% percentage points to 19.5%, which is still relatively low, according to the prospectus.
The market reacted negatively to the news, with Kweichow Moutai's stock price falling 3.16% on September 17 to close at 1,670.5 yuan ($245.60), bringing down the stock prices of similar businesses at the same time.
A financing vehicle
"Kweichow Maotai's strong brand value has led to a strong premium in the capital market. As an important economic entity in Guizhou Province, Kweichow Moutai Group is more and more becoming a lever to orchestrate the province's local economy," Cai Xuefei, a liquor industry consultant and General Manager of Hefei Zhiqu Cultural & Creative, told ATF.
As a provincial level state-owned company and the No. 1 brand in Guizhou Province, Kweichow Moutai Group has an inherent responsibility to support the harmonious development of the local economy.
According to a social responsibility report published by Kweichow Moutai Group in July, the group paid 43 billion yuan ($6.3 billion) in tax in 2019, which was about a fifth of Guizhou Province's entire tax revenue.
"While the highway industry requires sizeable investment and long cycles, Kweichow Moutai Group, with an abundant cashflow, would be a valuable investor," Cai said.
As revealed in a mid-term prospectus filed by Guizhou Expressway last month, the group has two highway projects in construction requiring total investment of 69.4 billion yuan ($10.2 billion), and a little over one-third will be provided by the government. Its planned investment in these projects over the next three years amount to 31.6 billion ($4.6 billion) in total.
The highway operator had reportedly exhausted its financing options when most of its highway operation rights were given to banks as collateral.
The Covid-19 pandemic added to its difficulty. While its net profit margin was only 1% in 2019, the pandemic caused its bottom line to be negative in the first two quarters of this year.
Also in its mid-term note, Guizhou Expressway said highway traffic shrunk to about one-seventh of the normal level in late January to mid-February due to Covid-19 lockdowns. And as the economy started to reopen in early May, the central government required all highways to waive tolls, so the operator had to give up its main source of revenue.
Kweichow Moutai Group, on the other hand, has had a strong financial performance, with abundant cashflow and high solvency. The group owns 58% of shares in the Shanghai-listed liquor maker, and liquor business account for 99% of its revenue.
After sluggish sales in the first quarter (Q1) due to Covid-19 pandemic, Moutai sales began to pick up in Q2 as the virus became contained. Kweichow Moutai Group recorded revenues of 66.3 billion yuan ($9.7 billion) in the first half.
Because most Moutai liquor orders are prepaid, its cash inflow from operating activities was even higher than revenues – 77.2 billion yuan ($11.3 billion). Its net profit margin has remained between 46% to 49% over the last three years.
Instead of paying for the acquisition from its own pocket, Kweichow Moutai Group has chosen to raise funds through a bond issuance.
It plans to temporarily invest unused proceeds from the bond offering in stable and high-liquidity financial products, such as treasury bonds, policy bank bonds and local government bonds, according to its prospectus.
Zhao Guofang, a food and beverage industry analyst at Industrial Securities, believes the market has overreacted to the news.
"This action of Kweichow Moutai Group has no relation with the listed company, and will not affect the production and sales of the Moutai liquor. Investors should not over- interpret its impact," Zhao said in a note.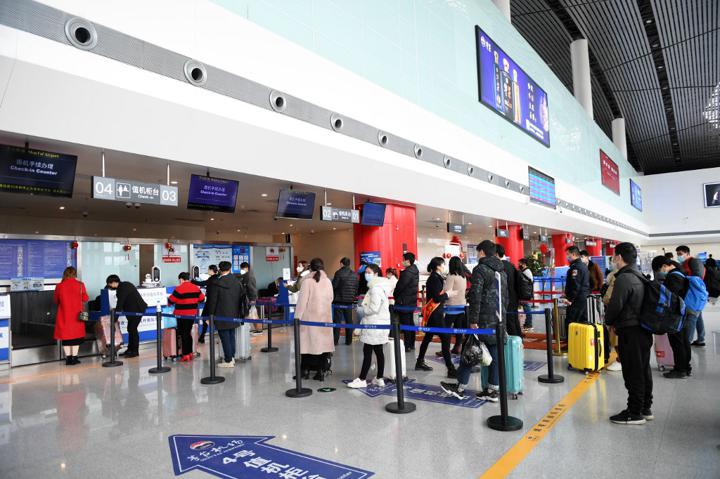 People queue for flights at Zunyi Maotai Airport in Guizhou province in February 2020. This is one of two airports the liquor giant has helped fund. Photo: C.Yong / Imaginechina, AFP.
Building local airports
As said, Kweichow Moutai's investment in Guizhou's main highway operator is not the first time the group has supported the impoverished provincial government.
Previously, the beverages giant helped to build two airports in the province – Zunyi Maotai Airport and Guiyang Longdongbao International Airport, and it owns stakes in the airport operators. However, the group's airport businesses has also incurred losses over the last two and a half years, totalling 1.3 billion yuan ($191 million).
The group also owns a 2% stake in state-owned railway operator Guizhou Railway Investment, which recorded a meagre net profit of 318 million yuan ($46.7 million) last year on 7 billion yuan ($1 billion) in revenue.
And last year, Kweichow Moutai Group transferred 4% of its stake in a publicly-listed subsidiary, worth 57 billion yuan ($8.4 billion), at no cost to Guizhou Province Guimin Development Investment Co Ltd, an investment and financing firm owned by Guizhou government.
Rescuing local economies
With the liquor industry being highly taxed, Chinese liquor makers are important sources of tax revenue for local governments. While many of them are state-owned, they often play important roles in driving local economies.
"It is quite common for liquor companies, such as Kweichow Moutai Group, Wuliangye Yibin and Luzhou Lao Jiao, to support the local economies, and in turn receive policy support from the local governments," Cai from Hefei Zhiqu said.
In 2017, as part of an effort to deepen state-owned enterprise (SOE) reform and optimise resource allocation, the government of Yibin city in Sichuan Province, Wuliangye's home town, decided to transfer its 37.8% ownership in Yibin Paper Industry Co Ltd at no cost to Wuliangye Group. This increased Wuliangye Group's ownership in the paper company to 53.8%, making it its controlling shareholder.
Wuliangye is also a tier-1 maker of "baijiu", a fiery distilled spirit, that is a distant second after the popular Moutai.
Once a leading paper mill that produced China's first paper for newspaper printing, Yibin Paper Industry's business was struggling, and the government was hoping the liquor giant could help revitalise the business.
After its performance began to pick up in 2018, Yibin Paper Industry's net profit declined again in 2019. This year, both of its sales volumes and prices decreased in the Covid-19 stricken international market, causing the company to register a total loss of 620 million yuan ($91 million) in the first half.
Wuliangye has also been enlisted by local officials to propel business development. In 2017, it injected 500 million yuan ($73.4 million) to establish a "Rural Revitalisation and Development Fund" together with Yibin government, as part of a pilot scheme directed by Sichuan Provincial Development and Reform Commission.
Funds were put into two local tea companies the following year, while over 100 more projects in liquor, tea, bamboo, and grain businesses were considered for investment support.
And like Moutai, there is also an airport in Yibin named after Wuliangye although the company did not need to make any investment in its construction. The name has helped the airport raise its profile and in turn increased the liquor company's influence.
Relieving SOEs of their debts
While wealthy SOEs are called on to help their struggling peers get out of financial difficulty, a more common practice is a debt-to-equity conversion with local banks.
China kicked off an initital round of debt-to-equity conversions  in 2016, when it got large banks such as China Development Bank, Bank of China, Industrial and Commercial Bank of China, and China Merchants Bank involved. These banks were given licenses to establish investment subsidiaries, so they could hold stakes in SOEs indirectly in a special arrangement.
As of June 2019, 19 Chinese SOEs including China Baowu Steel Group, State Power Investment Corporation, and China Shipbuilding Industry Company had signed debt-to-equity conversion agreements with banks. These totalled 500 billion yuan ($73.4 billion), according to Wang Hailin, head of the Financial Supervision Department under the State-owned Assets Supervision and Administration Commission (a division of the State Council).
These debt-to-equity conversions have become an important and effective way to help Chinese state enterprises reduce their debts, and emerge from temporary difficulty to achieve sustainable growth, she said.
In December last year, three wholly-owned subsidiaries of Shanghai-listed China Nuclear Engineering & Construction Corp were able to pay off their loans by getting banks to increase their shareholdings.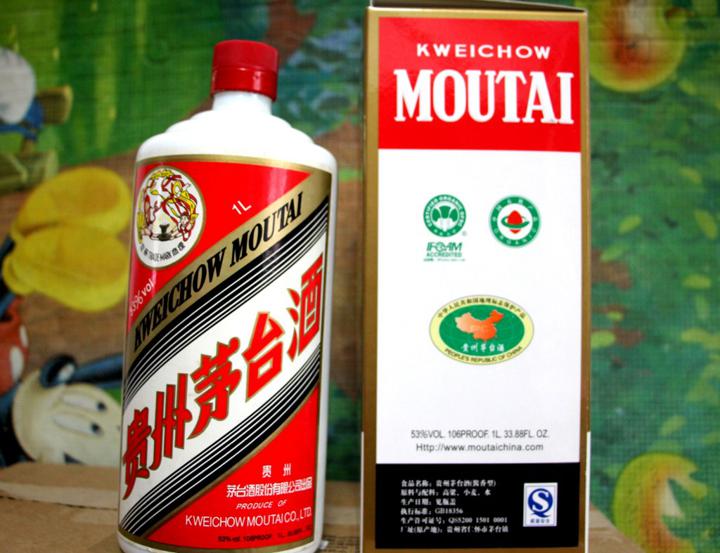 With holidays coming up, this popular drink is expected to rush of sales. Officials also suspect it could be central to new rounds of corruption. File photo by AFP.
Repairing an infamous reputation
Kweichow Moutai Group's core product, a premium baijiu, is dubbed China's "national liquor" and priced above 2,800 yuan ($410) per bottle in offline retail.
Moutai products were often involved in China's government official corruption cases and used for bribery given their high prices. It was once the favoured drink at all government gala events but sales shifted to general consumers last decade as it became one of the targets of Xi Jinping's anti-corruption campaign.
The liquor group's former top executives have also constantly appeared in the press for corruption scandals. Just last month, Kweichow Moutai Group's former vice chairman Liu Zili, was sentenced to 11 years and six months in prison for taking bribes.
With China's Mid-autumn Festival and National Day holidays coming up, the much sought-after liquor is expected to enter a hot-selling period with price hikes.
Concerned that the surging price of high-end liquor will spur new rounds of corruption, China's Central Commission for Discipline Inspection published an article on its website this week, warning CPC members against bribery and squandering public funds on holiday banquets. Baijiu brands "Moutai" and "Wuliangye" were explicitly mentioned in the article.
Zhao from Industrial Securities expects Kweichow Moutai Group's investment in the highway operator to help the group and the listed subsidiary establish a more favourable public image.
Cai from Hefei Zhiqu also believes the deal will help boost the liquor maker's business to a certain extent in the long term.
"Now that Kweichow Moutai Group makes a sacrifice and contribution to the local economy, the Guizhou government is likely to provide more policy support and favourable public opinion guidance to Kweichow Moutai. This should help Kweichow Moutai to integrate better with the local ecosystem and play an even more important economic role," he said.