China's post-Covid economic recovery remains uneven, with the services sector expanding but manufacturing losing momentum amid continued weak demand for exports.
The latest data shows that consumer inflation has fallen to an 18-month low while factory-gate price declines increased in March, suggesting that policymakers need to do more to boost consumption.
In contrast to surging prices globally, China's retail and producer inflation has remained anaemic as the consumer and industrial sectors struggle to recover from their pandemic hit. Analysts now think consumer inflation could fall short of Beijing's official targets this year.
The consumer price index (CPI) rose 0.7% year-on-year, the slowest pace since September 2021 and weaker than the 1.0% gain in February, the National Bureau of Statistics (NBS) said on Tuesday. The result fell short of the 1.0% rise tipped in a Reuters poll.
ALSO SEE:
"China's March inflation report suggests that the Chinese economy is running a disinflation process, which points to bigger room for monetary policy easing to boost demand," Zhou Hao, economist at Guotai Junan International, said.
The producer price index (PPI) fell 2.5% year-on-year, the fastest pace since June 2020 and compared with a 1.4% drop in February. The PPI has fallen for six straight months.
China's yuan hit a more-than-one-week low against the dollar on Tuesday morning following the data, as investors stepped up bets domestic interest rates could be cut. Shanghai's benchmark stock index fell 0.25%, reversing a slight uptick in the opening.
Food price inflation, a key driver of CPI, slowed to 2.4% year-on-year from 2.6% in the previous month. On a month-on-month basis, food prices fell 1.4%.
That pushed the CPI down 0.3% from a month earlier after a 0.5% fall in February, dashing expectations of no change.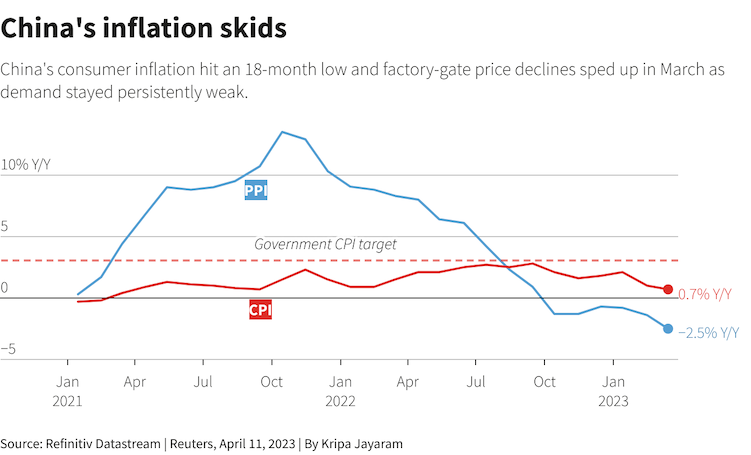 Slower rebound
The government has set a target for average consumer prices in 2023 to be about 3%. Prices rose 2% on year in 2022.
"We think consumer price inflation will rebound in the coming months as the labour market tightens again and will peak at 2.3% in early 2024," said Zichun Huang, China economist at Capital Economics.
"But it will be well below the government's ceiling of 'around 3.0%', and the increase in inflation will be far smaller than what was seen elsewhere when they opened up."
Policymakers have pledged to step up support for the economy, which recorded one of its worst performances in nearly half a century last year due to strict Covid-19 curbs.
Producer prices will likely continue their downturn in the coming period because of weak trade and slow recoveries in consumption and real estate investment, Bruce Pang, chief economist at Jones Lang Lasalle, said.
"Policies need to prioritise consumption and continue to step up efforts to expand domestic demand."
Import-dependent industries saw further price declines, with falls in the oil and gas extraction speeding up to 15.7% from 3.0% in February, NBS said in a separate statement.
Producer prices were unchanged from a month earlier.
Global slowdown
The country's central bank cut banks' reserve requirement ratio in March to support an economy facing headwinds including weak exports and the property downturn.
Beijing needs to "try every method" to stabilise exports to developed countries, Premier Li Qiang said on Friday, warning that the impact of the global slowdown on the domestic economy remains a key concern.
Analysts see limits to China's policy support.
"The PBoC just cut the RRR by 25bp at the end of March. However, Beijing still has no appetite to launch a massive stimulus on concerns of distortions and financial risks," analysts at Nomura said.
Reuters with additional editing by Jim Pollard
ALSO SEE: