Chinese search engine giant Baidu has filed lawsuits against "relevant" app developers and Apple over fake copies of its Ernie bot app available on Apple's app store.
The company's artificial intelligence (AI) powered Ernie bot, launched last month, has been touted as China's closest answer to the US-developed chatbot ChatGPT.
Baidu said it had lodged lawsuits in Beijing Haidian People's Court against the developers behind the counterfeit applications of its Ernie bot and US tech giant Apple.
"At present, Ernie does not have any official app," Baidu said in a statement late on Friday posted on its official "Baidu AI" WeChat account. It also posted a photograph of its court filing.
"Until our company's official announcement, any Ernie app you see from App Store or other stores are fake," it said.
Apple did not immediately respond to a request for comment.
A Reuters search on Saturday found there were still at least four apps bearing the Chinese-language name of the Ernie bot, all fake, in Apple's App Store.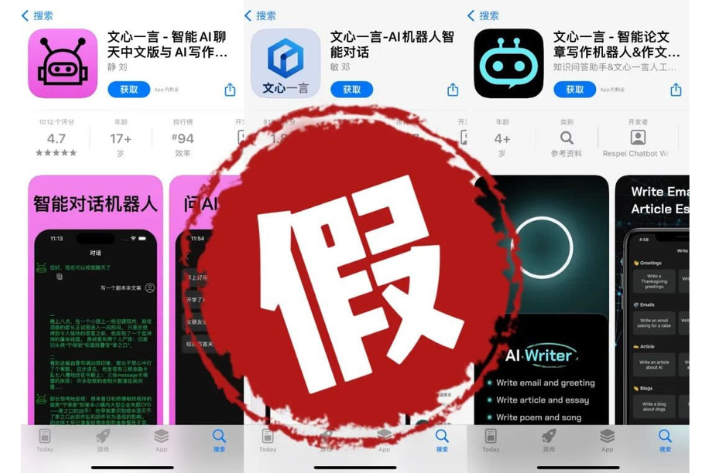 The Ernie bot is only available to users who apply for and receive access codes. In its statement, Baidu also warned against people selling access codes.
SenseTime unveils 'SenseChat'
Meanwhile, China's SenseTime on Monday unveiled an AI-powered chatbot called "SenseChat", which it demonstrated performing tasks such as writing an email and a children's story upon being prompted.
SenseChat is based off the company's big AI model SenseNova, its CEO and co-founder Xu Li said.
ChatGPT 'payment data risks'
The developments came as China's payment and clearing industry association warned on Monday against using Microsoft-backed OpenAI's ChatGPT and similar artificial intelligence tools due to "risks such as cross-border data leaks."
"Payment industry staff must comply with laws and rules when using tools such as ChatGPT, and should not upload confidential information related to the country and the finance industry," the Payment & Clearing Association of China said in a statement on Monday. The association is governed by the China's central bank.
OpenAI has kept its artificial intelligence-powered chatbot off-limits to users in China, but the app is attracting huge interest, with firms rushing to integrate the technology into their products and launch rival solutions.
While residents in China are unable to create OpenAI accounts, virtual private networks and foreign phone numbers are helping some bypass those restrictions to access the chatbot.
Excitement in China over the chatbot has helped to fuel a rally in tech, media and telecom (TMT) shares, with analysts cautioning over bubble risks.
Economic Daily, a Chinese state media outlet, published a commentary on Monday urging regulators to step up supervision and crackdown on speculation in the sector.
Chinese shares in computer, media and communications equipment tumbled between 3.4% and 5.6% on Monday.
Reuters, with additional editing by Vishakha Saxena
Also read: