(ATF) Tesla is rarely out of the news these days, partly because its boss Elon Musk, one of the richest men in the world, is involved in cutting-edge developments such as electric vehicles and space travel. Currently, the 49-year-old industrial engineer and business magnate has plenty on his plate.
Today, Musk responded to news that the Chinese military had banned Teslas from its facilities, saying his company would be shut down if its cars were used for spying.
"There's a very strong incentive for us to be very confidential with any information," Musk told a top Chinese forum in Beijing. "If Tesla used cars to spy in China or anywhere, we will get shut down."
Sources told Reuters on Friday the Chinese military has banned Tesla cars from entering its complexes because of security concerns over cameras installed on the vehicles. That news surfaced as Chinese and US diplomats held a rowdy meeting in Alaska, the first in-person interaction since US President Joe Biden took office.
Musk urged greater trust between the world's two biggest economies, in his remarks to the China Development Forum, a high-level business gathering hosted by a foundation under the State Council. He spoke in a panel with Xue Qikun, a Chinese quantum physicist who heads the Southern University of Science and Technology.
However, a deeper concern appears to be lingering behind the scenes.
Consumer complaints
Tesla has been given huge subsidies by the Chinese government in the hope that his presence will spur local electric vehicle makers, but his company has been accused of being unresponsive to consumer complaints – and calls for a probe into the EV giant have drawn attention of local authorities.
Last month, five Chinese regulators, including the Ministry of Industry and Information Technology (MIIT), State Administration of Market Regulation, and the Cyberspace Administration of China, summoned Tesla representatives for a "talk" after reported technical and safety problems with their vehicles. 
This reminds people of the crackdown by the Cyberspace Administration on Google in 2010, after which Google felt compelled to leave the Chinese market.
In a statement, Tesla said it accepted the authorities' "guidance". 
This week, many bloggers said they were shocked to find that Tesla was missing among the brands unfavorably featured in CCTV's influential 315 Gala on Monday 15 March, the World Consumer Rights Day. The 315 Gala, which national broadcaster CCTV has been broadcasting every year since 1991, calls out brands for high-profile criticism on lax quality standards or consumers rights violations.
Google was once accused by CCTV of offering pornographic content in its search results.
A few days before the World Consumer Rights Day, 90% of respondents to an online poll said Tesla deserves to be featured in the negative spotlight. "No one else deserves better than Tesla," some internet users commented.
Bloggers used titles such as "Tesla's absence from the 315 Gala does not mean justice will not come one day!", "Tesla got 'lucky' when 315 was 'nice'", "Tesla cannot escape from the '315' of public criticism" to express disappointment and bewilderment.
The Chinese government policies have so far been accommodating to Tesla – allowing it to wholly own its factory like no other foreign carmaker, and benefit from the same subsidies that domestic manufacturers such as Xpeng Motors and Nio get. The theory is that the introduction of Tesla can help build up supply chains in China and have the same downstream impact as Apple did in helping spawn the likes of Xiaomi and Huawei. 
The former MIIT Minister Miao Wei said the American EV maker's presence would result in a "catfish effect" that encourages weaker players to innovate and better themselves. Developing new energy vehicles also align well with China's strategy of ending its reliance on imported oil, addressing the affordability of products for the rising middle class and curbing deadly pollution. 
The local government in Shanghai provided $85 million of subsidies, while Chinese banks provided loans totalling 19.75 billion yuan ($3 billion) to support the building of Tesla's Gigafactory in Shanghai, Tesla's 2019 annual report revealed.
And, it turns out, that Tesla was called out on a local 315 show, aired by Guangdong province's  TV station. 
Han Chao, who purchased a used Model 3 from Tesla's official website with no salvage title, said on the show that the C pillar and rear fenders of the car were found to have been cut and welded, indicating a serious accident history. A court in Bejing has ruled that Tesla should provide a refund as well as compensation of an additional 1 million yuan ($153,700) to Han. Tesla China denies the car is a "major accident vehicle" and has said it will appeal the court's decision.
After mounting reports about battery fires, unexpected acceleration and failures in over-the-air software updates with Tesla vehicles, several life-threatening car accidents involving Tesla Model 3 that occurred just before 15 March put Tesla in the centre of attention again.
Brake malfunction complaints
Earlier this month, a video showing a woman holding a loudspeaker and sitting on the top of a Model 3 in front of a Tesla service center went viral over social media. A banner, in the photo below, says "Tesla brake malfunctions" is attached to the body of the badly-damaged car and the loudspeaker plays repeatedly a recorded message saying a Model 3 brake problem almost killed the four people in her family.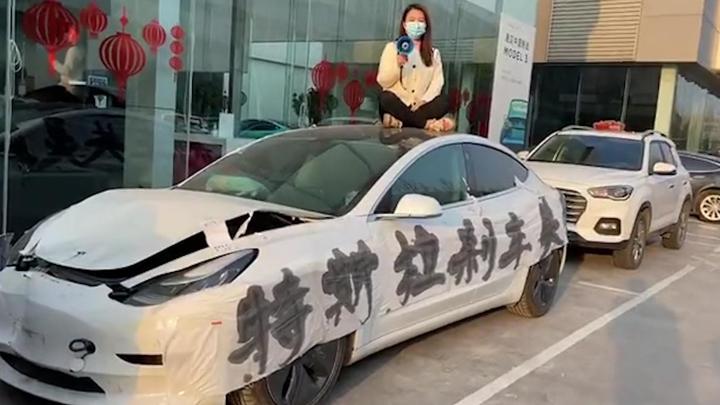 The woman surnamed Zhang told a local TV station in Henan province that her father, with over 30 years of driving experience, found "the brake did not work" as he tried to slow down at a crossroad. After running into two cars, the Model 3 came to a stop by crashing into a cement fence. Zhang said her parents were still in hospital at that time.
Tesla responded saying its data analysis showed the Model 3 was running at a speed of 118.5 kilometers-per-hour before the driver stepped on the brake, and the Anti-lock Braking System was functioning normally. 
Zhang questioned the authenticity of Tesla's claim and told local media that she was disappointed that Tesla refused to share the driving data recorded by in-car devices with her.
Just a few days later, another Tesla owner in Haikou in Hainan province with the pseudonym Yu Fei said on Weibo that her friend could not bring her car, newly-purchased in January, to a complete stop and crashed into a fence when running at low speed in a parking lot. A Tesla after-sales staffer also crashed into the fence when he tried to do the same incident. 
Tesla's explanation was that the driver did not step on the brake strong enough and the ground was slippery. 
Yu later withdrew her claim against Tesla and deleted all her previous Weibo posts. However, a settlement agreement allegedly signed between Yu and Tesla circulated over social media, showing Tesla agreed to buy back the car, minus the insurance fee.
This week, a report by Dazhong Media said a man surnamed Liu in Tianjin municipality, also driving a Tesla Model 3, crashed into another car on a highway when he could not slow the car down. Again Tesla claimed no fault with the Model 3's brake system. Liu told reporters that he would "never drive a Tesla again".
Yet, they're selling like hot cakes
But, repeated reports of car accidents have not stopped Chinese consumers from buying a Tesla. 
While China's top three rising EV start-ups, Nio, Xpeng, and Li Auto, all recorded a car sales plunge during the Lunar New Year – a 'slow season' – Tesla's recorded growth and sold more cars than the three Chinese firms combined. 
The US giant sold 18,318 cars in China in February, up 15% from January. It now has a 20% market share in the country's battery electric vehicle market.
David Zhang, a researcher from the Innovation Research Center at North China University of Technology, told Asia Times Financial that various reports of Tesla crashes suggest there might be issues with Tesla's Autopilot or Full Self-Driving (FSD) driver assist systems. 
"The Bosch iBooster braking system installed on Tesla Model 3 is a mature product that is also used by many other brands such as Volkswagen and Toyota. However, Tesla has received the most complaints on braking system issues. Chances are that Tesla's Autopilot or FSD system sent wrong commands to the braking system in these accidents," Zhang speculated.
Limited access to in-car data
However, it is difficult to find proof of Tesla's fault because only Tesla can access the data recorded by in-car devices and China's laws do not mandate carmakers to share such data.
"I would suggest that the authorities pass legislation to require carmakers to host the data with the government or third-party organisations so that in case of a car accident, the data can be retrieved," he said.
Zhang said the increasing number of consumer complaints could point to possible lax quality standards with the China-made Model 3s.
Moving at a "Tesla speed" that both the company and the local government were proud of, Tesla's Gigafactory in Shanghai achieved an industry record of plant construction, production kickoff and market launch "all within one year".
"Tesla entered the Chinese market in 2014 with imported vehicles, but the number of complaints has just been increasing over the past year, and most complaints are about the China-made Model 3s. [With the factory] built in such a haste, there could be quality problems," Zhang said.
The locally-made Model 3s were launched in November 2019 and became a hit in China, then Tesla launched the China-made Model Ys in January. The Model Y has also become one of the best-selling EV models.
Cui Dongshu, secretary-general of China Passenger Car Association, said in an interview with local media he suspected that Tesla's product quality and consumer protection may not have kept pace with its sales growth in China.
"Tesla should not only focus on its speed in China, but also pay attention to consumers' feelings," he said.
With reporting by Reuters
ALSO SEE: