(ATF) Coupon payments weighed on the ATF indexes on Monday, with the flagship China Bond 50 Index, as well as the ATF ALLINDEX Corporates, Financial and Local Governments slipping 0.02%, 0.12%, 0.05% and 0.19%. Only the ATF ALL INDEX Enterprise posted a gain, rising 0.03%. However, the majority of the constituents across all the indexes closed the day in positive territory.
China Merchants Bank made a coupon payment on September 26, leading its bonds to lose 3.2% and bringing down the China Bond 50 index and the ATF ALLINDEX Financial. Coupon payments reduce the appeal of bonds because they lower the level of payments left on the fixed-income securities. 
Jizhong Energy Group paper dropped 6.56%, following a coupon payment on the same day, and weighed on the ATF ALLINDEX Corporates, while the People's Government of Jilin's bonds fell 3.23% on the back of its payment on September 27.
The broader picture was largely positive with the majority of the index constituents rising. Within the China Bond 50, the biggest price gain was posted by China Zheshang Bank, which rose 0.2%, leading to a drop in yield of 0.09%.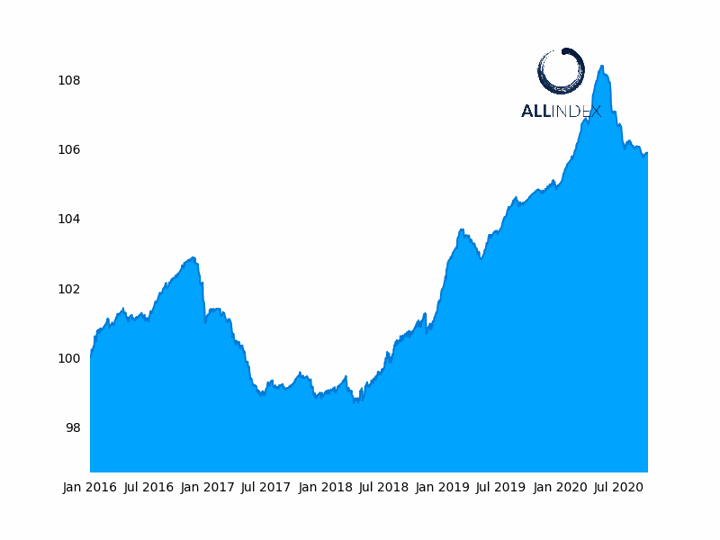 The benchmark ATF China Bond 50 Index fell 0.02% 
Other gains include those in the bond prices of Agricultural Development Bank of China (0.06%), Hangzhou Qiangjian New City Investment (0.04%),  Xi'An H-tech (0.05%), Hubei Provincial Communications (0.04%), and Xiamen International Bank (0.04%). Their yields dropped 0.14%, 0.19%, 0.12%, 0.18% and 0.3% respectively. Xiamen International Bank is also a constituent of the ATF ALLINDEX Financial and posted one of the biggest gains of that index.
The biggest price increases of the ATF ALLINDEX Corporates were posted by Sino-Ocean (0.04% for a yield of -0.06%), Wuxi Construction Group (0.04% for a yield of -0.09%), and Guangzhou Development District (0.04% for yield of -0.13%).
The ATF ALLINDEX Enterprise gauge rose following price rises in the bonds of Datong Coal Mine Group (0.06% for a yield of +0.02%), Chengdu Rail Transit (0.07% for a yield of -0.35%), and Huadian Power International (0.03% for a yield of -0.07%), along with those of Hangzhou Qianjiang New City, Xi'An Hi-tech Holding, and Hubei Provincial Communications, as above. 
Finally, most of the constituents of the ATF ALLINDEX Local Governments rose between 0.02% and 0.03%.