(ATF) The confirmation of Joe Biden as the next President of the United States has also stoked electric vehicle and green finance bulls as the leadership change incentivises and drives demand for renewable energy.
And the magnitude of stimulus deployed globally for recovery from the coronavirus pandemic is game changing, as many governments have tied this financial assistance to green investment and climate ambition.
"The electric vehicle story was great due to China and it will only get better now that the US election cycle has delivered a Democratic White House and Congress. The Biden administration will provide more incentive for EVs and that should keep demand strong for years to come," Edward Moya, Senior Market Analyst in New York with OANDA, said. 
The world's largest automobile China, accounts for more than half of the electric vehicles sold globally is targeting 25% of all car sales in the country to be EVs by 2025, up from about 5% at present.
The International Energy Agency, an autonomous intergovernmental organisation, has forecast a 30% market share for electric vehicles in all modes except two-wheelers by 2030, with the global stock reaching 245 million vehicles by the end of the decade – over 30 times greater than the level today.
"Shifts to a variety of regulatory and fiscal measures are likely to gradually become a main driver of electric vehicle deployment, setting clear goals and a long-term vision for the industry. Many of the regulatory policies impel vehicle makers to sell a greater number or share of electric or otherwise more efficient vehicles," the agency said in a report.
FALLING BATTERY PRICES
The other dynamic which is boosting demand for electric vehicles is the fall in prices of batteries and infrastructure.
"Battery prices are about to cross the key threshold of $100 per KWh which enables electric vehicles to compete directly on purchase price with Internal Combustion Engine (ICE) vehicles, and are heading for $50 per KWh by 2030, at which point they will be much cheaper," Kingsmill Bond, an Energy Strategist at Carbon Tracker, said.
Bond said in an interview with Asia Times Financial Television that emerging markets, which will be key drivers of the expected growth in oil demand, will as a result of the fall in battery prices electrify their transport systems, liberating themselves from rising oil import dependency and "bring the oil era to an end."
Developed economies may not have the scale of China but many have high a proportion of EVs in their total car population. Norway (13%), Iceland (4.4%), Netherlands (2.7%), Sweden (2.0%) have more than 2% electric cars in total stock. Currently, just 1.6% of China's total cars are electric.
Norway sells more electric vehicles than conventional vehicles and is supported by heavy government subsidies.
"The growth in innovative transportation will as a result create a higher demand in creation and storage of renewable energy. Our expectation is therefore a growth scenario for companies being active in these innovative transportation and renewable energy related fields," Christian Kronseder, CEO of ALLINDEX, said.
ALLINDEX has created the Global Green Energy Transport and Technology Leaders Index (see below) in collaboration with Asia Times Financial. The benchmark tracks shares of leaders in electric vehicle and renewable energy production and storage businesses.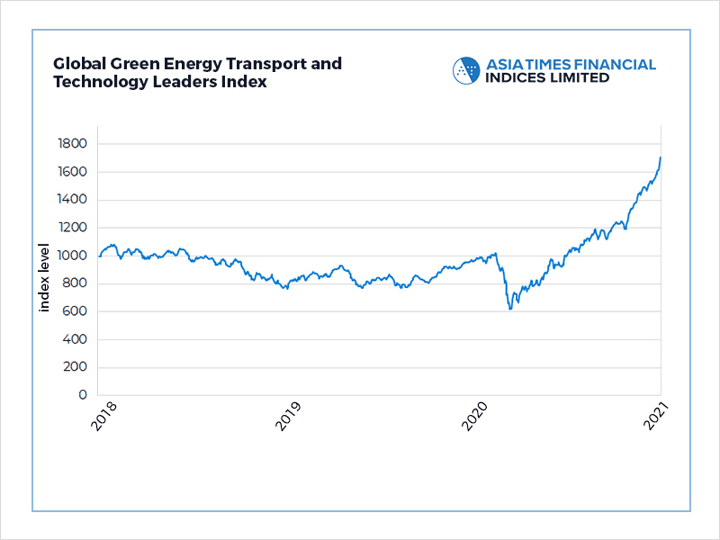 The Global Green Energy Transport and Technology Leaders Index has been created in collaboration with Asia Times Financial. The benchmark tracks shares of leaders in electric vehicle and renewable energy production and storage.
POST-COVID GREEN RECOVERY
The mammoth stimulus planned across the global economy is also a significant opportunity for green and social bonds to help fund the recovery. In September the EU said that 225 billion Euro of their 500 billion euro stimulus package will be funded by the issuance of green bonds. To put this in context, 225 billion Euro is more than the entire global issuance of green bonds in 2019.
"A green recovery has the potential to turbo-charge not only the chances of meeting the regions' climate goals, but also the financial instruments and industries that will be instrumental in delivering these objectives," Gabriel Wilson-Otto, Global Head of Sustainability Research at BNP Paribas Asset Management, said.
Moody's Investors Service said coronavirus shock presents an opportunity for governments to infuse fiscal support packages with environmental objectives, such as investments in infrastructure projects to improve resilience to environmental risks and policies to reduce the carbon intensity of economic activity.
"Among emerging markets in the region, China stands out as a more ambitious driver of green recovery policies, albeit with mixed prospects, given the continued importance for the country of coal-fired power generation over the near term. The government has committed to achieving carbon neutrality by 2060 through an investment of $15 trillion over the next 30 years. Short-term stimulus measures, although small as a share of GDP, have also focused on public investment for green infrastructure, including electric-vehicle charging-stations, high-speed and light rail, and renewable energy transmission lines," the agency said in a report.
ALSO SEE: