(ATF) China Evergrande New Energy Vehicle Group Ltd says it will form a joint venture with a unit of technology giant Tencent Holdings to develop a smart vehicle operating system employing proprietary intellectual property.
The Hong Kong-listed electric vehicle (EV) firm set up by debt-laden property giant China Evergrande – which however has not sold any cars yet – said it will contribute 60% of capital to the venture while Tencent unit Beijing Tinnove Technology Co Ltd will make up the remainder.
Evergrande New Energy Vehicle's shares soared 10.75% and closed at HK$59.25 on Tuesday. The company's big production dreams have lifted its market cap to rank only behind BYD Auto among listed Chinese carmakers. 
Tencent's shares in Hong Kong rose 1.6% in the first trading hour, but decreased later and closed at HK$630.5 with a slight increase of 0.4%. 
"Both parties are expected to give a full play of their respective capabilities in new energy vehicle research and development, manufacturing, artificial intelligence, big data, cloud computation, commuting and other fields," the Guangzhou-based EV firm said in a Hong Kong bourse filing without giving further details.
Tencent's foray into the automobile field follows moves by other Chinese internet giants such as Baidu and Alibaba Group Holding, which are also striving to develop their own smart vehicle OS by cooperating with car manufacturers. 
The pair has teamed up before this. Last September, Tencent acquired a small stake in Evergrande New Energy Vehicle via private placement.
China Evergrande's EV unit was previously Evergrande Health Industry Group, which after taking a shopping spree of controlling interests in EV companies, changed its name to China Evergrande New Energy Vehicle in August last year. The EV firm subsequently launched its brand "Hengchi" (which means "forever galloping") and six concept models – covering a full array of sedan, SUV, MPV and cross-order vehicles. Eight more EV models are reportedly in the works.
Last November, it started trial output at plants in Shanghai and Guangzhou in preparation for mass production of the six Hengchi brand models. The plan is to have 10 factories in China with each of them adding an output of 100,000 cars per year after their first phases. 
China Evergrande's chairman Xu Jiayin (Hui ka-yan) announced ambitious goals in 2019 for the EV unit to surpass Tesla and become the world's largest and most powerful electric carmaker within three to five years.
China Evergrande New Energy Vehicle in January brought in six Hong Kong and mainland tycoons to raise HK$26 billion (US$3.4 billion) in a share sale to fund technology research and repay debt. 
The company also received approval last year for a secondary listing on the Nasdaq-style tech board, the Science and Technology Innovation Board (STAR Market), to fund its EV project, the timetable of which is still unknown.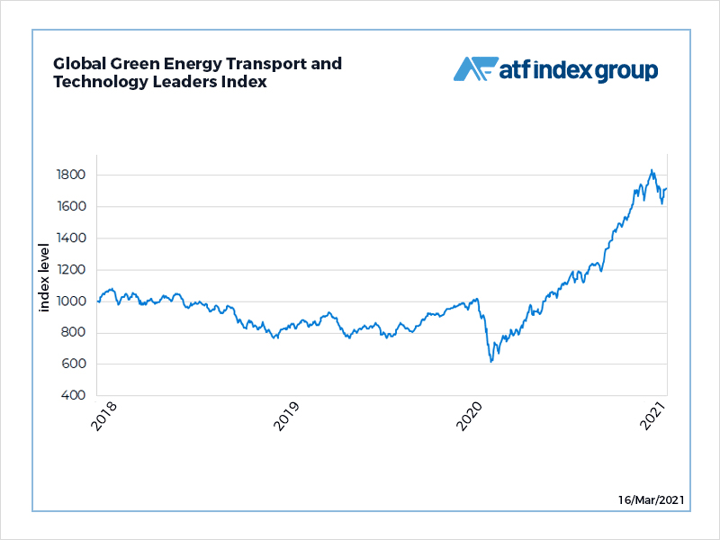 The Global Green Energy Transport and Technology Leaders Index created by Asia Times Financial in collaboration with ALLINDEX, is a benchmark that tracks shares of leaders in electric vehicle and renewable energy production and storage businesses.
XPENG GETS $77m BOOST
Meanwhile, Chinese electric vehicle (EV) maker Xpeng Motors said on Monday it has received 500 million yuan ($77 million) of investment from the government of its home province, while analysts have revised down revenue forecast of the EV startup as chip shortage cripples the EV maker's production expansion. 
Xpeng reached a "strategic cooperation agreement" with Guangdong Yuecai Investment Holdings, the investment arm of the provincial government of Guangdong, for an RMB 500 million ($77 million) investment in its China subsidiary, Xpeng said in a statement on its official WeChat channel. 
"With the guidance of the government and related departments, and the support from partners such as Yuecai, Xpeng aims to help fuel the high-quality and integrated growth of the Guangdong-Hong Kong-Macau Greater Bay Area together with Guangdong Province, and become a leader in the transformation of global transportation," He Xiaopeng, Xpeng's chairman and chief executive, said in the statement. 
About two weeks ago, Xpeng launched three new vehicle versions powered by lithium iron phosphate (LFP) batteries for the Chinese market, namely two standard range models of the rear-wheel drive P7, and the G3 460c model.  
The new Smart and Premium P7, offering 480 kilometers of ranges, are priced at RMB 229,900 ($35,600) and RMB 239,900 ($37,100) for retail, respectively – about 20,000 yuan ($3,078) less expensive than the 706km long-range version. Xpeng said the standard range P7s are designed to meet urban commuters' needs.
PRESSURE ON GROSS PROFIT MARGIN
Several analysts from Jefferies said the new LFP-battery powered models have been well received by the market, judging by sales data. However, their high market acceptance will also put pressure on the EV maker's gross profit margin as auto chip shortage and inflation concerns have crippled Xpeng from expanding its production volume. 
Affected by global chip shortage as well as a dip in consumer demand during the Lunar New Year, China's top three EV start-ups all reported a month-on-month decline in their car sales in February. 
Xpeng sold 2,223 cars in February, a 63% decline from its record January numbers when it had delivered 6,015 units. Li Auto's EV sales volume in February was 2,300 units, down 57% from a month earlier. But Nio's sales were most resilient of the three – it sold 5,578 vehicles in February, down 23% month-on-month.
On the other hand, Tesla achieved a sequential sales growth in February, and its Model 3 and Model Y were among the top vehicles by sales in China in February, according to data released by China Passenger Car Association. The US giant sold 18,318 cars in China in February, up 15% from January.
A DELAY IN PROFITABILITY
While Jefferies believes Xpeng will maintain long-term competitive advantage over traditional luxury carmakers, it expects a delay in the company's growth towards profitability and positive cashflow.
Jefferies has revised down its forecast for Xpeng's 2021 revenue to 11.4 billion yuan ($1.8 billion), which would be 95% year-on-year growth. It expects Xpeng's net loss to stay flat at 4.9 billion yuan ($754 million) this year.
The Chinese EV startup recorded a net loss of 4.9 billion yuan ($754 million) in year 2020 although its revenues more than doubled to reach 5.8 billion yuan ($896 million). It has estimated its first-quarter revenue will be 2.6 billion yuan ($400 million), down 8.8% from the previous quarter. 
After a big surge in 2020, Xpeng shares are under pressure this year and down about 37% from a high point in late January. It closed at $35.37 on Monday.
Jefferies said Xpeng's price is likely to remain volatile if there is no positive catalyst. It has set a new price target of $39.50 and maintained a "Hold" rating for the company.
Xpeng is headquartered in Guangzhou, the capital of Guangdong province. The region has been putting a focus on new energy vehicles and autonomous driving. Warren Buffett-backed electric carmaker BYD Auto is based in Shenzhen, the tech powerhouse in Guangdong. And autonomous driving start-ups such as Pony.ai, WeRide and AutoX are all based in the province.
The EV start-up has continued to raise money to fuel its growth, ramp up production and battle against domestic rivals such as Nio and Li Auto, as well as Tesla.
Xpeng raised $900 million before its initial public offering (IPO) and $1.7 billion during its trading debut on the New York Stock Exchange last August.
In September last year, the company had received 4 billion yuan ($616 million) in a funding commitment from Guangzhou Kaide Investment Holding, an investment arm of the Guangzhou government for setting up a manufacturing facility in Guangzhou. 
In December, Xpeng raised another $2.5 billion in its first follow-on public offering by selling American depositary shares (ADS) at $45 apiece. Its backers include Alibaba Group Holding and Hillhouse Capital Management Ltd. 
In January, the company secured a credit line of 12.8 billion yuan ($2 billion) from major state-owned banks.
The company has been focusing on building its manufacturing base with two wholly-owned factories – one in Zhaoqing and another currently under construction in Guangzhou.
 ALSO SEE: