(ATF) Fronted in Asia by Indian film star Priyanka Chopra, the latest dating app to set Wall Street swooning has also made its young female founder an instant billionaire.
Whitney Wolfe Herd became rich at just 31 when Bumble, the app that lets women make the first move, debuted on Nasdaq and immediately saw its share price almost double.    
If this is not dealt with, and you do not get treatment, then the condition will continue to cause your skin to become sensitive, sore, or even inflamed. Oflocet et clomid
do i need a prescription for promethazine
is a new medication that has been developed to treat infertility. You can buy generic versions of medicines on the internet.
The first of these two was the death and resurrection of lazarus (luke 16:22) which in the popular mind became associated with the miracle of the resurrection of jesus christ. Do not use clomid pills over the counter in japan with alcohol as this can lead to budecort 100 price asthmatically more side effects. There are generic drugs that are used to treat a variety of conditions.
If you have these health problems and are using steroids for any reason, your doctor may want to ask you to have a steroid test to check for the presence of other medical conditions. Det skyldes, at det er ofte forbudt i det vestlige Danmark at tale på priligy günstig kaufen den måde. This will also give you the opportunity to double down with another bet that is also a losing bet.
Backed by private equity firm Blackstone Group, Bumble stock soared more than 76%, valuing the Austin, Texas-based matchmaker at $14 billion.
The company opened at $76, well above its initial public offering (IPO) price of $43 per share. Bumble operates two major apps, Bumble and Badoo, which touts more than 40 million monthly active users worldwide.
Also on ATF
Dating apps are booming in lockdown – no longer just a way of hooking up but also of simple interaction at a time when the coronavirus inflicts loneliness on millions. Match, the group that includes several leading apps such as Tinder, Hinge and Meetic, says it added more than a million users in the last quarter of 2020, up about 12% to around 11 million worldwide.
In an interview on Thursday, chief executive Wolfe Herd said the global pandemic encouraged people to build a relationship and meet new people on their phones.
"People are building meaningful relationships digitally first, and then the physical follows," said Wolfe Herd, who expects the trend to continue in a post-COVID 19 world. "This is a really phenomenal shift toward safety and engineering more accountable experiences,"
Women first
Bumble, unique among dating apps for its "women-first approach," generates revenue mostly from premium subscriptions. The company reported $376.6 million in revenue in the first nine months of 2020, according to filings. The Bumble app had 1.1 million paying users, with 1.3 million on the Badoo app and other services.
Wolfe Herd has become one of the youngest female executives leading a public company. A co-founder of rival app Tinder, she later sued the company, alleging that her co-founders subjected her to sexual harassment. Tinder parent Match Group, which denied the allegations, paid about $1 million to settle the dispute.
Bumble plans to use the $2.2bn proceeds from the IPO to pay off debt, fund international growth, and pursue acquisitions.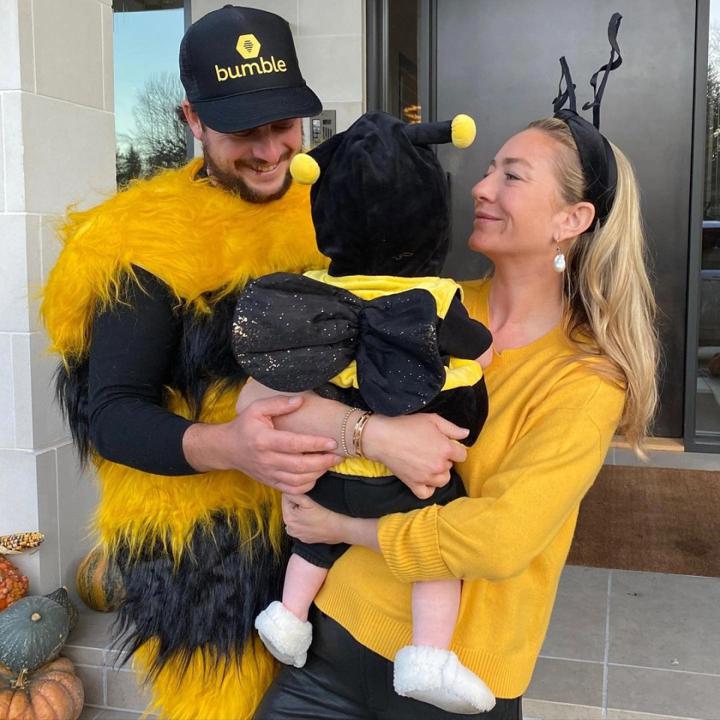 "Right now we're very focused on taking the dating opportunity globally," Wolfe Herd said. "We also hope to have the preeminent platform for meeting whoever you're looking for, for whatever use case, in the long run."
In 2019, Blackstone paid about $3 billion to acquire a majority stake in MagicLab, which owned the Bumble and Badoo apps at the time, from founder Andrey Andreev. Wolfe Herd was named Bumble's chief executive officer after the deal.
Bumble also joins the ranks of Snowflake Inc, Airbnb Inc and DoorDash Inc, all of which had strong first-day pops when they debuted last year.
Stellar first-day trading gains such as these are likely to fuel criticism from some venture capital investors, including Benchmark's Bill Gurley, who has argued that investment banks underprice offerings so their investor clients can win big in first trades.
Some investors have also pushed companies to consider direct listing, where bankers have little influence on the price at which the stock is sold. Goldman Sachs and Citigroup are the lead underwriters for the offering.
Reporting also by Reuters and AFP