(ATF) In a year of disruption and volatility, companies and their employees are being forced to reassess decades-old practices relating to the workplace.
The Covid-19 pandemic, requiring worldwide lockdowns and a forced shift to remote working, has focused attention on agile and flexible work practices. This is not a new phenomena. Many companies have long sought to retain high-value, full-time employees on key projects while outsourcing more general operations.
Remote work will become the "new normal" in a post-pandemic environment, allowing the above goals to be accomplished much more easily than in a world where high-value employees and outsourced workers are not sharing the same, single, virtual office. This is inevitable given the expectation among many companies that old working practices are unlikely to resume. Here in Asia, for example, Tata Consultancy Services has said only 25% of its 450,000 employees will be required to work from offices in the future, while across the region Morgan Stanley predicts companies will vacate up to 9% of office space in the next three years.
This trend is, however, much more than about doing the same jobs remotely. It is about a structural shift from companies hiring only full-time employees, to companies leveraging more creative workforce models which includes freelancers, outsourcing firms, and on-demand talent platforms. There are mutual benefits for employers and employees. Employers can turn to specialist talent as and when they need it, often to solve business challenges for which in-house departments are not configured. For employees with sought-after skills, they can become for-hire project managers, working remotely on temporary projects that align with both their specialist knowledge and that suits their lifestyles.
Switch to remote freelance work
In the first nine months of this year, more than 200,000 people applied to become part of our network, with multiple Fortune 500's asking to partner with us to contract out their employees to companies who have a more acute need for their talents. These numbers and partnerships are consistent with the mindset and structural changes underway as record numbers of people consider switching to remote freelance work.
This trend is already well established in the IT industry, and it is now spreading into every sector, from aerospace and automotive to engineering, financial services, legal practice, and logistics. 
In the auto industry, for example, every car manufacturer is locked in a fierce battle with technology firms for the small number of world-class engineers that have the skills needed to work on an ever-growing number of crucial autonomous, electric, and connected vehicle technologies. 
In the finance sector, the State Bank of India has introduced a "work-from-anywhere" policy to lower operational costs and enhance staff productivity.
The pandemic has crystalised the realization that companies can operate successfully without the need for a traditional in-person office environment.
We at Toptal predict that much of that work will be undertaken by leveraging new talent acquisition models.
Talent shortages as offices downsize
First, while virtually every sector has been adversely impacted by Covid, businesses in multiple sectors are facing talent shortages in key roles needed to implement strategic transformations. This problem has become more acute this year. Many companies are resource-constrained – unable to compete in the bidding war for a small pool of elite candidates that only go to the biggest or most prestigious firms – or are simply limited by geography and visa barriers that block access to a diverse talent pool distributed across global markets. Put simply, the worldwide shortage of top talent is set to become more severe.
Second, employers are facing unprecedented cost pressures. To compensate, many have moved from maintaining a full workforce of permanent staff to including more temporary and freelance workers. Large parts of the staffing and outsourcing sectors – traditional providers of high-volume, low-cost labor – are not configured to provide what the world's biggest companies need today to revive growth. In contrast to years past, companies can now rely on project specialists who can quickly solve a particular industry challenge while delivering significant lasting value. Avoiding any new long-term payroll burdens will likely remain the rule rather than the exception. 
Third, pandemic-induced remote working has made every chief financial officer acutely aware of the burden of high-priced and underutilized office leases. While some traditional industries will eventually return to commercial spaces, many of those with the highest potential for fast growth – technology, digital services, finance, and professional services, – are rapidly learning to perform more efficiently and become more profitable without the financial weight of full-sized offices. This is supported by Fortune's recent study that post-pandemic, 76% of companies plan on downsizing their physical office space.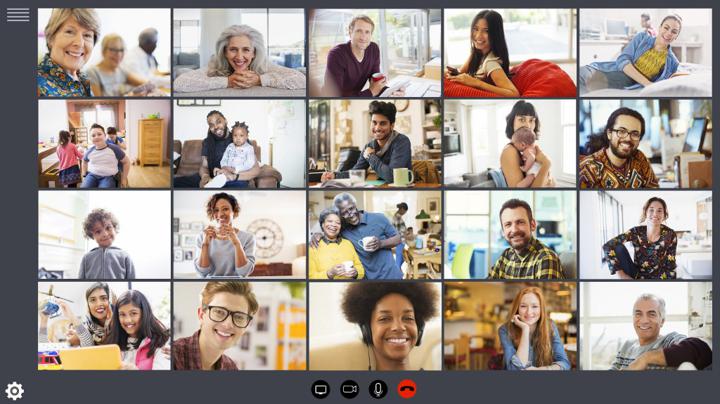 Community video conferencing from home during Covid-19 lockdowns. Caia/ Science Photo Library via AFP.
A shift in perspective toward globalized, remote talent
The pressures of 2020 have created the opportunity for more and more employers to embrace a global talent pool without borders. At the same time, many industry specialists and established experts have decided that they can finally take ownership of both their own career paths and value proposition in a globalized labor market. If they can demonstrate their unrivalled capabilities, the rewards they reap from their individual pipeline of flexible work projects can be immense.
While an uneven recovery plays out across global economies, 2021 is increasingly shaping up to be another "springboard" year in which the demand for remote specialists and outsourced talent will hit new highs. By fully embracing remote working as a permanent fixture, companies can find a new engine to power the recovery in every sector – one that is no longer the exclusive realm of the biggest and fastest-growing technology firms.
There is huge pent-up demand across multiple industries that need talent quickly and at scale. Offices, for centuries, have constricted the ability for companies to meet this need. The shift to remote work has removed that constraint. The dramatic results of this removal are just starting to be seen.
Companies – and talent – that embrace this new mindset will be the best placed to compete in a post pandemic world.
# Taso Du Val is chief executive officer of Toptal. He manages a remote workforce of over 4,000 people. Since Toptal was founded in 2010, Taso has led it to become the largest high-skilled, on-demand talent network in the world. Taso serves on the board of multiple organisations, advising on talent strategy and innovation for Fortune 100s and nonprofits. He has guest lectured at Harvard Business School, Wharton, and Oxford on talent management and entrepreneurship.