(ATF) Chinese corporate bonds inflicted heavy losses on investors Wednesday as concern over the viability of many issues deepened amid the spiralling China Huarong crisis.
A returns-focused gauge of credits fell for the third consecutive day, and all but one of the four sub-indexes also posted losses.
The Financials sub-index fell after a senior banking regulator suggested banks prepare for a resurgence of bad loans. All three of the declining sub-measures – also comprising the Enterprise index of state-owned-enterprises (SOE), and the private company Corporates gauge – were also weighed down by coupon payments.
Also on ATF
The benchmark ATF China Bond 50 Index of AAA rated credits plunged 0.06% to 106.61, the level lowest in three weeks. It has lost 0.33% this quarter amid growing concern that global inflation will rise and as allure-sapping coupon payments weighed on bond yields.
The fate of troubled bad-debt manager China Huarong Asset Management hangs in the balance after its bonds were downgraded and amid reports that regulators want to reorder its capital structure. It is also still reeling from the ignominy of its former chief being executed for fraud. 
Bail out
That such a large SOE can fall so far has troubled investors who had previously assumed the government would readily step in to bail out key enterprises during a crisis. Those concerns add to declining confidence in SOEs after a spate of defaults late last year sparked a selloff in Chinese markets.
"Regulators have to decide who they're going to help and how, and while they're deciding, Western investors are reacting with shock and horror, because it looks all of a sudden like a company owned 61% by the Ministry of Finance is being hung out to dry," Andrew Collier, managing director at Orient Capital Research was quoted as telling the Financial Times.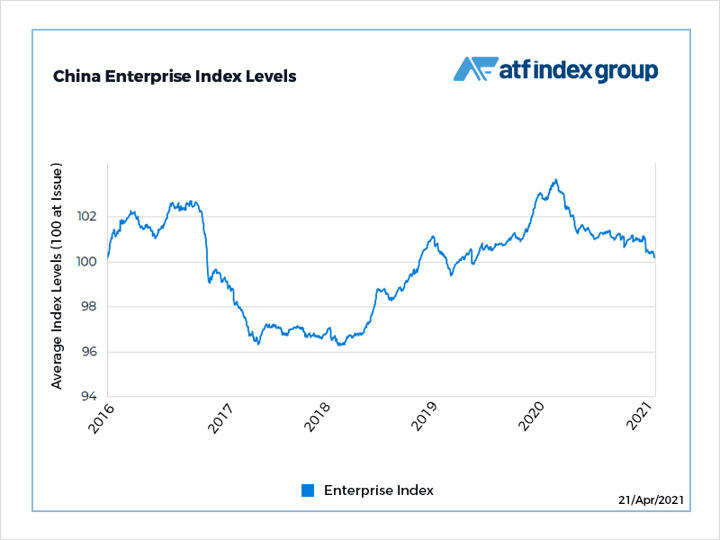 The Enterprise sub-index fell 0.04%, a third day of losses that have driven the measure down 0.26%. A payment on the 2.58%, March 2023 bond of China Faw Group Corporation compounded the day's losses.
Financials fell for a fourth day, losing 0.04%, after Xiao Yuanqi, vice chairman of the China Banking and Insurance Regulatory Commission, told the Boao Forum in China that the nation's banks must prepare for a new wave of bad loans.
Lean months
The pandemic's economic fallout, new rules forcing lenders to trim the rates of interest they charge and an expected increase in corporate defaults was likely to hit banks, Xiao told the high-profile annual gathering of Asian political and business leaders in Beijing.
Investors in Chinese corporate bonds may be girding for a lean few months, with analysts at Nikko AM forecasting that the People's Bank of China will further tighten credit supply.
The central bank earlier this year urged companies and lenders to pull back on bond issuance after sales surged to a record last year to fund pandemic recovery projects.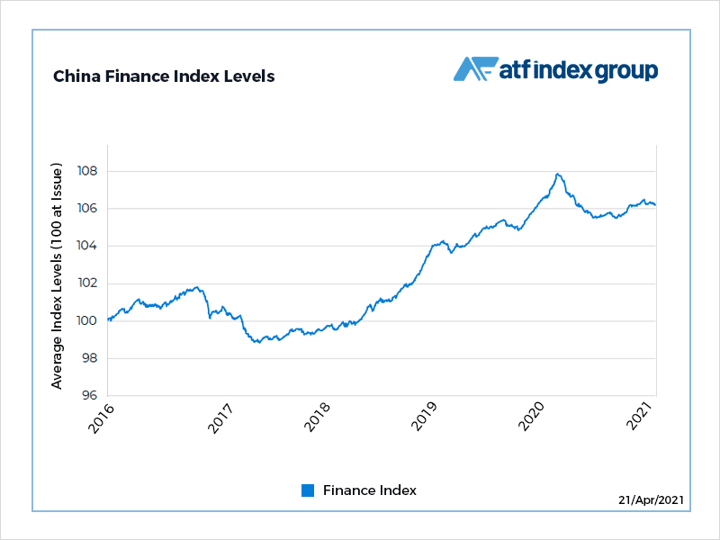 "One risk is that weaker corporates might be unable to refinance themselves, resulting in defaults that could push up credit bond yields," Nikko's Yii Hui Wong and Calvin Neo wrote in Investment Week.
"But as with last year, this may provide good entry points into the relatively safer China government and policy bank bonds, should the PBOC step in to help soothe the market.
"Credit growth has already been slowing since November last year, suggesting that banks now have higher excess reserves, which can be channelled towards interbank liquidity and in turn support China government and policy bank bonds."
* Additional reporting by Reuters