(AF) A bruising year for China tech and US-listed stocks didn't mean it was impossible to make money in China equities in 2021.
The Chart of the Day, below, shows that new energy, small-cap and fintech sectors all produced stellar returns.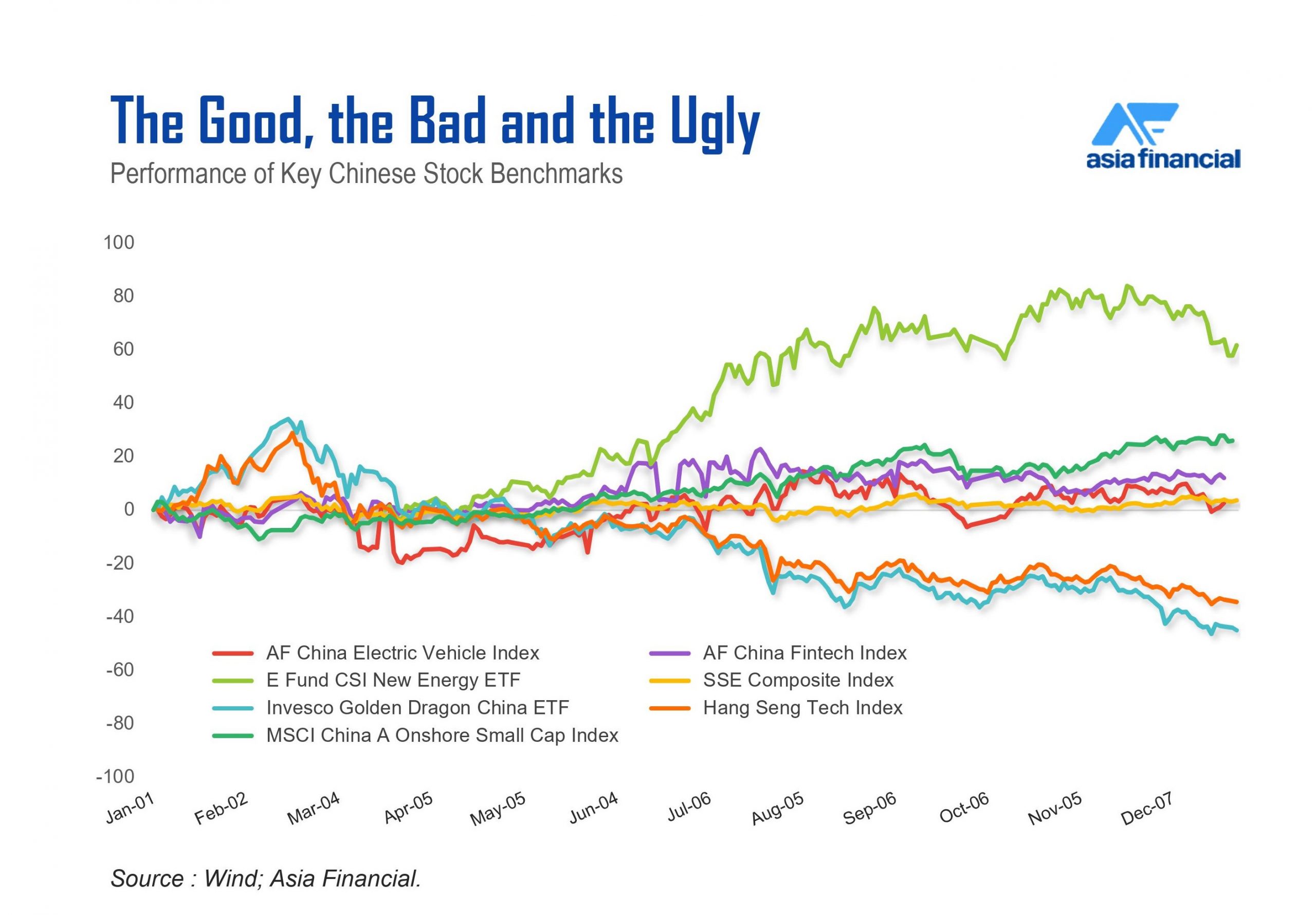 New energy stocks, tracked in the chart by the E Fund CSI New Energy ETF, led the field with a 61.7% return. Its surge was powered by companies including battery maker Contemporary Amperex Technology Co Ltd. (+42%), and energy storage company Sungrow Power Supply Co. (77%).
China's small caps also did well with the MSCI China A Onshore Small Cap Index, tracking A-share securities listed in Shanghai and Shenzhen, rising 25.9%, maintaining strong momentum from last year.  Among its star performers were Zhejiang Yongtai Technology Co. (+336%) and Do-Fluoride New Materials Co. (+113%).
Small- and medium-sized enterprises "are the driving force as China's economy emerges stronger from the Covid-19 scourge," said an op-ed in the People's Daily on December 10.
FinTech was another bright spot with the AF China FinTech index up 12.1% for the year led by companies including Wonders Information Co., a software and service provider, which surged almost 40% so far this year, and Shenzhen Sunline Tech Co, a provider of fintech services for commercial banks that rose 26%. AF China Fintech index focuses on innovative China fintech companies, including providers of crypto asset technologies such as wallets, Robo advisors and peer-to-peer lenders.
Aside from those pockets of strength, it was mostly a tough year for China's market with the broad Shanghai Stock Exchange Composite index edging up just 3.6%.
The Hang Seng Tech index, which includes bellwethers such as Alibaba and Tencent, plunged more than 34%, hammered by a swingeing regulatory crackdown on China's big tech companies.  Chinese companies listed in the US, as tracked by the Invesco Golden Dragon ETF fund, plummeted about 45% after US regulators moved to delist Chinese companies over their non-compliance with auditing norms.
Even the red-hot electric vehicle sector disappointed with Asia Financial's China Electrical Vehicle index up just slightly less than 3% this year.
By Richa Gandhi, Kevin Hamlin, and Frank Chen
READ MORE: