Given the continuing farmers' agitation over the past three months, with no sign of end to the impasse between incensed land workers and the government, it was almost certain that Finance Minister Nirmala Sitharaman would pay more than just lip service to their grievances while announcing India's Union Budget 2021.
She did not disappoint. Unveiling the Budget on Monday aimed at reviving India's pandemic-hit economy, which registered a record decline last year, Sitharaman said the government is committed to the welfare of farmers amid a slew of recovery announcements.
"Our government is committed to the farmers," she said. "The Minimum Support Price – the issue at the heart of the farmers' protests – has undergone a change to assure a price that is at least 1.5 times the cost of production across all commodities.
"Procurement – of farm products by the Government – has also continued to increase at a steady pace. This has resulted in an increase in payments to farmers substantially. In [the] case of wheat, [the] total payment made to farmers in 2013-14 was Rs 33,874 crore ($4.64 billion). In 2019-20, it was $8.6bn. In 2020-21, it was $10.3bn," she added.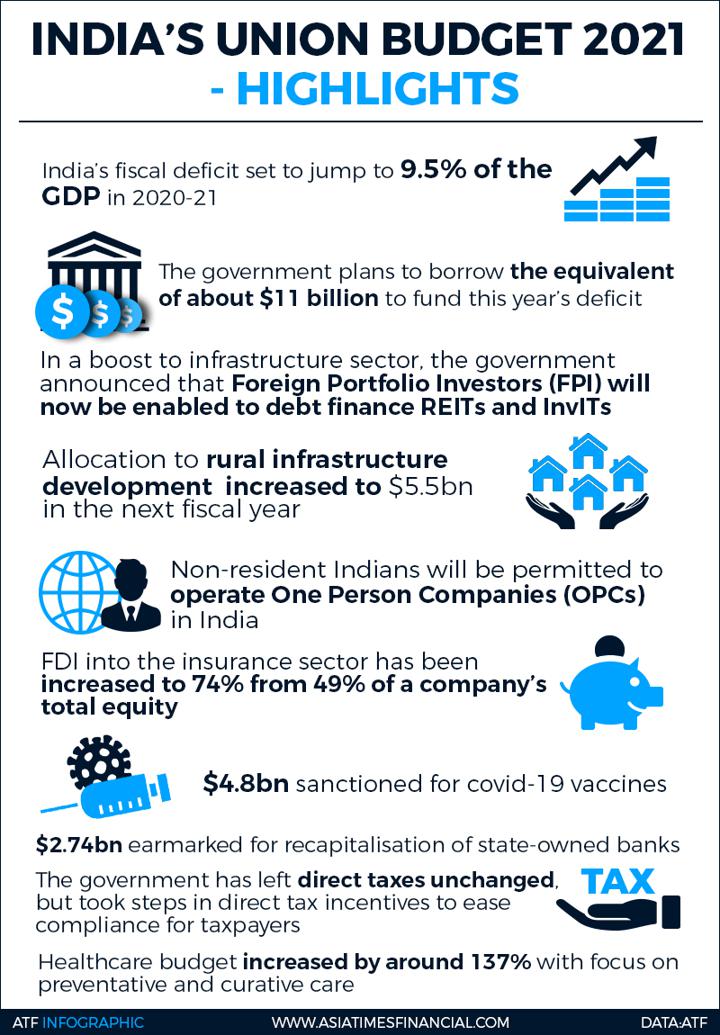 Farmer-Centric
India's farming sector accounts for about half of India's labour force, besides many who are indirectly dependent on farming or activities associated with it.
Indian farmers have been looking forward to the expenditure allocated in the Union Budget 2021 to the rural sector.
The finance minister also enhanced the agriculture credit target to Rs 16.5 lakh crore and proposed Rs 40,000 crore for the Rural Infrastructure Fund, said Sitharaman. Micro-irrigation investment doubled to Rs 10,000 crore and the agriculture fund will be available to the price-setting Agriculture Produce Markets Committee.
Sitharaman said the allocation to rural infrastructure development has been increased to $5.5bn for the next fiscal year from $4.1bn in FY21. She also said India's operation green scheme will cover 22 more perishable commodities while announcing the development of five major fishing hubs.
Besides, 1,000 more mandis (farmer-operated agricultural marketplaces) will be integrated with the electronic national market, she said.
Experts said the announcements are significant at a time when a large number of farmers are protesting for a legal guarantee MSP price fearing that the government will end the MSP system after implementation of the three farm laws aimed at freeing up the agriculture markets.
The government though has been reassuring farmers over the past months that the MSP system will continue and will be further strengthened.
Reiterating its commitment to develop APMCs), the FM announced utilisation of the $13.75bn infrastructure fund for development of state-controlled mandis. This was to allay fears of protesting farmers that the government was planning to destroy mandi system through new farm laws.
APMCs are marketing boards set up by state governments in India to ensure farmers are safeguarded from exploitation by large retailers, as well as ensuring the farm to retail price spread does not reach excessively high levels.
Stress On Reviving Growth
Sitharaman also proposed doubling healthcare spending and lifted caps on foreigners investing in its vast insurance market to help revive an economy that suffered its deepest recorded slump as a result of the pandemic.
India, which has the world's second highest coronavirus caseload after the United States, currently spends about 1% of GDP on health, among the lowest for any major economy.
Sitharaman proposed increasing healthcare spending to $30.2bn (2.2 trillion Indian rupees) to help improve public health systems as well as the huge vaccination drive to immunise 1.3 billion people.
"The investment on health infrastructure in this budget has increased substantially," she said as lawmakers thumped their desks in approval.
Sitharaman said the foreign direct investment (FDI) cap for the insurance sector would be increased to 74% from the current 49%.
Delivering her budget statement Sitharaman projected a fiscal deficit of 6.8% of gross domestic product for 2021/22, higher than the 5.5% forecast by a recent Reuters poll of economists.
The current year was expected to end with a deficit of 9.5%, she said, well up from the 7% expected earlier.
Millions of people lost their jobs when the government ordered a lockdown last year to combat the coronavirus. The government estimates the economy will contract 7.7% in the current fiscal year ending in March but then recover to show 11% growth in 2021-22.
That would make it the world's fastest growing major economy ahead of China's projected 8.1% growth, but the government said it would take the economy two years to reach pre-pandemic levels.
"The indications are that the government is going to do more to promote growth rather than maintaining fiscal discipline," said Sujan Hajra, chief economist at Anand Rathi Securities in Mumbai.
"This is a welcome move as it will have a positive impact on growth. Also, we are seeing a lot of measures on conditions of doing business which was required. The intent for reforms is also strong."
She also allocated $2.74bn to recapitalise state-run banks that are saddled with bad loans and have been a drag on growth.
Bulls Run Amok
Sitharaman's announcements for healthcare, auto and infra gave a major philip to the stock and debt markets as they surged encouraged by the FM avoided any extra cess to meet pandemic-related expenditure burden.
The benchmark Sensex sprinted by 2314.84 points to 48,600 at trading close, while the Nifty 50 rose 646-60 points to close at 14.281.20. India's benchmark 10-year bond yield rose sharply as well to 6.03% from the day's low of 5.93% on the fiscal projections.
To bridge some of the deficit, the government plans to raise funds from selling its stake in state-run companies and banks such as IDBI bank, an insurance company and oil companies.
The pandemic ruined the divestment plans for the current fiscal with only $13bn raised so far from the sales.
Lauding the Budget, Madhavi Arora, the lead economist at stock broker Emkay told Asia Financial: "Policymakers have looked beyond convention to ensure the effective fiscal stance does not become pro-cyclical ahead, while policy adherence to medium-term fiscal sustainability is signalled."
"The expenditure focus is on physical and health infrastructure. Capex-led stimulus over a consumption-focused stimulus is the key, especially amid the larger multiplier on employment and growth," she added.
• Indrajit Basu with reporting by Reuters.
This report was updated on Dec 23, 2021 for style purposes.
READ MORE: