Indonesia is the latest Asian nation that wants to impose a carbon tax to help cut greenhouse gas emissions
(AF) On Monday Finance Minister Sri Mulyani Indrawati presented a government proposal to overhaul tax regulations – to introduce a carbon tax, a higher VAT rate and a programme to report undisclosed assets.
Sri Mulyani Indrawati told a meeting with parliament's finance commission the measures were aimed at boosting state revenue that have dropped in Southeast Asia's biggest economy due to the coronavirus pandemic.
However, some analysts warned implementation could be challenging, as the economy is still reeling from the pandemic.
"Even though we are discussing this during the Covid pandemic, it does not divert our attention from the medium-, long-term need to build a fair, healthy, effective and accountable tax system," Sri Mulyani said, promising implementation will take into account economic recovery.
The minister proposed increasing the base value added tax (VAT) rate to 12% from 10% currently, while applying a 5%-25% rate range for some goods and services, and removing most exemptions. To limit the impact on the poor, she proposed more subsidies.
An income tax rate of 35% was floated for people earning at least 5 billion rupiah ($345,662) annually. Indonesia now applies 5% to 30% personal income tax.
She also proposed a new carbon tax of 75 rupiah ($0.0052) per kg of CO2 equivalent and an excise tax for all plastic products.
"While tax reform is needed, the main issue is timing," said Faisal Rachman, an economist at Bank Mandiri, pointing to a recent flare-up in coronavirus cases and noting how mistiming the changes could hurt investment.
But Moekti Prasetiani Soejachmoen, chief economist at Danareksa, said the bill should be debated to allow it to come into force by the end of 2022 to help meet a target of lowering the budget deficit below 3% of GDP in 2023.
Central bank governor Perry Warjiyo told a briefing he was "not worried" about the tax measures pressuring inflation, which he expected to stay low until early next year.
Sri Mulyani also unveiled a programme to allow people to report undisclosed assets following Indonesia's previous tax amnesty in 2016 to 2017.
According to a copy of the draft bill provided by a lawmaker, the government aims to give taxpayers another chance to declare hidden assets by charging a rate of between 12.5% to 30% of the asset values.
The minister also proposed an "alternative minimum tax" for loss-making businesses still operating, a chance to settle tax crimes with fines, and a revision so that other parties such as electronic transaction providers can collect taxes for the government.
Parliamentary debate for a bill typically takes months to conclude.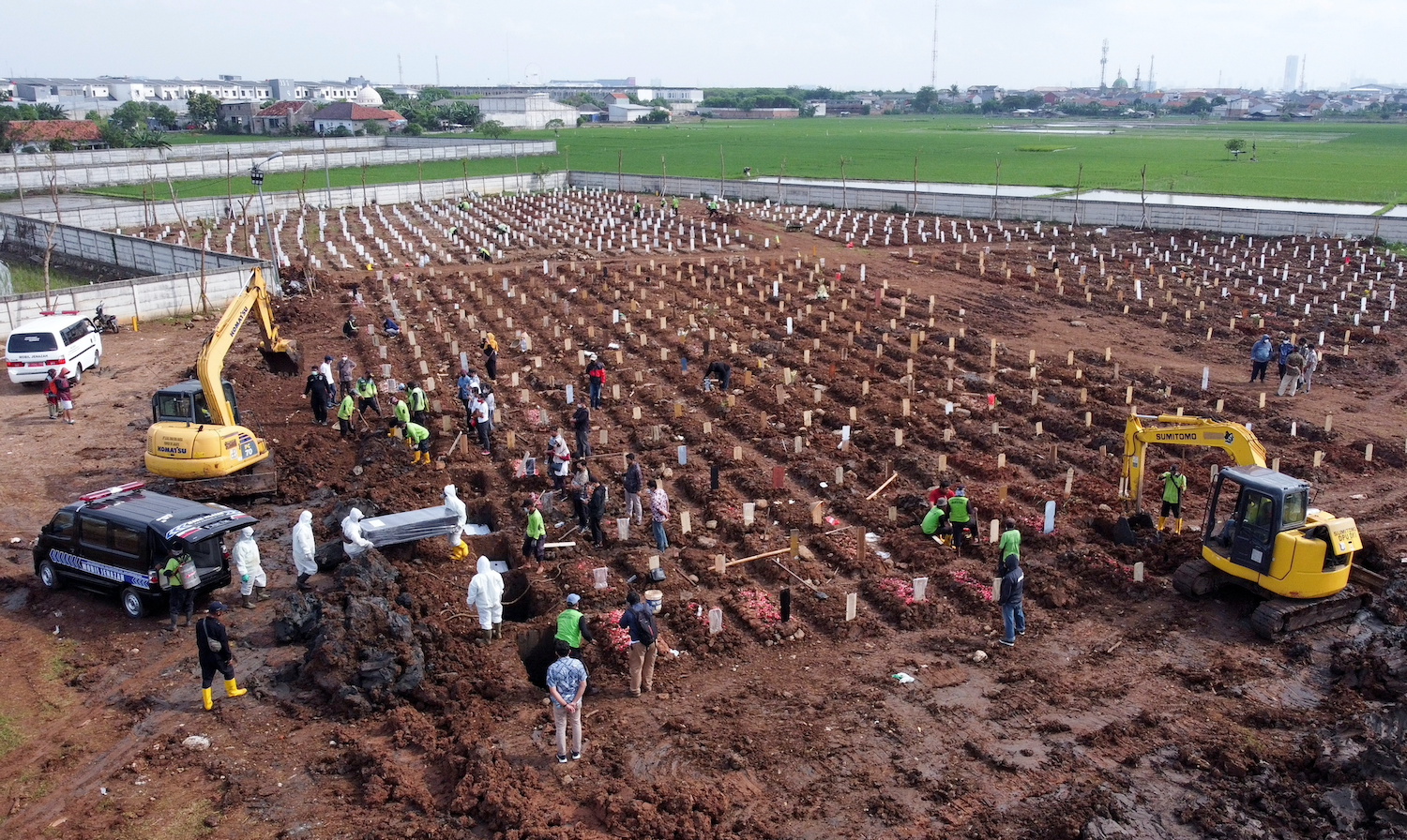 Calls for stricter Covid controls
Meanwhile, the health minister is leading a push for stricter controls as coronavirus cases surge to unprecedented levels, according to sources familiar with government discussions. Infections in Indonesia have tripled in the past three weeks, overwhelming hospitals in the capital Jakarta and on the heavily populated island of Java.
On Monday, officials recorded 20,694 new infections, bringing the weekly total to 131,553.
Three sources, who spoke on condition of anonymity, said Health Minister Budi Gunadi Sadikin urged government leaders to enact tougher social restrictions but his request was overruled because of fears about the impact on Southeast Asia's biggest economy. However, he is continuing to push his case, they said.
One source said government meetings on the issue would take place this week. The health minister's position was supported by the country's tourism minister Sandiaga Uno, who confirmed to Reuters that a tougher lockdown was under active consideration.
"I am encouraging a tougher lockdown (but) we would need to provide the basic necessities for the people," he said. "If the number of cases is increasing, then we need to adjust very quickly." Indonesia has mostly rejected the lockdowns imposed by its neighbours and large developing countries like India.
Instead, Jakarta has opted for social restrictions targeting villages and neighbourhoods deemed "red zones" due to high infections, a policy known as PPKM Mikro.
Last week, the head of the country's Covid-19 taskforce, Coordinating economy minister Airlangga Hartarto, banned religious activities at houses of worship, closed schools and bars and required offices, restaurants, cafes and malls to operate at 25% capacity in red zones for two weeks.
A spokesman for the president said: "Until now, we still have PPKM Mikro, empirically it is still very effective to control small areas."
The Indonesian Medical Association also called on Sunday called on the government to implement large-scale restrictions, especially across the island of Java, home to more than half the country's population of 270 million people. It said that 24 regencies and cities had reported isolation bed capacity at 90% full, while intensive care units in several areas were nearing 100% capacity and 30 doctors had died in June from Covid.
"If there is no firm intervention we will be like India," Dr Adib Khumaidi, head of the Association's mitigation team, fearing that the health system could collapse. Health experts have warned the current policy for social restrictions can't be fully implemented by poorly resourced local officials and don't account for people moving between red zones and other areas.
How villages and neighbourhoods are designated red zones is also opaque and undermined by low rates of testing and contact tracing that masks the true extent of Indonesia's overall infection rate, they said.
But presidential advisers were examining the lockdowns in India, where a fivefold increase in infections in little over a month was fully reversed in a similar timeframe. If guidelines followed by Indian states were adopted in Indonesia, lockdowns would be introduced in 31 of its 34 provinces where positivity rates are at 10 per cent or higher.
On Friday, the health minister announced plans for 7,000 more hospital beds in Jakarta dedicated to Covid patients. Uno said at least 15 hotels close to hospitals with up to 2,000 beds also have been identified as places where patients with milder symptoms could be treated.
Meanwhile, Indonesia's food and drug agency on Monday approved China's Sinovac Biotech vaccine for children aged 12-17.
Indonesia has been using Sinovac as the main plank for its vaccination programme after receiving about 94 million doses, while it has received about 10 million made by AstraZeneca and Sinopharm.
Task force data shows children aged 0-18 account for 12.6% of total infections. The country is under pressure to speed up vaccinations.
Indonesia reported it had given 1.3 million vaccine shots on Saturday, the highest daily count since the programme began in January. About 13.18 million people have received both shots as of Monday, government data showed.
With reporting by Tom Allard at Reuters, editing by Jim Pollard
ALSO SEE: