South Korea's anti-monopoly regulator said it would fine Tesla 2.85 billion won ($2.2 million) for failing to warn customers that its electric vehicles have a shorter driving range in low temperatures.
The Korea Fair Trade Commission (KFTC) said Tesla had exaggerated the "driving ranges of its cars on a single charge, their fuel cost-effectiveness compared to gasoline vehicles as well as the performance of its Superchargers" on its local website since August 2019 until recently.
The driving range of the US carmaker's electric vehicles plunge in cold weather by up to 50.5% versus how they are advertised online, the KFTC said in a statement on Tuesday.
Tesla did not immediately respond to a Reuters request for comment.
ALSO SEE:
Cold Hits Most EVs' Driving Range
On its website, Tesla provides winter driving tips, such as pre-conditioning vehicles with external power sources, and using its updated Energy app to monitor energy consumption, but does not mention the loss of driving range in sub-zero temperatures.
In 2021, Citizens United for Consumer Sovereignty, a South Korean consumer group, said the driving range of most EVs drop by up to 40% in cold temperatures when batteries need to be heated, with Tesla suffering the most, citing data from the country's environment ministry.
Last year, the KFTC fined German carmaker Mercedes-Benz and its Korean unit 20.2 billion won for false advertising tied to gas emissions of its diesel passenger vehicles.
Tom Zhu Now Second to Musk
Meanwhile, Tesla's China chief Tom Zhu has been promoted to take direct oversight of the electric carmaker's US assembly plants as well as sales operations in North America and Europe.
An internal company notice showed that Zhu's title of vice president for Greater China had not changed, while he retained responsibilities as Tesla's most senior executive for sales in the rest of Asia as of Tuesday.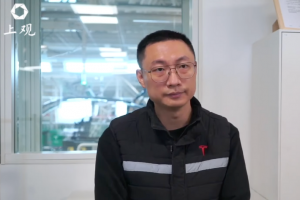 The move makes Zhu the highest-profile executive at Tesla after chief executive Elon Musk, with direct oversight for deliveries in all of its major markets and operations of its key production hubs.
The reporting lines for Zhu would keep Tesla's vehicle design and development – areas where Musk has been heavily involved – separate while creating an apparent deputy to Musk on the more near-term challenges of managing global sales and output.
Zhu's appointment to a global role comes at a time when Musk has been distracted by his acquisition of Twitter and Tesla analysts and investors have urged action that would deepen the senior executive bench and allow him to focus on Tesla.
Record 1.3m Cars Delivered in 2022
Under Zhu, Tesla's Shanghai plant rebounded strongly from Covid lockdowns in China. Tesla said on Monday that it had delivered 405,278 vehicles in the fourth quarter, short of Wall Street estimates, according to data compiled by Refinitiv.
The company had delivered 308,600 vehicles in the same period a year earlier.
Tesla said it delivered a record 1.3m vehicles for the full 2022 year. The overall total was 40% more than in 2021.
However, that figure missed Wall Street forecasts of around 430,000 deliveries for the period. In a statement, Tesla said it had to deal with "significant Covid and supply chain related challenges throughout the year".
This year carmakers are expected to face slowing demand as potential customers worry about rising interest rates and recession concerns.
Reuters with additional editing by Jim Pollard
NOTE: Additional details were added to this report (in regard to Tom Zhu's promotion) on January 3, 2023.
ALSO SEE: