Malaysia has suggested setting up a free-trade agreement between ASEAN – the Association of Southeast Asian Nations – and the Gulf Cooperation Council (GCC).
Malaysia Prime Minister Anwar Ibrahim voiced the idea at the first-ever summit between the two regional trading blocs in Riyadh on Friday.
Anwar said such an agreement would be the first of its kind between ASEAN and Gulf states in Saudi Arabia.
"This agreement is crucial in advancing progressive, inclusive and sustainable growth especially as we recover from the Covid-19 pandemic and face geopolitical uncertainties," he said in a speech at the summit.
The Gulf Cooperation Council is a political and economic alliance of six countries in the Middle East – Saudi Arabia, Kuwait, the United Arab Emirates, Qatar, Bahrain, and Oman.
The maiden GCC-ASEAN summit brought together leaders and representatives from 17 Gulf and Southeast Asian nations to inaugurate a 2024-2028 joint action plan.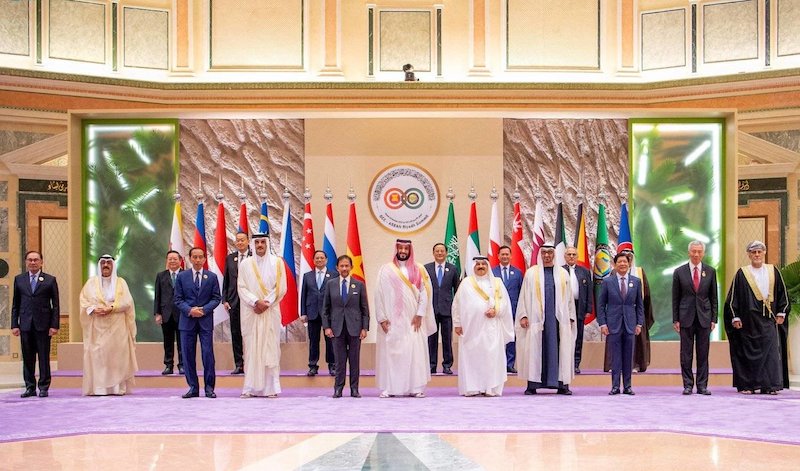 Saudi Crown Prince Mohammed bin Salman bin Abdulaziz said the action plan "charts a clear roadmap for collective efforts to enhance cooperation and partnership in various domains, serving mutual interests."
Local media outlet Asharq Al-Awsat said experts and researchers commented that the summit "accelerated common economic and developmental convergence" between countries in both groups.
It said the GCC-ASEAN summit comes three months after a similar gathering between GCC nations and Central Asian countries in Jeddah.
New Thai, Cambodian and East Timor leaders at summit
ASEAN, which is made up of 10 nations – Indonesia, Singapore, Malaysia, Thailand, Myanmar, Cambodia, Laos, Vietnam, Brunei and The Philippines – is now a market of more than 660 million people.
The Southeast Asian bloc is expected to include Timor Leste (East Timor) as its 11th member state in 2025, once the tiny nation has achieved milestones set out by ASEAN, its President José Ramos-Horta has said.
Ramos-Horta attended the summit in Riyadh on Friday along with the 10 ASEAN leaders. The new prime ministers of Thailand (Srettha Thavisin) and Cambodia (Hun Manet) were also there.
ASEAN has for years been seeking greater integrate of its economies, worth a combined $2.3 trillion, through trade, investment and harmonised standards and customs procedures.
However, efforts to establish free-trade deals have been protracted, as some members with export-reliant economies go it alone in seeking better access to their key markets.
ASEAN is also part of the Regional Cooperation Economic Partnership (RCEP) along with China, Japan, South Korea, Australia and New Zealand.
Reuters with additional reporting and editing by Jim Pollard
ALSO SEE: